For Performance that Begins Where the Pavement Ends.
Don't settle for non-genuine aftermarket replacement parts. Demand the best—demand genuine Dana axle and Spicer drivetrain products, the most trusted names in OE and aftermarket axle and driveline components for Jeep applications. You'll experience a genuine OE factory-grade fit when installing these parts into Wrangler®, Cherokee®, Grand Cherokee®, Commander®, and Liberty® models. We offer quality products that maximize powerful four-wheel drive capabilities, and also provide the latest product enhancements and upgrades for optimal Jeep performance parts. Take a look at our Jeep parts here, and use the Related Parts links at the bottom of the page to get even more information.
The Ultimate Dana 44™ Front Axle 
From the Spicer® nickel chromoly steel axle shafts to the Spicer® performance differential cover to the SPL® 1350 axle shaft universal joints, the Ultimate Dana 44™ front axle is built to deliver for people who rely on their Jeep® Wrangler® JK. In addition, the axle is equipped with the following features and benefits:

Thicker tubes

5/16" thick for improved strength, rigidity and durability

Redesigned and thicker brackets

1⁄4" steel to resist bending and endure the off-road environment
Works with most lift kits 

Spicer® chromoly axle shafts for optimal strength and performance
Spicer Life Series® (SPL®) 1350 u-joints with triple lip seals and full-circle clips for ultimate protection and retention
Performance differential cover and Spicer® performance gasket

Providing enhanced sealing and protection from off-road hazards 

Selectable electronic locking differential
Genuine Spicer® gearing

Precision design and manufacturing processes provide ultimate gear mating for optimal strength, life, and quiet performance
Expanded aftermarket gear ratios: 3.73, 4.10, 4.56, 4.88, 5.13, and 5.38 

Pinion angle optimized for lifting vehicles
Increased gross axle weight rating (GAWR) allows for the added weight of suspension upgrades, bumpers, winches and larger tires
Improved caster angle for lifted Jeeps®
Dana recommends using military tested and approved 75W-140 synthetic lube (not included)

Provides premium performance and relability in the toughest environments
Download the Ultimate Dana 44™ brochure to learn more, including expanded aftermarket gear ratios. And for more Dana-backed performance products, browse our complete line here.
The Ultimate Dana 60™ for the Jeep Wrangler JK
Featuring many of the modifications that serious off-roaders have been making for years, Ultimate Dana 60™ front and rear axles represent a true breakthrough in high-performance engineering.

The Ultimate Dana 60™ brings together an incredible array of improvements and innovations, including:
35-spline, SAE-4340 nickel chromoly steel axle shafts designed for higher torque, larger tires, and off-road punishment
A greatly enhanced carrier with Spicer® performance ring and pinion gearing
Massive SPL® 70 u-joints, exclusive to Dana
Full-float design for greater load-carrying capacity
Upgraded, heavy-duty brakes with plug-and-play ABS 
Check out the Ultimate Dana 60™ Front Axle and Ultimate Dana 60™ Rear Axle pages or download the brochures on the right for more information.
Spicer Performance Shocks
Off-roading is a grueling test for any part, and that's why Spicer Performance adjustable shocks were developed. Hand-built in the US using only top-quality domestic alloys, Spicer shocks deliver championship quality on the road and off.  Discover the difference that premium materials can make for your vehicle, and get shocks that meet the demands of champions.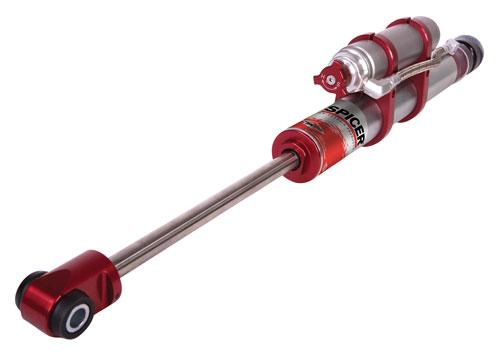 Spicer Performance adjustable shocks features and benefits include:
Rebuildable shock
Urethane bushings
Progressive application-specific valve stacks

Ensure unparalleled ride quality and performance

16-position compression adjuster

Delivers 250% range of dampening force
Easily adjusts for any street or trail conditions

Braided stainless remote lines

Offer the ability to withstand abrasion and heat

Billet aluminum remote reservoir brackets

Hold tight in the toughest conditions

Hand-built in the USA

Using only premium domestic alloys 
Visit www.DanaUnleashed.com and download the brochure on the right for more information.
Spicer Chromoly Axle Shafts
Engineered for ideal strength off-road and optimized for use with larger tires, Spicer nickel chromoly axle shafts are the name people trust for their vehicles, including Jeep, Ford, and more. And with OE quality built into every Spicer part, you know you will get an axle shaft that fits your off-road vehicle and delivers the same performance you got from your original part.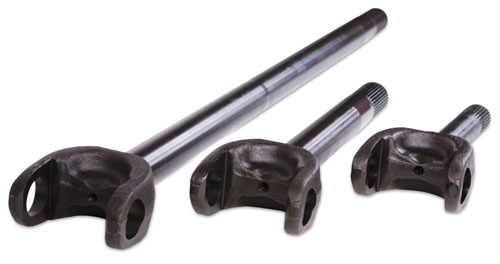 Features and benefits of our high-performance axle shafts include:
SAE-4340 nickel chromoly steel construction

 For ideal hardness throughout the part

Nickel provides additional toughness
Chromium ensures high-temperature strength and resistance to abrasion
Molybdenum helps maintain a specified hardenability

Heat treatment processes

Delivering the same surface hardness and case hardness, while achieving a higher core hardness for greater strength
Ensuring optimal hardness inside and out

Optimized for high-performance strength and durability

Designed to withstand off-road punishment
Find out more about Spicer axle shafts, as well as a range of products engineered for performance applications. Visit www.DanaUnleashed.com or talk to your Spicer parts representative today.
Spicer Driveshafts for the Jeep JK
Dana is providing Jeep® owners with an upgrade for their Wrangler® JK with this new high-performance Spicer driveshaft. Engineered with a smaller diameter to clear the vehicle's exhaust and a direct-fit bolt-in flange, this driveshaft provides ease of installation and a better off-road experience. Optimized for 0"- 2" and 2"- 4" lifts on the Jeep JK, this Spicer driveshaft provides strength that can exceed even original equipment.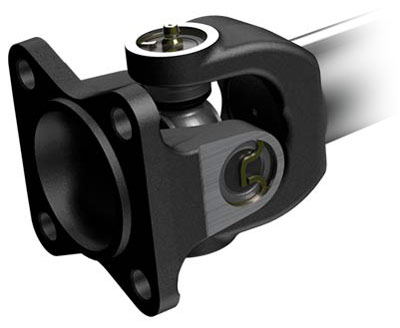 This driveshaft features a smaller diameter, which will not interfere with the Jeep Wrangler JK exhaust. In addition, you will enjoy the following advantages:
One-piece flange

Prevents run-out
Eliminates need for an adapter
Bolts to the stock Jeep axle

Optimized for 0" - 2" and a 2" - 4" lift

Ideal for larger tires
Offers improved ground clearance

Thicker tube than original equipment part

50% thicker than OE shaft
Delivers added strength

Longer slip yoke for increased travel

More extension and compression through the tube shaft

Get the lift you're looking for in your Jeep Wrangler JK, and find a full range of products designed to unleash the performance in your vehicle at www.DanaUnleashed.com. 
Jeep, Spicer, and Dana — Legendary Brands Built Stronger Together.  Read Our Story