Performance Axles with the Upgrades Off-Roaders Demand.

The Ultimate Dana 44™ axle is a direct bolt-in solution and requires you to reuse your stock wheel ends. Featuring a number of upgrades for added on-trail durability, plus added strength wherever you take your vehicle, the Ultimate Dana 44™ axle is built to meet the demands of serious off-road enthusiasts.

Designed to meet the specific needs of off-road enthusiasts.
From the Spicer® nickel chromoly steel axle shafts to the Spicer® performance differential cover to the SPL® 1350 axle shaft universal joints, the Ultimate Dana 44™ front axle is built to deliver for people who rely on their off-road vehicles. In addition, the axle is equipped with the following features and benefits.
Thicker tubes

5/16" thick for improved strength, rigidity, and durability

Redesigned and thicker brackets

1/4" steel to resist bending and endure the off-road environment
Works with most lift kits

Spicer® chromoly axle shafts for optimal strength and performance
Spicer Life Series® (SPL®) 1350 u-joints with triple lip seals and full-circle clips for ultimate protection and retention
Performance differential cover and Spicer® performance gasket

Providing enhanced sealing and protection from off-road hazards

Selectable electronic locking differential
Genuine Spicer® gearing

Precision design and manufacturing processes provide ultimate gear mating for optimal strength, life, and quiet performance
Expanded aftermarket gear ratios: 3.73, 4.10, 4.56, 4.88, 5.13, and 5.38

Pinion angle optimized for lifting vehicles
Increased gross axle weight rating (GAWR) allows for the added weight of suspension upgrades, bumpers, winches and larger tires (up through 37" tires)
Improved caster angle for lifted vehicles
Dana recommends using military tested and approved 75W-140 synthetic lube (not included)

Provides premium performance and reliability in the toughest environments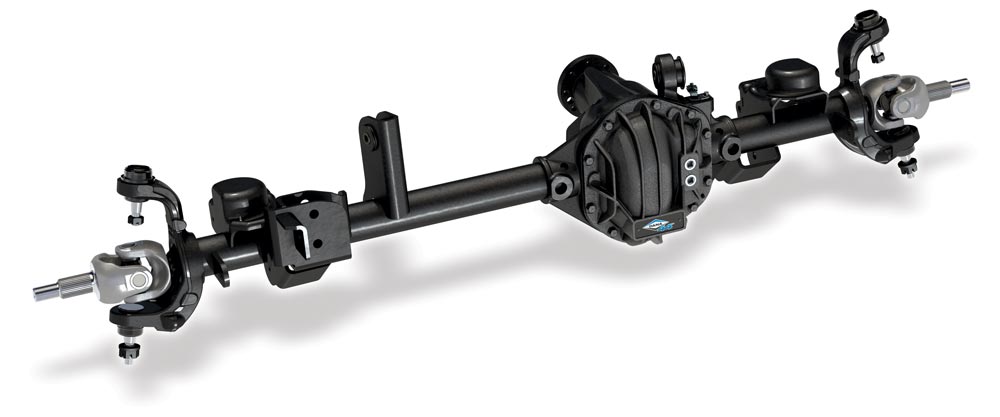 Performance Service Parts for Off-Road—and Everywhere.
Wherever the road takes you, Spicer performance parts are there. To see more Dana-backed performance products, visit DanaUnleased.com today. And to learn more about the Ultimate Dana 44™ front axle, download the brochure on the right—then locate a Dana Crate Axle dealer near you.