High-Performance Universal Joints for Serious Off-Roaders.
You expect a lot from your vehicle, and Spicer Life Series® (SPL®) universal joints deliver. Spicer Life Series u-joints consistently outperform competitors, so you can hit the road or trail with confidence. Check out the difference that SPL u-joints can make in your vehicle, and make sure you're getting the longer life, increased bearing capacity and lower maintenance costs that Spicer Life Series® (SPL®) can provide.
Longer Life for Your Light-Duty Driveshaft.
Cold-forged from high-quality steel, Spicer Life Series® (SPL®) universal joints deliver the strength and durability that today's performance vehicles demand.
Greaseable u-joint or a non-greaseable (pre-lubricated for the life of the part) options

For optimal friction reduction and higher temperature resistance 

Synthetic thrust washer

Eliminates friction and end galling 
Prevents the heat that breaks down grease

Multi-lip seal

Keeps grease in—and contaminants out
Offers maximum retention in a wider range of environments
It all adds up to all-out protection and a longer life for your driveshaft, and it's why Spicer Life Series (SPL) is the brand people trust.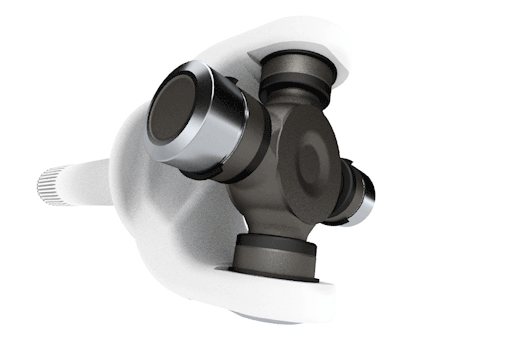 SPL® u-joints are available in both greasable and non-greasable options. Both offer unparalleled performance.
Spicer Life Series universal joint offer a number of features that help you get the most out of your vehicle—as well as benefits that the competition simply cannot match.
Journal Cross

Engineered with a solid cold-formed body to ensure better wear and overall strength

Bearing Cups

Heat-treated for strength; precision-ground and case-hardened for durability

Thrust Washers

Eliminate metal-to-metal contact, prevent wear and lower the overall operating temperature

Multi-Lip Seal

Includes a garter spring, seal guard and a needle spacer 
Spicer Life Series U-joint Performance Packs
No matter what conditions you throw at your 4WD vehicle, trust non-greaseable Spicer SPL® u-joints with the triple lip seal for premium performance. And when you need it, Spicer 4WD u-joint performance packs have everything for a complete u-joint change-out—with just one part number to order.
Spicer Life Series® u-joints are part of a full line of Dana-backed parts designed to unleash the performance in your vehicle. See our complete line of Spicer performance parts, and use the link below to find out where you can get genuine Spicer performance parts today.