Everything You Need for the Commercial Vehicles You Depend On.
When it comes to keeping your commercial vehicles working for you, there is no substitute for genuine Spicer axle repair kits.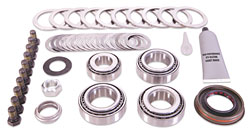 Spicer® Axle Overhaul Kits
Our most comprehensive kit comes complete with everything you need for a thorough and lasting repair.
Highest quality mix of bearings, cups, and cones, each precisely selected for maximum performance in every position and application.
Premium oil seals for your best protection against nagging leaks and damaging contamination.
All the small parts to do the job right, including sealant, snap rings, gaskets, shims, and more.
Production upgrades that keep Spicer parts as good or better than the OE parts they replace.
 
From install to overhaul, genuine Spicer repair kits are there for you.
Spicer® Axle Bearing Kits
Remember not all bearings are created equal. Choose Spicer axle bearing kits for just the right repair. Each kit comes complete with exactly the right combination of parts you need to get your axle back in shape and on the road including:
Highest quality mix of bearings, cups, and cones for performance you can count on.
Premium oil seals to keep lube in and dust and road grime out.
Handy RTV compound to seal the repair.
Spicer® Carrier Rebuild Kits
Carrier rebuild bearing kits are designed specifically to maximize the parts required to rebuild Dana's most popular carriers. These bearing kits are tailored to customers who do multiple carrier rebuilds, providing them with only the necessary bearing parts to rebuild the carrier, maximizing their rebuild cost.
Like all Spicer bearing kits, these include 100% genuine parts, so rebuilt carriers can be reassembled with original bearings that are the same as those installed in the factory.
Download the information on the right to find the kit that's right for your vehicles—then look for a Spicer parts distributor in your region.