Strength and Durability Longer Life in Your Automotive Axle.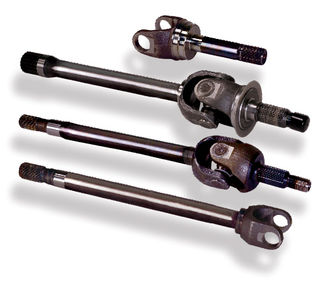 Get genuine performance from genuine Spicer. Spicer parts are designed, engineered, and manufactured to meet or exceed OE requirements because they are OE parts, ensuring a perfect fit with our full line of industry-leading axles. That's why Spicer is the name you can trust for top performance and durability.
Get Genuine Spicer Quality with Front Axle Shaft Assemblies.
The genuine Spicer components in our front axle shaft assemblies are engineered to work together perfectly—the knockoffs can't make that claim. A complete front axle assembly from Spicer includes:
Inner shaft
Outer stub
Universal joint
The inner shaft and outer stub are also sold separately.
Spicer Front Axle Shafts: Tested and Proven to Deliver for You.
What sets genuine Spicer front axle assemblies apart from the knockoffs?
Application-specific design and engineering
Quality materials
Precision manufacturing processes
Statistically controlled testing processes
 
We apply optimal manufacturing and testing processes to quality materials to ensure consistency and durability.
Through heat treating and a slower quality scan rate, Dana is able to deliver a much more consistent and stronger Spicer axle shaft. In addition, the cold-formed rolled spline eliminates the need for machining, which can cause stress fractures and premature failures.
And not only are Spicer axle shafts fatigue-tested to last, 100% of our front axle parts are ultrasonically tested, so we're able to check for any internal cracks that regular magnetic testing can't reach. We're proud to claim a safety factor that's high even by OE standards—because when it comes to the performance of your axles, there's no room for compromise.
Locate a Spicer parts dealer near you, and start enjoying the benefits of Spicer front axle shafts in your car, truck, or SUV today.