Maintenance-Free Performance for Your Commercial Vehicles.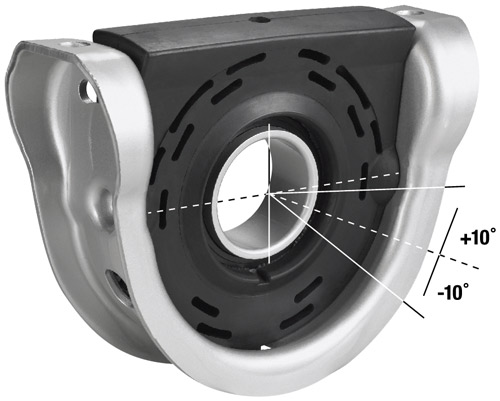 The new Spicer® XC™ center bearing provides optimal alignment within ±10 degrees, which translates into improved performance and durability.
The advanced technology elastomer material reduces noise and vibration, while the innovative design maintains the proper driveline angle to maximize driveshaft and component life.
This best-in-class center bearing assembly also includes a maintenance-free, double-lip sealed bearing that:
Reduces contamination
Eliminate the need for a dust shield
Provides longer life
 
Maintains the proper driveline angle to maximize driveshaft and component life.
Protect the Parts That Keep Your Commercial Fleet on the Road.
Avoid noise and vibration with Spicer XC™ center bearings, which are designed to ensure a longer life for your vehicle. You'll enjoy improved performance with a center bearing that's lightweight and easy to install.
Improved Performance

Maintenance-free factory-sealed bearing and double-lip seal configuration decreases contamination and extends life
Innovative design allows for angle fluctuations of ±10 degrees
Advanced technology elastomer material decreases levels of noise and vibration

Weight Reduction

Approximately 1.3 pounds lighter than previous center bearings

Simplified Installation

Elimination of dust shields due to NEW sealed bearing technology
Eliminates the need for multi-hanger bracket and cross member configurations
Spicer® XC™ center bearings are approved for all on-highway and off-highway applications. Download the information on the right, then locate a Spicer parts distributor or an Off-Highway Service Center in your area.