Built Strong for the Vehicles You Count On.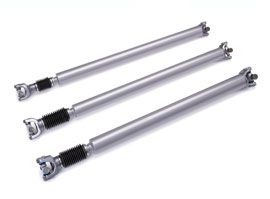 Discover the difference that genuine Spicer OE-quality driveshafts can make for your vehicle. Our driveshafts and driveshaft components are engineered to meet the specific needs of medium-duty and heavy-duty applications.
Spicer Driveshaft Product Lines for Commercial Vehicles.
Spicer Diamond Series®:
The lightest weight solution for heavy-duty commercial trucks
Able reduce weight by up to 100 pounds
The only one-piece, eco-friendly driveshaft with trusted Spicer reliability
Spicer Compact Series®:
Setting the standard for the global commercial vehicle industry
Delivers maximum performance and reliability
Offers the highest power density driveline solution
Service-free designs are also available
Spicer Life Series® Propshafts:
Able to handle heavy loads over the long haul, easily and efficiently
Enhanced to offer even greater torque, durability and savings
Offering 70% more power density than its nearest competitor
Providing a 40% increase in bearing life
 
Spicer commercial vehicle driveshafts are built to exact original equipment specifications.
To learn more about each of these driveshaft assemblies, download the brochures on the right. Then get in touch with a Spicer parts distributor near you to start putting genuine Spicer quality to work for you today.