Better for Your Gears and Your Bottom Line.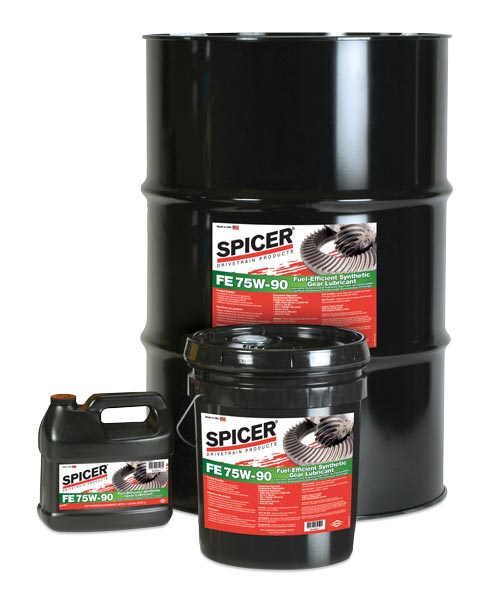 For better operating performance over time and a longer gear life, Spicer remains the name that people trust. Not only does Spicer Fuel-Efficient Synthetic Gear Lubricant provide ultimate protection for gears and bearings, but it's also proven to deliver improved fuel economy and decrease CO2 emissions.
Spicer Fuel-Efficient Synthetic Gear Lubricant delivers:
Quantifiable 1% fuel savings improvement
Reduced gear wear
Reduced maintenance
Less oil disposal
Decreased vehicle downtime
Maximum performance in extreme hot and cold temperatures
Extended drain interval up to 500,000 miles
Extended warranty protection
Available in 1-gallon (FE75W90-G) or 5-gallon (FE75W90-P) containers or 55-gallon drum (FE75W90-D)
How Much Can Spicer Synthetic Gear Lubricant Save You?
Determine how Spicer Synthetic Gear Lubricant can help your fleet get better mileage and save you money. Check out our calculator and discover the difference for yourself!
Synthetic Gear Lubricant with Real Environmental Benefits
Spicer® fuel-efficient synthetic gear lubricant delivers excellent lubrication, ensuring longer gear life and better operating performance, even in extreme heat and cold. In addition, you'll get improved fuel economy and lower CO2 emissions for a greener and more profitable fleet.
Trust Spicer to help you keep your fleet on the road with top quality parts—as well as the lubricant that provides the ultimate in gear and bearing protection. Find a Spicer parts distributor and discover the benefits of genuine Spicer® fuel-efficient synthetic gear lubricant today.