All-Climate Performance for Manual Transmissions.
Spicer® SAE 50 synthetic manual transmission lubricant is specially formulated for extended drain and severe service in heavy-duty manual transmissions that require a non-EP gear or transmission lubricant. It's engineered to protect higher torque manual transmissions coupled with increased horsepower engines.
Longer Life for Your Transmission—More from Your Lubricant.
Formulated from a synthetic basestock, Spicer SAE 50 also contains an anti-wear additive, as well as rust, oxidation, and corrosion inhibitors.
 
Spicer® SAE 50 synthetic manual transmission lube provides superior all-climate, year-round performance.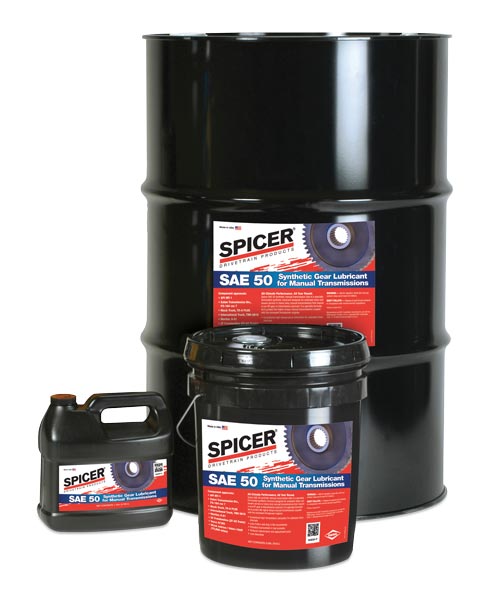 Protect bearings, reduce component wear, and promote longer transmission and lubricant life with Spicer SAE 50.
High viscosity index, low pour point, and subzero fluid flow
Easier cold-weather shifting, less drag, and less gear wear

Vital transmission parts are lubricated quickly.

High stability when exposed to severe heat, oxidation, and shear conditions

For high-temperature lubrication and extened drain intervals

Superior all-season lubricating properties

For less friction and drag in the transmission 
Potential for greater fuel economy
Spicer SAE 50 synthetic manual transmission lubricant is available in 1-gallon jugs (SAE50-G), 5-gallon pails (SAE50-P), or 55-gallon drums (SAE50-D).
See the difference Spicer SAE 50 can make for your fleet today. Download the information on the right to learn about the characteristics and specifications, then locate the Spicer lubricants dealer near you today.