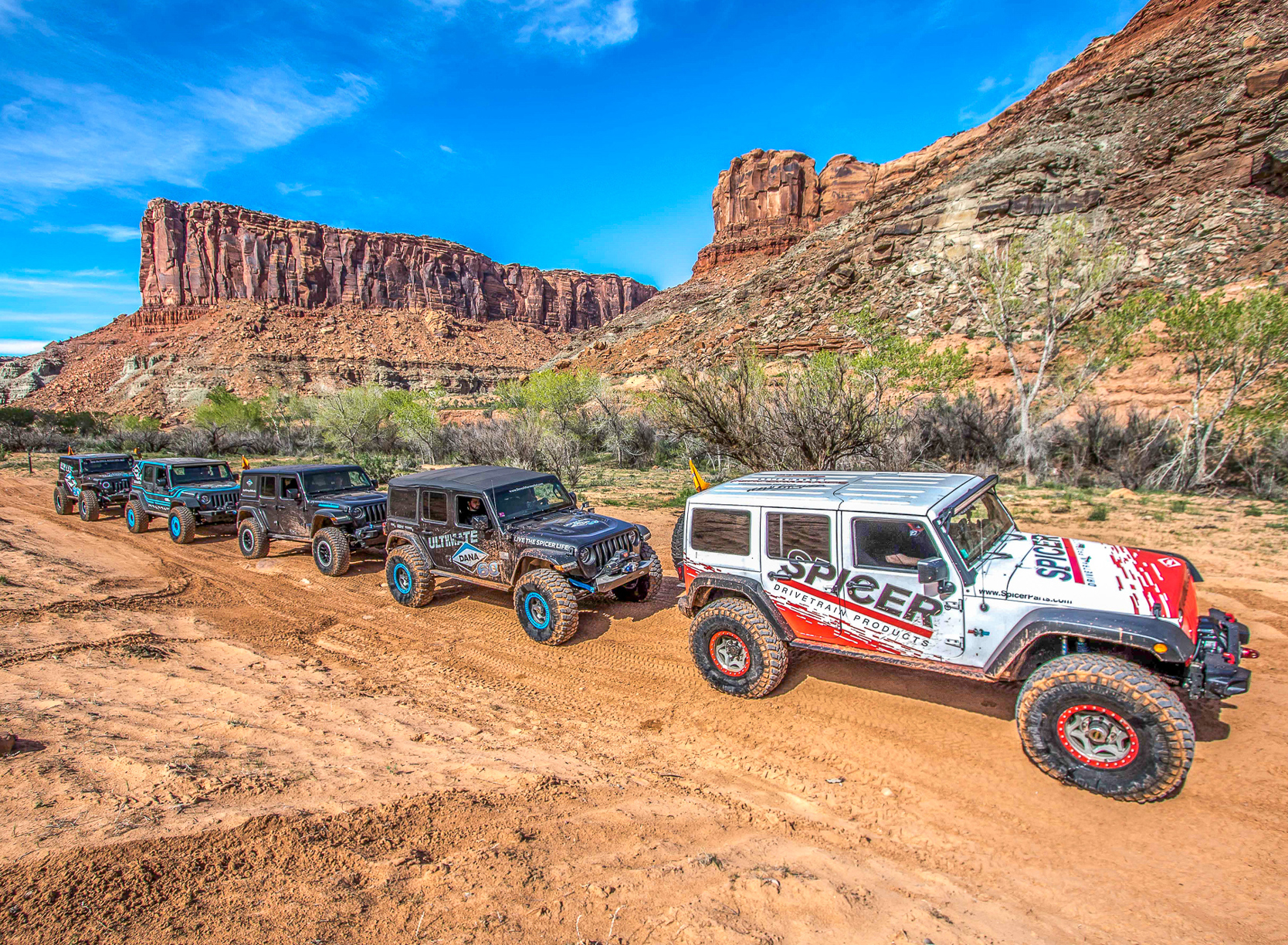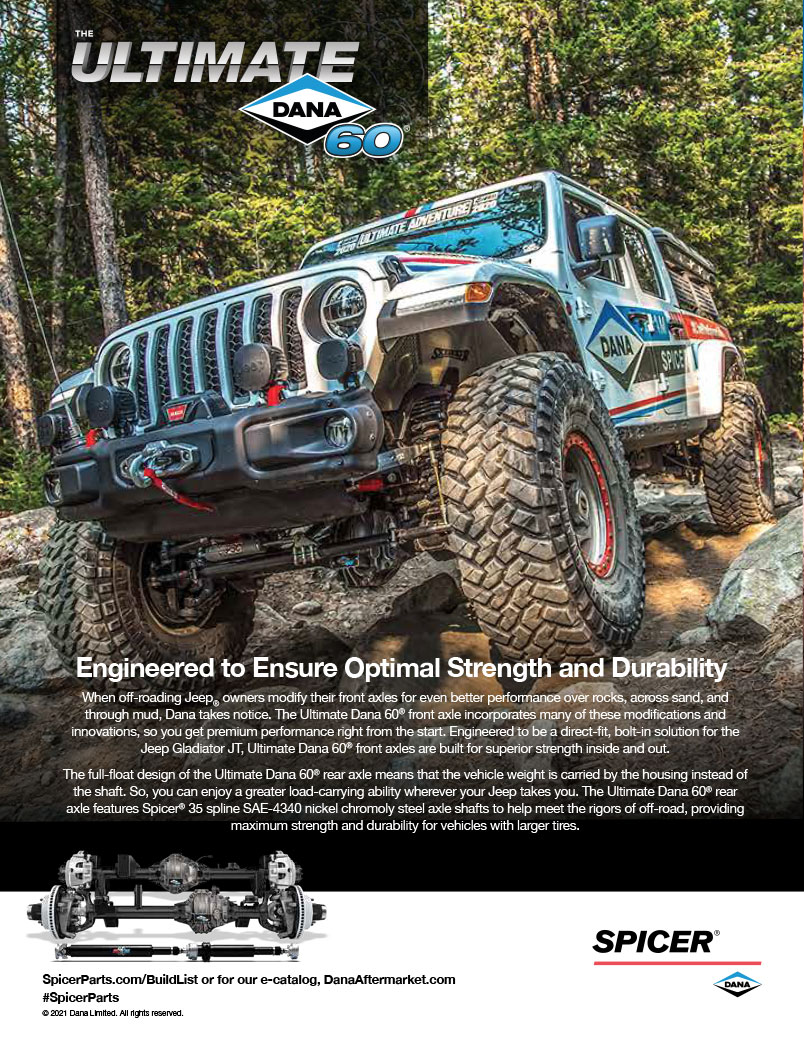 Ultimate Dana 60™ Jeep® Gladiator JT Build List
Engineered to Ensure Optimal Strength and Durability
When off-roading Jeep® owners modify their front axles for even better performance over rocks, across sand, and through mud, Dana takes notice. The Ultimate Dana 60™ front axle incorporates many of these modifications and innovations, so you get premium performance right from the start.
---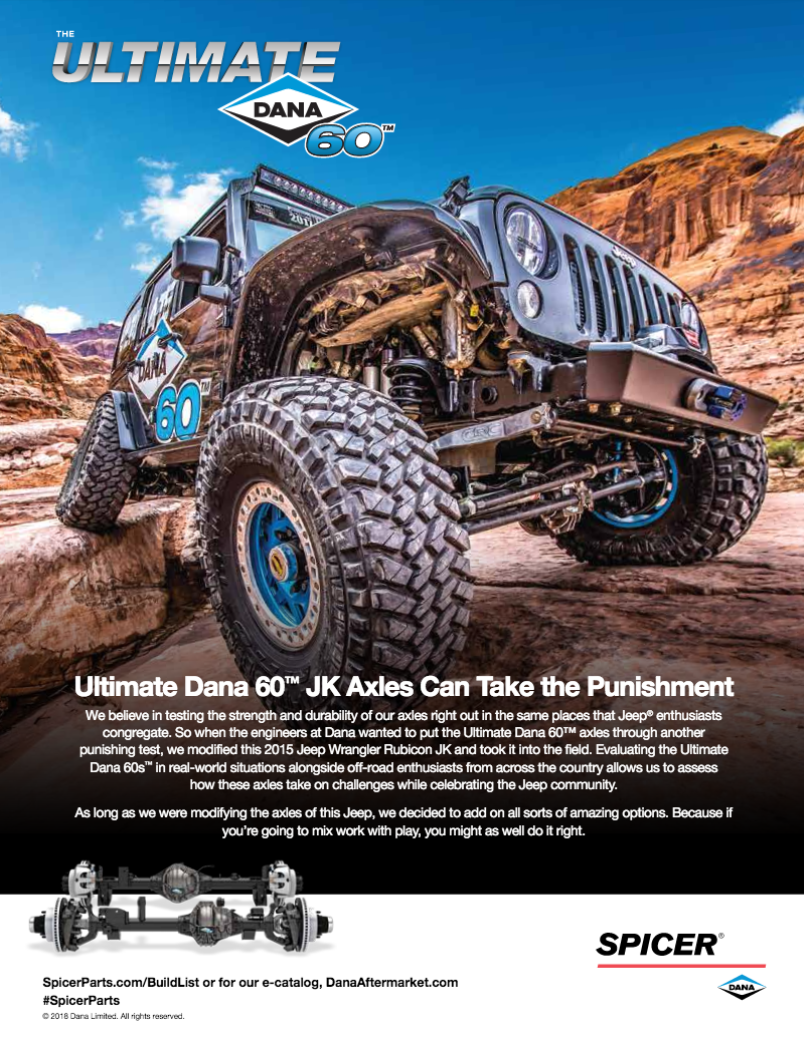 Ultimate Dana 60™ Jeep® JK Build List
Ultimate Dana 60™
 

JK Axles Can Take the Punishment

When the engineers at Dana wanted to put the Ultimate Dana 60™ axles through another punishing test, they modified this 2015 Jeep® Wrangler Rubicon JK with these, and many other upgrades. Then, they took it to the field to evaluate the parts in real-world situations.
 
---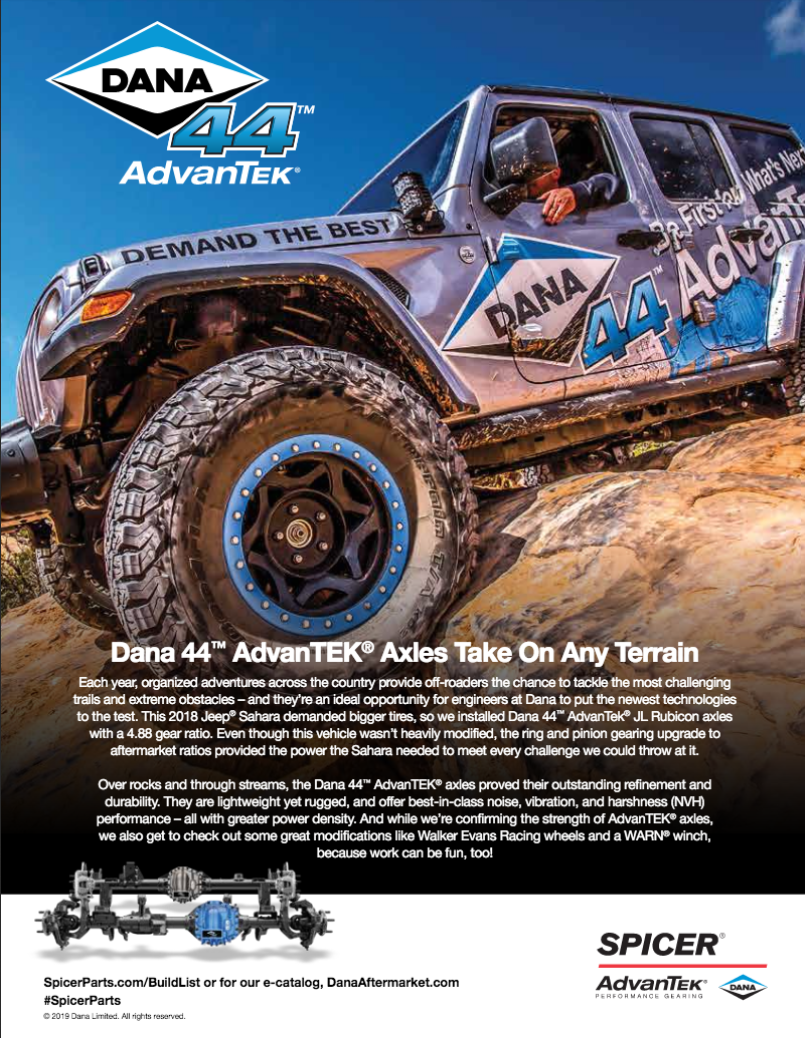 Ultimate Dana 44™ AdvanTEK® Jeep® Build List
Ultimate Dana 44™ AdvanTEK® Axles Take on Any Terrain
This 2018 Jeep® Sahara demanded bigger tires, so engineers at Dana installed Ultimate Dana 44™ AdvanTEK® JL Rubicon axles with a 4.88 gear ratio. Although this vehicle wasn't heavily modified, the ring and pinion gearing upgrade to aftermarket ratios provided outstanding power.
 
---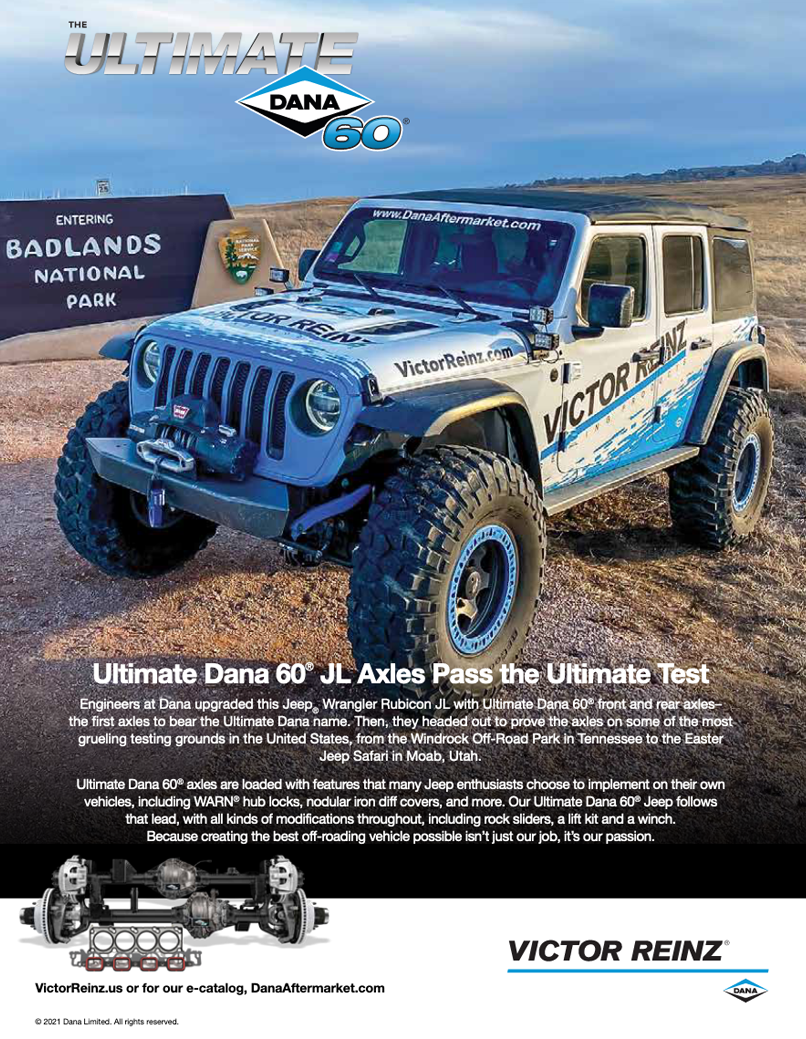 Ultimate Dana 60™ Jeep JL Build List
Ultimate Dana 60™
 

JL Axles Pass the Ultimate Test

This upgraded Jeep® Wrangler Rubicon JL features Ultimate Dana 60™ front and rear axle that are loaded with features, including WARN® hub locks, nodular iron diff covers, and more. This Jeep sports all kinds of modifications itself, including rock sliders, a lift kit and a winch.
 
---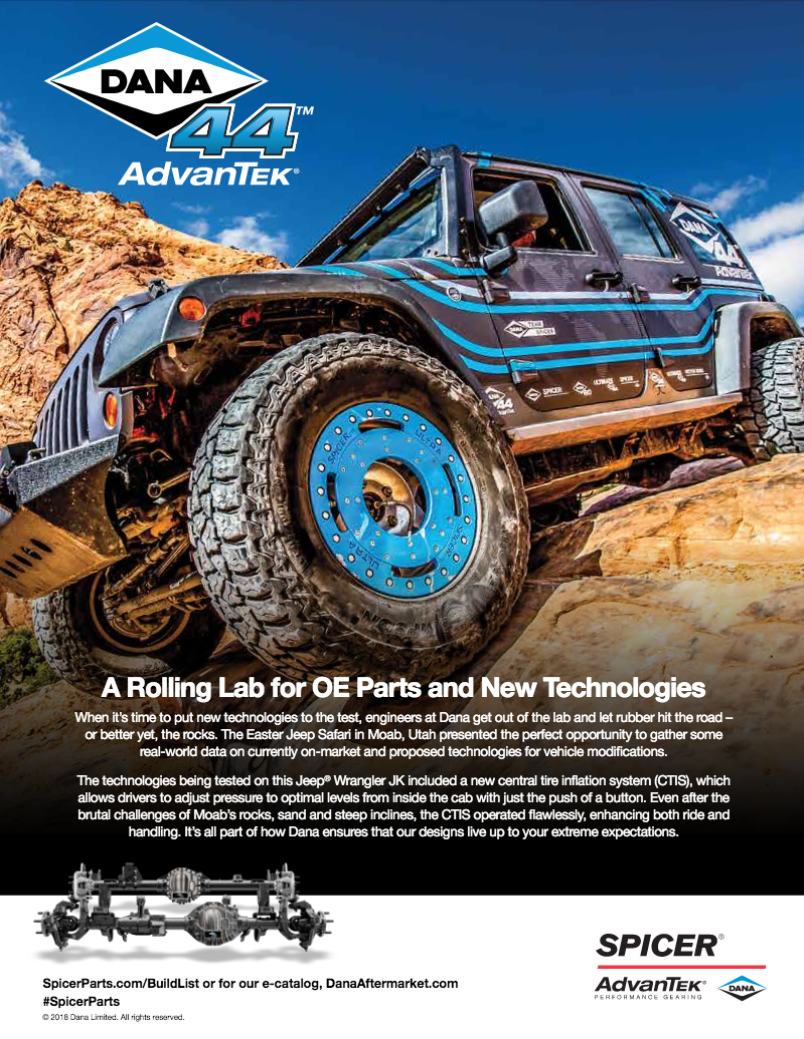 Dana 44™ AdvanTEK® Jeep JK Build List 
A Rolling Lab for OE Parts and New Technologies
Dana engineers tested a prototype central tire inflation system (CTIS) on this Jeep® Wrangler JK, which allows drivers to adjust pressure to optimal levels from inside the cab with just the push of a button. Even after the brutal challenges of Moab's trails, the CTIS operated flawlessly.
 
---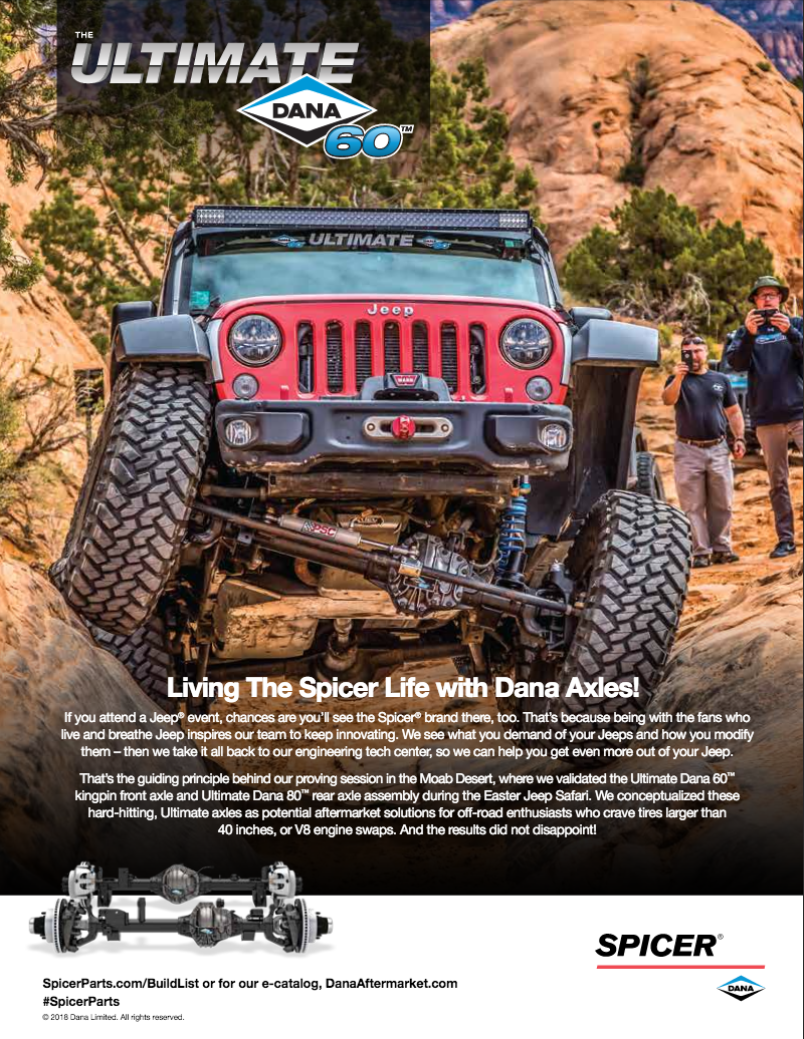 Ultimate Dana 60™ Jeep JK Spicer Build List
Living the Spicer Life with Dana Axles!
Dana engineers validated the Ultimate Dana 60™ kingpin front axle and Ultimate Dana 80™ rear axle assembly on the trails of Moab. These Ultimate axles were conceptualized as potential aftermarket solutions for off-road enthusiasts who crave tires larger than 40 inches, or V8 engine swaps.
---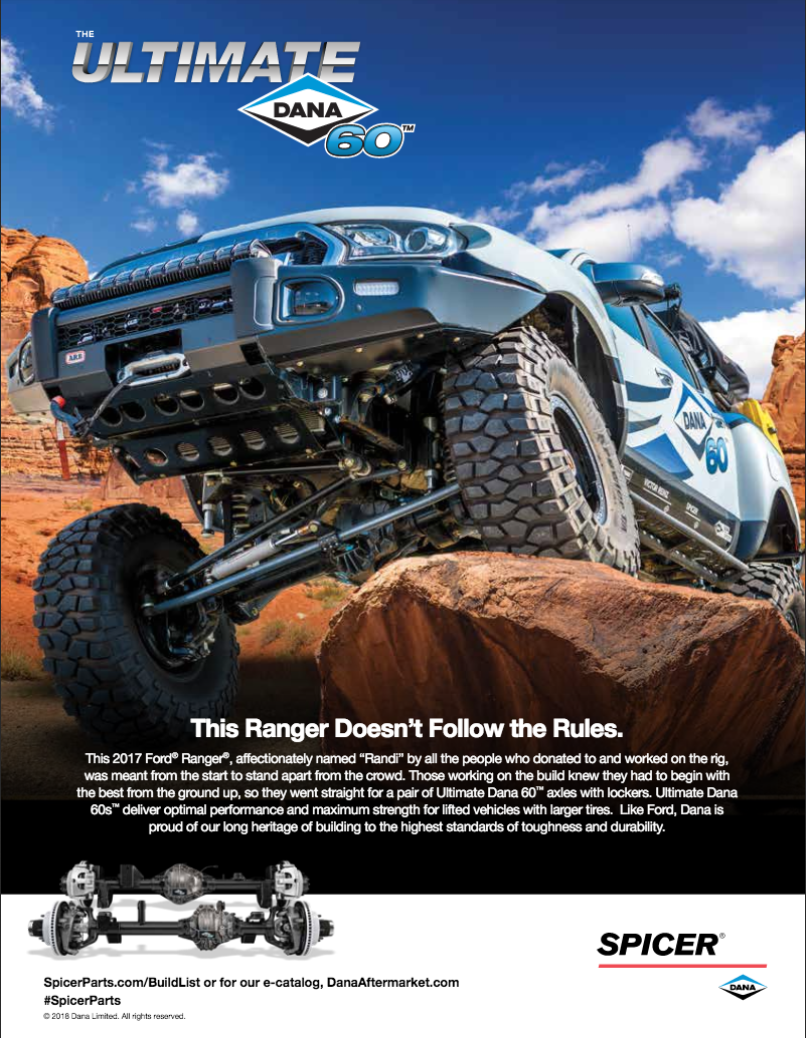 Ultimate Dana 60™ Ford® Ranger® Build List 
This Ranger Doesn't Follow the Rules.
This 2017 Ford® Ranger® stands apart from the crowd. Ultimate Dana 60™ axles with lockers deliver optimal performance and maximum strength for lifted vehicles with larger tires. Like Ford, Dana enjoys a long heritage of building to the highest standards of toughness and durability.
 
---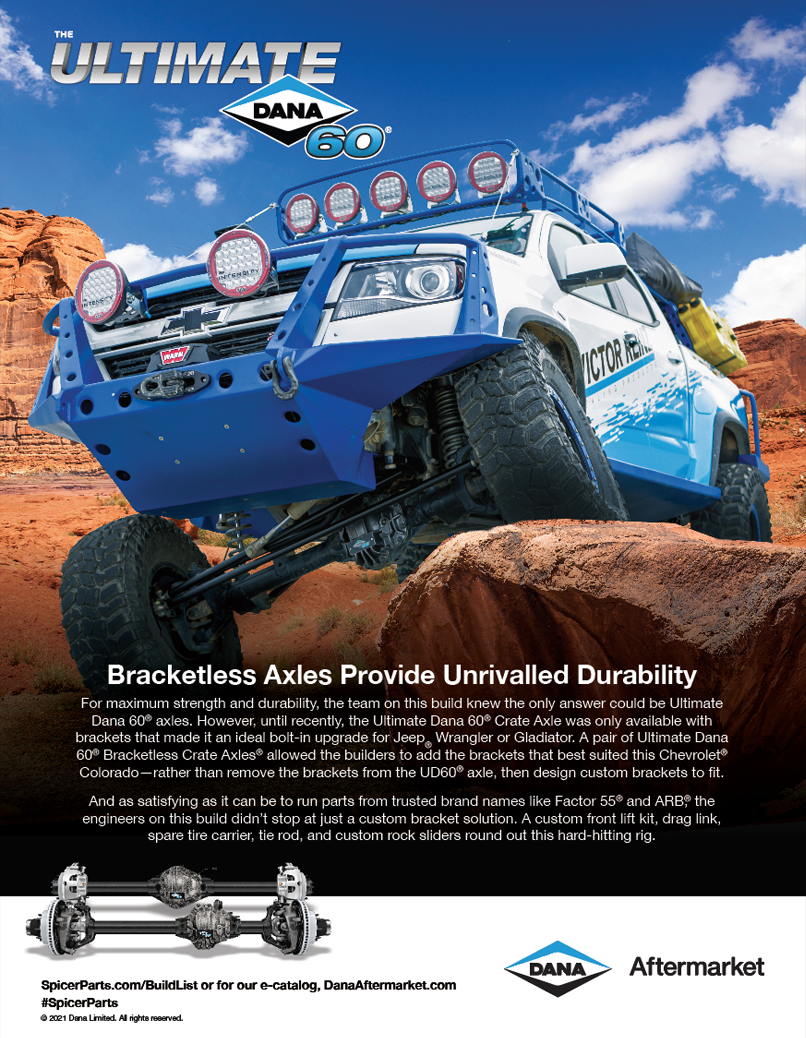 Ultimate Dana 60™ Chevrolet® Colorado Build List
Bracketless Axles Provide Unrivalled Durability on this Custom Build
To get this hard-hitting Chevrolet® Colorado ready to crawl rocks and take on any challenge, the team at Dana chose Ultimate Dana 60™ Bracketless Crate Axles®. With no mounting brackets, Bracketless axles offer builders all of the features of UD 60™ axles, but none of the brackets.
---