Maximize Fuel Economy with AdvanTEK Axles and SPL 350 Driveshafts.
PROBLEM
I need to downspeed my vehicles' engines to increase fuel economy, while managing driveline torque.
SOLUTION
Genuine Spicer® OE-quality parts, including AdvanTEK® 40 tandem axles and SPL® 350 driveshafts, are a full-system solution that allows for decreased engine RPMs with maximum efficiency.
Find a Spicer parts distributor today, or find where you can place your order now on Dana's streamlined eCommerce platform, DanaAftermarket.com.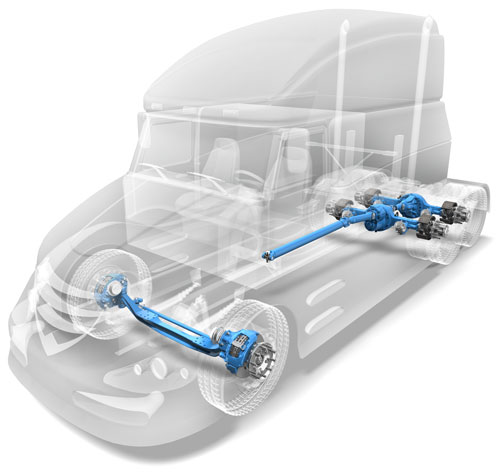 Fleet owners everywhere are recognizing the need to downspeed their vehicles' engines in order to increase fuel economy while still managing driveline torque. Engine downspeeding offers the following advantages:
Reduced fuel consumption
Reduced engine friction
Diminished relative heat transfer 
Increased thermodynamic efficiency
Only Dana offers a full-system solution with the original-equipment quality of genuine Spicer® parts. AdvanTEK® 40 tandem axles and SPL® 350 driveshafts give you the power to decrease your engine's RPMs with maximum efficiency.
Spec the industry's first full-system solution for engine downspeeding.
AdvanTEK 40 Tandem Axles: Lighter Weight for Greater Efficiency.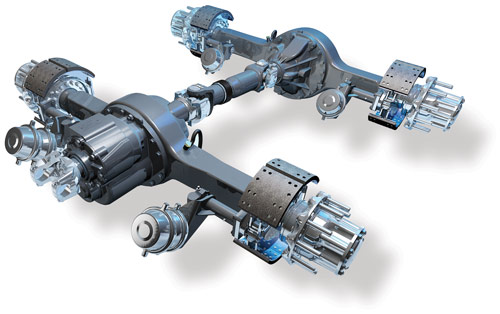 The Spicer AdvanTEK 40 tandem axle is: 
Available in five ratios to support engine downspeeding

Including the industry's fastest axle ratio of 2.26:1

Lighter than competitive 40,000-pound tandem axles 
Increases overall vehicle efficiency by up to 2%

Save more than 2,700 gallons of diesel fuel over five years
Reduce carbon dioxide output by over 60,000 lbs.
In addition, the Spicer AdvanTEK 40 tandem axle is equipped with a number of innovative features for advantages you'll notice, including:
Flow-thru lubrication system with on-demand pump
U-tube breather
Differential lock
SPL 350 Driveshafts: Maximize Efficiency and Durability.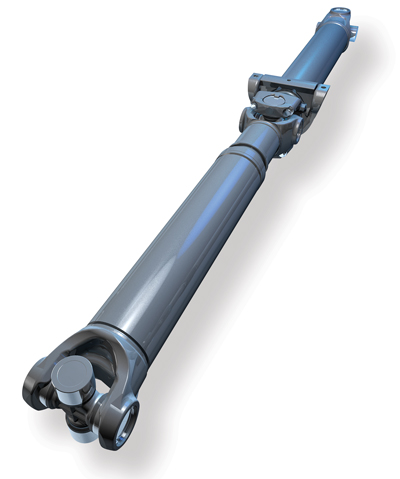 SPL 350 driveshafts work in conjunction with the AdvanTEK 40 tandem axle to help you achieve engine downspeeding while maintaining optimal torque.
High Power Density™ design
Withstands increased stresses of engine downspeeding
Offers original-equipment quality
This combination, engineered to deliver the OE performance you expect from the Spicer name, can help you achieve up to one million miles of life expectancy in your downsped engine powertrain. Use the links below to learn more about the Spicer AdvanTEK 40 tandem axle and SPL 350 driveshafts, then find a Spicer parts representative near you to start maximizing your fuel efficiency and maintaining optimal torque in your commercial vehicles.
SPL 350 Universal Joints
No other universal joints are better equipped to meet the needs of today's high efficiency trucks. Genuine Spicer Life Series® (SPL®) u-joints are designed to withstand the increased stress that high efficiency truck configurations place on the driveline, and are equipped with High Power DensityTM (HPDTM) features that extend product life and outperform the competition.
Thrust washer

Improves lubrication, eliminates friction, and extends life

Bearing package

Larger rollers for a 40% increase in bearing capacity

Spicer Ultra-Premium Synthetic Grease

Increases bearing life by more than 30%

Multi-lip seal

Viton®* material extends life, improves wear capacities and heat resistance, optimizes lube retention and protects against external contaminants

Seal guard

Provides protection against external contaminants
*VITON is a registered trademark of The Chemours Company.