The Parts You Need to Build a Custom Dana 60™ Axle—Brand New from Dana!
PROBLEM
"I build custom rigs, and whether I need to customize my wheel end components or suspension system, or I'm looking for a custom width axle, I want components from Dana—without a trip to the junk yard."
SOLUTION
With brand-new parts from Dana's Builder Axle Program, you can accommodate almost any application, with options like extra-long tubes to cut to length, options for ball joint or king pin, and much more.
Stop wasting time scouring the junkyard yards. Now you can order the Spicer® parts you need for the Dana 60™ axle from Dana through the Builder Axle Program. Whether you have a rock crawler, rock bouncer, sled puller, or other off-road vehicle, you can get brand new, genuine Spicer components—engineered by Dana, and available through authorized Dana distributors.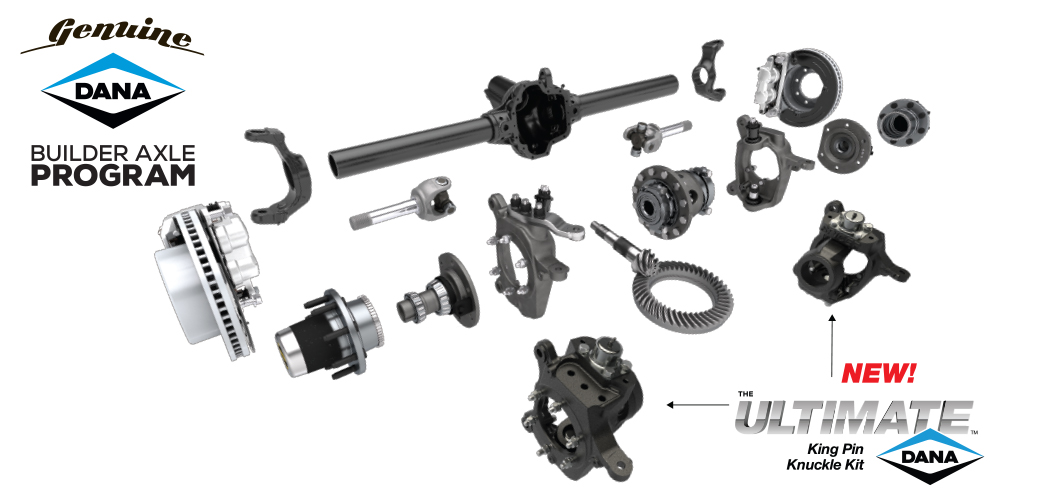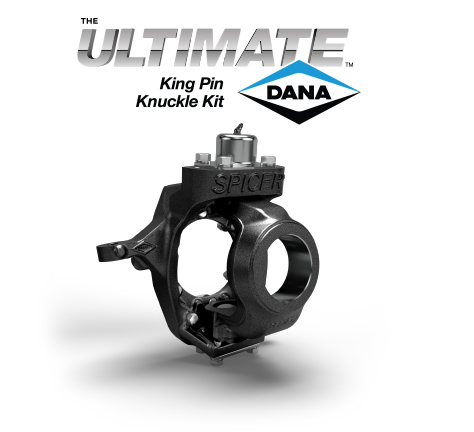 New and now available, Dana offers The Ultimate Dana™ King Pin Knuckle Kit. These complete kits feature the only king pin knuckle that works with SPL70 u-joints and Ultimate Dana 60™ spindle and hub parts. You get all of the king pin components needed for installation with The Ultimate Dana™ King Pin Knuckle Kit.
Spend Less Time in the Junkyard and More Time on the Trail.
Customizing your Dana 60™ axle? Dana's Builder Axle Program lets you order the right Spicer parts for the job. You can get new, genuine OE parts to fit almost any off-road vehicle. Even if you're building an "Ultimate Snow Fighter" axle, you can find all the parts you need. Just go to www.DanaAftermarket.com, enter "Builder Axle" in the search bar, and follow these three easy steps:
1. Select your genuine Dana 60™ builder housing:
Front Dana 60™ high pinion, high clearance, cut-to-length housing
Rear Dana 60™ cut-to-length housing
2. Determine your desired components:
Ball joint knuckle kit (includes knuckles, tube yokes, and relevant components)
Wheel end kit (includes hubs, spindles, and relevant components)
Hub lock/drive flange kit
Lockers
SPL®-70 axle shafts
Ring & pinion gearing
Bearing kits
Brake kits
Yoke/flange
3. Use the "Where to Buy" feature on DanaAftermarket.com to find a distributor near you. It's that easy!
Ultimate Dana 60™ Bracketless Crate Axles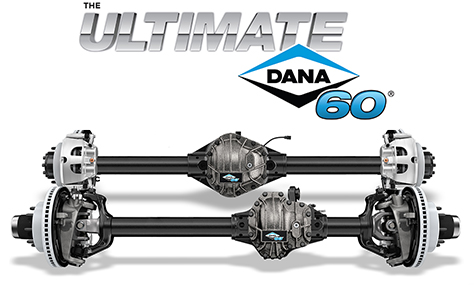 Now, Dana offers Bracketless Crate Axles® for installation in virtually any application, with no bracket removal required. You can get a new Ultimate Dana 60™ Bracketless Crate Axle straight from Dana, weld on the brackets that fit your rig, and get ready to overcome even the toughest obstacles.