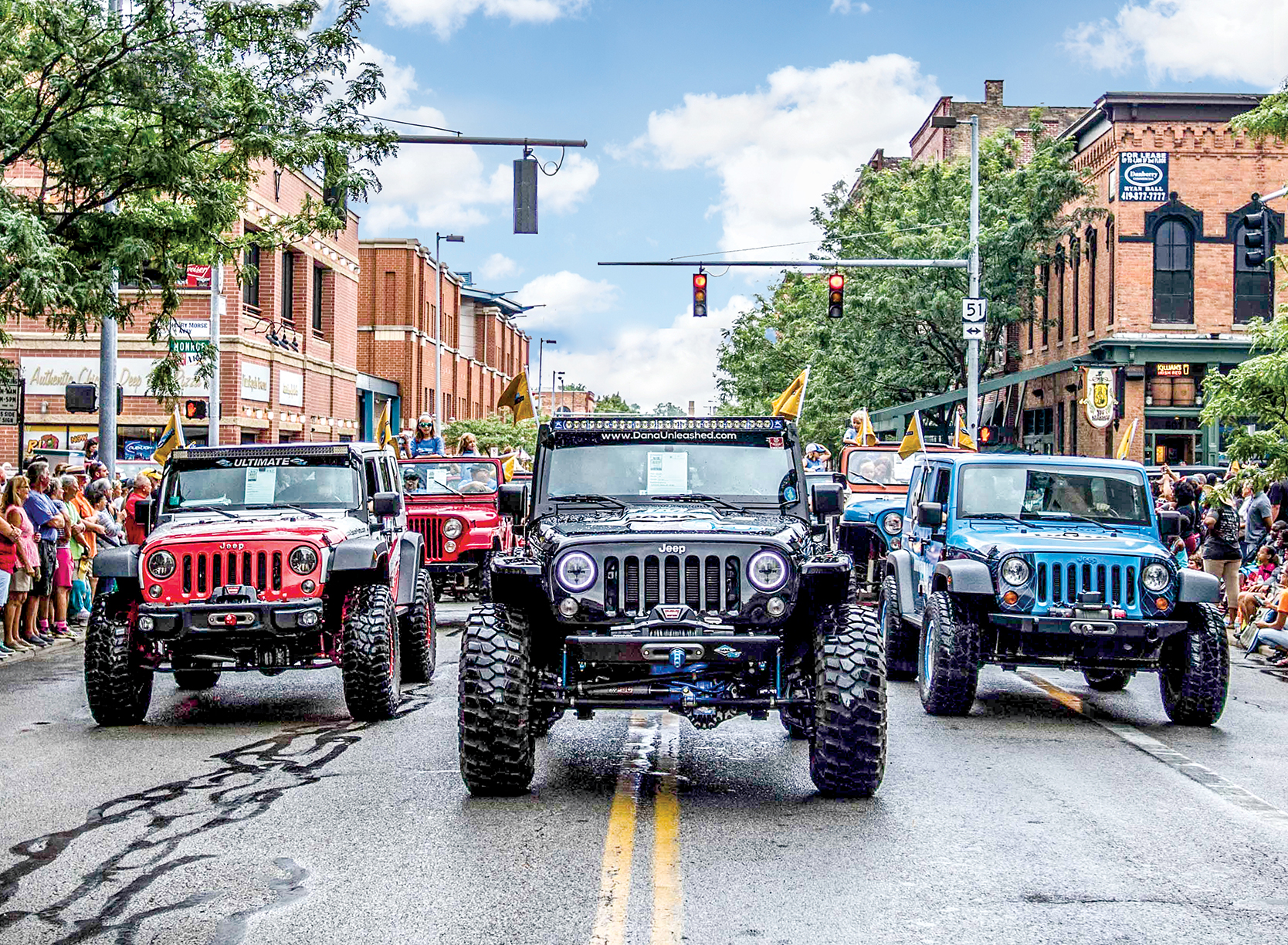 For 75 years, the Jeep name has been synonymous with rugged performance—and Dana axles are an essential part of the Jeep legend.
Recently, the Dana/Jeep connection has become even closer as three specially branded Jeeps are making their way to events across the country. Even more importantly, these Jeeps are opportunities for Dana to test original equipment parts and genuine Spicer products designed to meet the demands of Jeep enthusiasts everywhere.
The Ultimate Dana 60™ Jeep: Fully Upgraded from Front to Rear.
If you've been to a Jeep event recently, chances are you've seen Dana and the Spicer brand there as well. That's because our team knows that being shoulder to shoulder with the people who live and breathe Jeep is what inspires us to keep innovating. We see what you put your Jeeps through, look at the ways you're modifying your vehicles, and take what we see back to our teams of engineers—so that we can help you get even more out of your Jeep.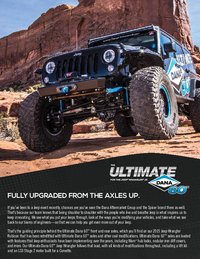 That's the guiding principle behind the Ultimate Dana 60™ front and rear axles, which you'll find on our 2015 Jeep Wrangler Rubicon that has been retrofitted with Ultimate Dana 60™ axles and other cool modifications. Ultimate Dana 60™ axles are loaded with features that Jeep enthusiasts have been implementing over the years, including Warn® hub locks, nodular iron diff covers, and more. Our Ultimate Dana 60™ Jeep Wrangler follows that lead, with all kinds of modifications throughout, including a lift kit and an LS3 Stage 2 motor built for a Corvette.  
The Spicer Jeep: Proving Ground for Ultimate Dana 60™ and Ultimate Dana 44™ Axles
This 2012 Jeep Wrangler Sahara originally came with the standard Dana 30™ axle in the front and the Dana 44™ axle in the rear. Initially Dana upgraded this Jeep to Ultimate Dana 60™ front and rear axles—the first axles to bear the Ultimate Dana name. With Ultimate Dana 60™ axles in place, they took this Jeep to the Moab Jeep Safari, one of the most grueling testing grounds in the United States. Along the way, we've added rock sliders, a suspension lift, a bigger light bar and more because, let's face it, we're Jeep guys at heart too.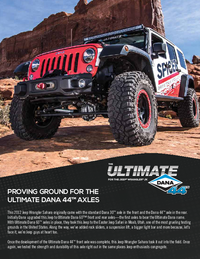 Once the development of the Ultimate Dana 44™ front axle was complete, this Jeep Wrangler Sahara took it out into the field. Once again, we tested the strength and durability of this axle right out in the same places Jeep enthusiasts congregate.
The Dana Jeep: A Rolling Lab for OE Driveline Parts
As Dana works to develop future innovations this 2013 Jeep Wrangler Sport has served as the test bed for Jeep original equipment driveline products. Once a new advancement is developed by Dana, prototype parts are installed on this Jeep vehicle for real-world testing. There is a range of monitors inside the Jeep that measure torque and other factors that help Dana's engineers determine what's going on as Dana products interact with the Jeep.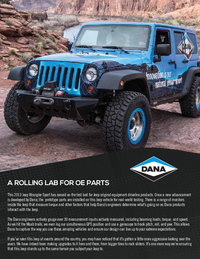 If you've seen this Jeep at events around the country, you may have noticed that it's gotten a little more aggressive looking over the years. We have indeed been making upgrades to it here and there, from bigger tires to rock sliders. It's one more way we're ensuring that this Jeep stands up to the same terrain you subject your Jeep to.
From the Moab Jeep Safari to the King of Hammers to the Woodward Dream Cruise, Dana and Spicer parts are there—showcasing our Jeep-related innovations and watching out for whatever's next.
Check out our full line of parts engineered specifically for the Jeep Wrangler JK, and find a dealer near you today.