Dana Expands Spicer Select™ Coverage of Light Vehicle Center Support Bearings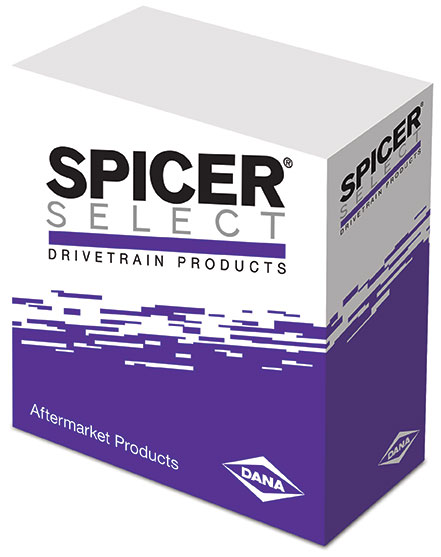 MAUMEE, Ohio – Dana Incorporated's aftermarket group has expanded its line of Spicer Select™ light vehicle center support bearings. The increased coverage includes applications for high volume vehicles in operation (VIO) like Chevrolet® Silverado trucks and fleet-managed last mile delivery Dodge® and Mercedes® Sprinter vans.
"The goal of the Dana aftermarket group is to develop, manufacture, and supply customers with the quality parts they need to service the most popular vehicles in operation today, including last mile delivery vehicles," said Bill Nunnery, senior director, sales and marketing, global aftermarket for Dana Incorporated. "Spicer Select light vehicle center support bearings are second to none when it comes to performance and durability. Our customers know they can trust Spicer Select for the life of the vehicles they service."
Spicer Select light vehicle center support bearings use premium aftermarket grade bearings. Manufactured by the driveline experts at Dana and proven to last for the life of the vehicle, Spicer Select center support bearings are made with high quality steel brackets, designed to OE specifications for proper fit, and feature the correct rubber hardness to ensure a smooth and quiet ride.
To learn more about Spicer Select products, visit www.spicerparts.com/spicerselect.
About Dana in the Aftermarket
Powered by recognized brands such as Dana, Spicer®, Victor Reinz®, Albarus™, Brevini™, Glaser™, GWB™, Spicer Select™, Thompson™, and Transejes™, Dana delivers a broad range of aftermarket solutions – including genuine, all-makes, and value lines – servicing passenger, commercial, and off-highway vehicles around the world. Leveraged by a global network of 14 distribution centers, Dana's dedicated aftermarket team provides technical service, customer support, high fill rates, and on-time delivery to customers around the globe. For e-catalog and parts locator, visit www.DanaAftermarket.com. To speak with a Dana customer service representative, call 1-800-621-8084.