Resolution: 0.1° (0° to 90°)
Total Range: 360° (90° x 4)
Accuracy:

± 0.1° (0° - 10°)
± 0.2° (11° - 79°)
± 0.1° (80° - 90°)

Temperature:

Operating: -5°C to 50°C
(23°F to 122°F)
Storage: -20°C to 65°C 
(-4°F to 149°F)

Weight: 289g (10.2 oz)
Dimension (h x l x w):

1.9" x 6.015" x 1.215"
4.83cm x 15.28cm x 3.09cm
Repeatability: ± 0.1°
Cross Axis Error: Minimal
Battery:

Power: 9V DC
Life: 200 hours minimum; 500 hours typical
Low battery signal appears if voltage drops below 7V
Unit should be recalibrated when replacing batteries. 
Putting the battery in improperly will damage the unit.

Automatic shut-off feature
Comes in a zippered pouch for storage
Anglemaster® Pro Specifications
Resolution:

± 10° / 0.01°
11° to 79° / 0.10°

Total Range: 360° (90° x 4)
Accuracy:
Temperature:

Operating: -5°C to 50°C
(23°F to 122°F)
Storage: -20°C to 65°C 
(-4°F to 149°F)

Weight: 295g (10.4 oz)
Dimension (h x l x w):

1.9" x 6.015" x 1.215"
4.83cm x 15.28cm x 3.09cm

Repeatability: ± 0.05°
Cross Axis Error: Minimal
Battery:

Power: 9V DC
Life: 200 hours minimum; 500 hours typical
Low battery signal appears if voltage drops below 7V
Unit should be recalibrated when replacing batteries. 
Putting the battery in improperly will damage the unit.

Automatic shut-off feature
Comes in a zippered pouch for storage
Data port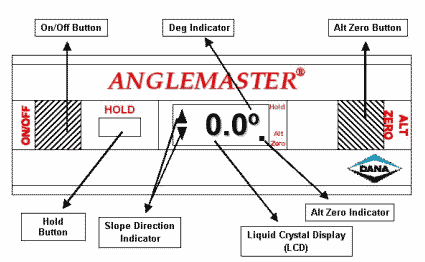 Operating Functions
On/Off
The instrument is powered by a single push of the on/off button. Power is removed by a second push of the button. Auto shut-off occurs in five minutes.
Hold
The displayed reading on the LCD is retained by a single push; a second push releases the reading. "Hold" indicator flashes in this mode.
Alt Zero
Alternate Zero allows you to zero the digital readout anywhere within its range fro a quick and accurate measurement of deviations from a reference surface. "Alt Zero" indicator flashes in this mode.
Deg Indicator
Angular measurement is displayed in degrees.
Slope Direction Indicator (Arrows)
The down arrow indicates a slope in clockwise direction from zero (negative). The up arrow indicates a slope in counterclockwise direction from zero (positive).
Liquid Crystal Display (LCD)
The LCD displays the digital readout. "LO" is displayed and flashes on the LCD when the battery voltage drops below 7 volts. The battery should be replaced when this condition exists. Low battery voltage may affect accuracy.