Innovations, Expanded Coverage, and More
Dana's Aftermarket Group kicked off 2016 with a number of exciting programs that will broaden our coverage and provide genuine Spicer quality and engineering in more applications than ever before.
Our innovative Crate Axle program provides the opportunity to obtain genuine Dana axles from our network of authorized dealers. With Dana Crate Axles, you can be assured you're getting the exceptional product and performance you expect from the most recognized axle brand in the market. This program will continue to expand and provide greater coverage.
The Ultimate Dana 44™ axle and Ultimate Dana 60™ axles for the Jeep® Wrangler® JK have taken the off-roading community by storm, and we can expect the excitement to grow even further as we extend these two lines even further. The Ultimate Dana 44™ front axle assembly is now available with standard/open differential options in addition to the previously available electronic locking differential options. We also now offer 3.73 and 4.10 ratios for the Ultimate Dana 60™ axle assembly, in addition to the previous 4.88 and 5.38 ratios.


The overwhelming response to the Ultimate Dana 44™ front axle has driven demand to offer a Dana 44™ front crate axle, which is fully customizable to fit multiple applications. Our commitment to delivering OE-quality to the widest range of applications possible begins with the launch of the Dana 44™ Front Crate Axle. Available with either a standard/open or electronic locking differential, the Dana 44™ Front Crate Axle includes knuckles and hubs. And because it's sold without brakes and brackets, it's perfect for customizing to your needs.
Spicer® Axle Overhaul and Bearing Kits offer an easy repair option across a range of applications. That range is now even wider as 30 additional SKUs have been introduced, providing more customers with the parts they need all in one convenient place. Standard axle bearing kits include: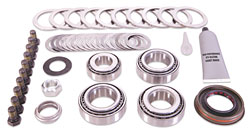 Pinion Head & Tail Bearings
Differential Bearings
Pinion Seal
Pinion Nut
Collapsible Spacer (where applicable)
RTV Sealant
Spicer master overhaul kits are our most comprehensive repair solution, with all the small parts to do the job right, including sealant, snap rings, gaskets, shims, and more. In addition, these kits feature the highest quality mix of bearings, cups and cones, each precisely selected for maximum performance in every position and application, as well as premium oil seals for your best protection against nagging leaks and damaging contamination.
With these kits, customers can save money, downtime, and aggravation by having all of these components right where they need them—right when they need them. And now with even more coverage for even more models, we predict that they're going to be in even greater demand.
We have also launched our second phase of the All-Makes Universal Joint Program. Spicer has always been the leading brand in the u-joint market. This second phase now provides coverage for 99.7% of industry sales.
As 2016 rolls along, the level of coverage will continue to expand. We expect to reach 99.9% coverage in our universal joint program by the end of 2016! Stay tuned for further details.