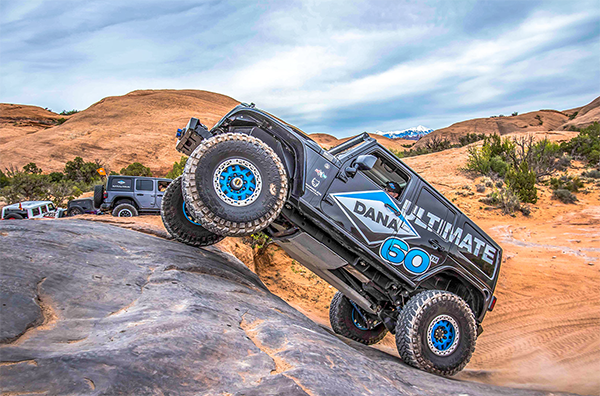 "Every day is a fine day to be in Moab!" Zack Heisey, Dana's Senior Manager of Aftermarket Engineering, addresses an eager crowd of off-roading fans as they prepare for their first trail run at the Easter Jeep Safari. It's a beautiful morning in the desert, and the drivers are ready to take on Chicken Corners, a trail that follows the Colorado River over bedrock and sand. As Day One of the Safari kicks off, the Dana Aftermarket team is there with other off-roading enthusiasts to conquer the extreme environment of the Moab desert.
The Easter Jeep Safari is a nine-day event hosted by the Red Rock 4-Wheelers Inc., consisting of trail rides that depart from Moab, Utah. Participants bring their own four-wheel-drive vehicle and provide their own essentials, while the Red Rock club plans the routes, takes care of permits and other legal matters, and guides the way on the day-long trips. For 53 years, the event has drawn drivers from across the country to spend the week "crawling" over some of the most challenging 4x4 landscapes in the world.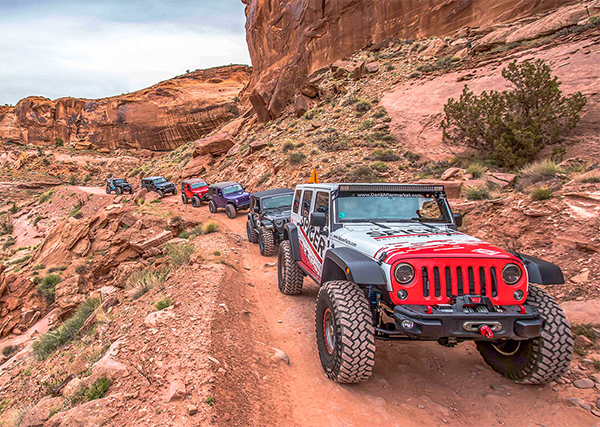 Dana is there to support Red Rock 4-Wheelers, sponsoring various trail rides that typically enjoy up to 50 participants. The three trail rides that Dana sponsored at the event – Chicken Corners, Copper Ridge and Moab Rim – offered participants a range of stunning scenery and diverse terrain. Those who signed up for the Dana-sponsored trail rides not only got to test their rigs, but also received updates on new technology that is Dana-engineered to support the best possible off-roading experience, and some Dana swag.
"But we don't just fund the trail rides," says Dana's Manager of Performance Aftermarket Randall Speir. "We also participate! Drivers get to interact with our products and our vehicles, and also with our people. The best part of our involvement is definitely spending time with our customers. We love doing fun, off-road adventures, because we're enthusiasts, too!"
Yet for the Dana Aftermarket team in Moab, it's not simply about fun on the trails. Just before the excitement and camaraderie of the Safari is Engineering Week, when Dana engineers perform real-world validation tests of Dana products. "It gives our engineers first-hand experience of what the products are subjected to in that environment," says Speir. That validation is two-sided: there are the new products being tested for the first time, and then there is the persistent verification of products over time. "We cycle several of our vehicles over a longer timespan, putting them through stressful off-road events and then driving them on highways and surface streets throughout the year as a typical owner would. We're continually looking at longevity, to ensure that these are products that are going to last."

Dana ran five different Jeeps during Engineering Week, giving engineers plenty of "seat time," which then leads to better design. The Jeeps were outfitted with a mix of well-established, trusted products like Ultimate Dana 60™ crate axles, and prototype parts such as an Ultimate Dana 80™ rear axle and a central tire inflation system (CTIS). Known as Bad Baby, the Jeep JK outfitted with the CTIS also featured an Ultimate Dana 44™ AdvanTEK® JL front crate axle. "We used an installation kit when re-gearing the back axle to match the front crate axle's gear ratio. This gear ratio change is essential to getting a good balance of gas mileage, and the torque you need when you upgrade to larger diameter tires," Speir explains.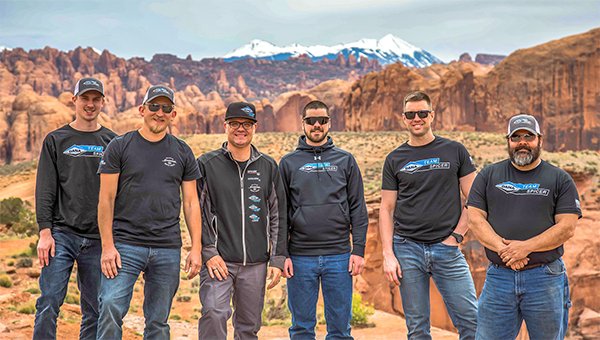 Although the team was busy getting the products wet and dirty and pushing them hard on mud, ice and rock, they also found some time to make a few videos, and throw a snowball or two. "Dana Aftermarket's social media blitz was in full effect," shares Speir. "We did Facebook Live from the trails; it was incredibly well-received, and so fun! We didn't realize how effective it would be, but as it turned out, people really tuned in. Some participants actually made their plans for the Safari based on the weather conditions they saw in our videos!"
During the well-attended event itself, "we saw more Dana crate axles and Spicer aftermarket products then we've ever seen before," remarks Speir. "It's a really good feeling, to see that our products work so well, and that people trust them." And that's great motivation for his team to continue to design and manufacture the products that enable the off-roading community to enjoy new adventures, and "live the Spicer life."