Upgraded Ball Joints for Better-Than-OE Durability
PROBLEM
"Installing larger-than-stock tires generates more stress, which can damage and quickly wear out the original equipment ball joints and contribute to uneven tire wear."
SOLUTION
The Spicer® performance ball joint is designed with metal-on-metal construction, providing increased resistance to stressors like deflection and deformation, thereby extending part life and preventing uneven tire wear.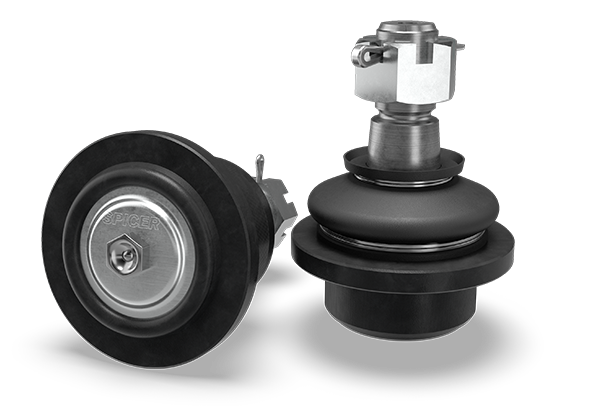 When you perform improvements to your Jeep such as upgrading to larger wheels and tires, or you take your Jeep off-roading more than the average owner, you're going to need a heavy-duty ball joint to ensure that your wheel alignment stays true. An upgraded ball joint will also reduce the chance of experiencing rapid oscillation in the steering components that results in a harsh shaking of the steering wheel. The Spicer® Performance ball joint kit for Jeep® Wrangler JK is a significant ball joint upgrade that replaces the OE (original equipment) plastic-on-plastic design.
Spicer® Performance ball joints deliver peace of mind off-road with metal-on-metal construction. The results-driven design also includes a grease zerk for extended life and serviceability.
PROBLEM
"Over time, the lubrication inside OE ball joints becomes susceptible to contamination from water, dirt, and other debris, but the ball joints are not serviceable."
SOLUTION
The Spicer® Performance ball joint design includes a grease zerk to input fresh lubricant and purge contaminants, for extended ball joint life.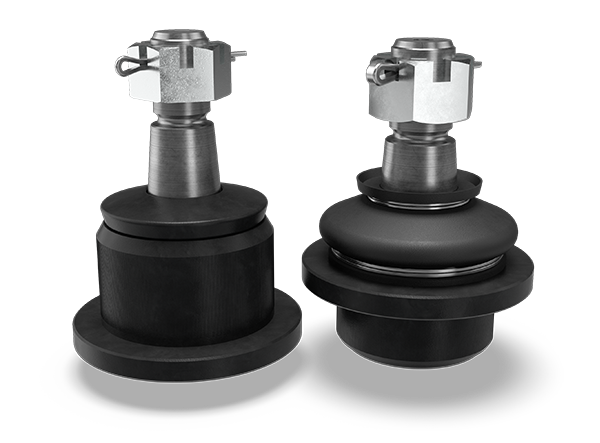 If you upgrade to bigger tires, and perhaps make other modifications like body armor, roof top tents, and new bumpers, the heavier weight adds stress. This can shorten the life of the axle and its components; the original ball joints wear much faster. To prevent failure of these parts when you're out on the trail, an upgrade to larger tires should also incorporate upgraded ball joints. A heavy-duty Spicer® Performance ball joint will help ensure that you get all the quality and performance you demand from your bigger, beefier wheels and tires.
The Spicer® Performance ball joint kit features everything needed to service the front left or front right of your Jeep Wrangler JK.
One upper and one lower ball joint
Nuts and cotter pins
| Application | Axle Model | Left | Right |
| --- | --- | --- | --- |
| 2007-2018 Jeep Wrangler JK | Dana 30 (Model 186) | 10073372 | 10073372 |
| 2007-2018 Jeep Wrangler JK | Dana 44 (Model 216) | 10073372 | 10073372 |
Trust Spicer to help your Jeep dominate the pavement or the rocks with top quality parts. Find a Spicer parts distributor today, or find where you can place your order now on Dana's streamlined eCommerce platform, DanaAftermarket.com.