The Dana brand is the global leader in drivetrain components. Dana axles set the standard for other aftermarket axle manufacturers who call their axles "Dana 44s" – just like most of us call cotton swabs "Q-tips." But make no mistake: if you're not buying genuine Dana, you're not getting the same quality and performance in your parts.
With Dana's innovative Crate Axle® program, we're making it even easier for you to get the exact OE-quality axle you need, right out of the box. Get 100% genuine Dana 44™ product (including housing, gears, bearings, and axle shafts) quickly and easily.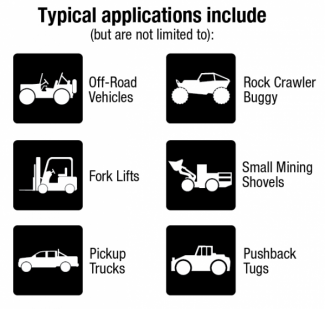 Dana 44™: Better Than the Rest. Better Than Ever.
While it's not easy to improve upon the best, Dana 44™ axles are now even better! Thicker wall tubing increases axle strength and raises the gross axle weight rating. Combine that with genuine Spicer® chromoly axle shafts and gearing, plus Spicer SPL® 1350 u-joints, and you'll have unparalleled strength and performance on any terrain. See below for additional features and benefits of the new-and-improved Dana 44™.

Spicer® chromoly axle shafts for optimal strength and performance
Thicker wall tubing for increased axle strength
Genuine Spicer® gearing
Open and selectable electric locking differential options
Spicer SPL® 1350 u-joints with multi-lip seals and full-circle snap rings for ultimate protection and retention
Reference Application Guide for Dana 44™ Front Axle
| Part Number | Differential Type | Location | Ratio |
| --- | --- | --- | --- |
| 2018543-1 | Open/Std. Differential | Front - w/o brakes and brackets | 3.73 |
| 2018543-3 | Open/Std. Differential | Front - w/o brakes and brackets | 4.10 |
| 2018543-5 | Open/Std. Differential | Front - w/o brakes and brackets | 4.56 |
| 2018543-7 | Open/Std. Differential | Front - w/o brakes and brackets | 4.88 |
| 2018543-9 | Open/Std. Differential | Front - w/o brakes and brackets | 5.13 |
| 10031143 | Open/Std. Differential | Front - w/o brakes and brackets | 5.38 |
| 2018543-2 | Electric Locking Differential | Front - w/o brakes and brackets | 3.73 |
| 2018543-4 | Electric Locking Differential | Front - w/o brakes and brackets | 4.10 |
| 2018543-6 | Electric Locking Differential | Front - w/o brakes and brackets | 4.56 |
| 2018543-8 | Electric Locking Differential | Front - w/o brakes and brackets | 4.88 |
| 2018543-10 | Electric Locking Differential | Front - w/o brakes and brackets | 5.13 |
| 10031144 | Electric Locking Differential | Front - w/o brakes and brackets | 5.38 |
| Ring Gear Size (inch) | GVW (lbs.) | GAWR (lbs.) | GCW (lbs.) |
| --- | --- | --- | --- |
| 8.50 | 5700 | 2780 | 8500 |