Repair Solutions for the Ford® Bronco®
PROBLEM
"I need an axle shaft that fits my Ford Bronco and delivers the same performance I got from the original part."
SOLUTION
Statistically-controlled manufacturing processes yield a factory-grade fit for Spicer nickel chromoly axle shafts, which feature top-grade materials for strength and durability that can exceed OE standards.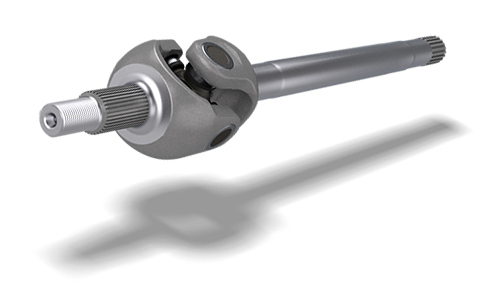 For repairs or upgrades to 1971-1977 Ford Broncos with a Dana 44™ axle, trust Spicer nickel chromoly axle shafts to provide high-performance strength and durability. Spicer chromoly axle shafts are engineered for ideal strength off-road and optimized for use with larger tires. Top-grade materials and statistically-controlled manufacturing processes provide premium performance.
Designed to deliver added strength and durability
SAE-4340 nickel chromoly steel construction ensures ideal hardness throughout the part

Nickel provides additional toughness
Chromium ensures high-temperature strength and resistance to abrasion
Molybdenum helps maintain a specified hardenability that is ideal for these specific parts

Rigorous heat treatment processes ensure optimal hardness throughout the part
Provide greater strength for confidence on the trail
Get the axle shaft that fits your 1971-1977 Ford Bronco and delivers the same performance you got from your original part.
Check out our streamlined ecommerce and parts locator platform DanaAftermarket.com or see our Where to Buy page.