Next-Day Direct Shipment of a Complete Driveshaft Assembly
PROBLEM
"Heavy duty driveshaft repair can be complicated due to the countless configurations required to accommodate all the vehicle makes you service."
SOLUTION
With the Spicer ReadyShaft™ Program for commercial vehicles, Dana offers shipment of a warrantied driveshaft assembly by the next business day, with easily trackable delivery.
When a commercial vehicle is down, Dana is there to meet your need for a fast-turnaround aftermarket driveshaft solution. The Spicer ReadyShaft™ Program offers the convenience that you demand, providing world-class driveshaft assemblies that are shipped within one business day of order and feature warranty coverage.

Features and Benefits
Convenience of next-day shipment from receipt of order
Free ground shipping
Seamless ordering process
Comprised of Genuine Spicer driveshaft components
Built to OE specifications
Eliminates the need for stocking replacement driveshafts
Sturdy, secure cardboard tube packaging
Features many popular driveshaft series, including 1710 Series, SPL140 Series, and SPL350 Series
Get your commercial vehicle back on the road quickly with a Spicer driveshaft—built with Genuine Spicer parts.
Consistent Part Numbering for Easy Aftermarket Driveshaft Ordering
Dana makes your job easier by offering these quick-ship driveshafts with user-friendly part numbers. ReadyShaft™ Program driveshaft part numbers are the standard part number plus an "R" suffix.
Example:
170SC55012C: Standard Driveshaft Assembly
170SC55012CR: ReadyShaft™ Program Driveshaft Assembly
There are over 10,000 part numbers available! Please visit DanaAftermarket.com to search for the advanced driveshaft solution that fits your application. If you need help with ordering, we are here to make the process easy.
No Part Number? No Problem! Dana EZ-ID™: Easily Identify Driveshaft Assemblies – Even Without Part Numbers 
The new, award-winning Spicer ReadyShaft™ Dana EZ-ID tool is an easy-to-use visual pathway, offering quick identification of driveline assembly part numbers that are missing product tags or other identifiers.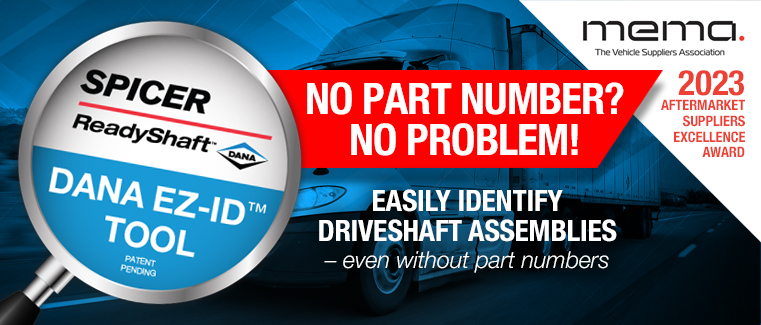 Uptime is Critical!   
The Dana EZ-ID tool simplifies ordering the correct parts through the Spicer ReadyShaft™ program, an innovative solution that provides for next-day direct shipment of complete driveshaft assemblies. 
By combining quick identification, easy ordering, and next-day shipment of built-to-order, fully assembled driveshafts, you can save time, improve productivity, and eliminate the cost of stocking replacement driveshafts and accessories. View the Dana EZ-ID User Guide →
For more information on this or any other Spicer driveline products, contact your sales representative.