Ultimate Dana 60™ Semi-Float Axle for the Ford® Bronco® SUV Named 2022 Global Media Award Winner at SEMA Show
MAUMEE, Ohio – Dana Incorporated officially debuted its Ultimate Dana 60™ semi-float axle during the recent Specialty Equipment Market Association (SEMA) show in Las Vegas where the company was recognized with a SEMA Global Media Award for this innovative product.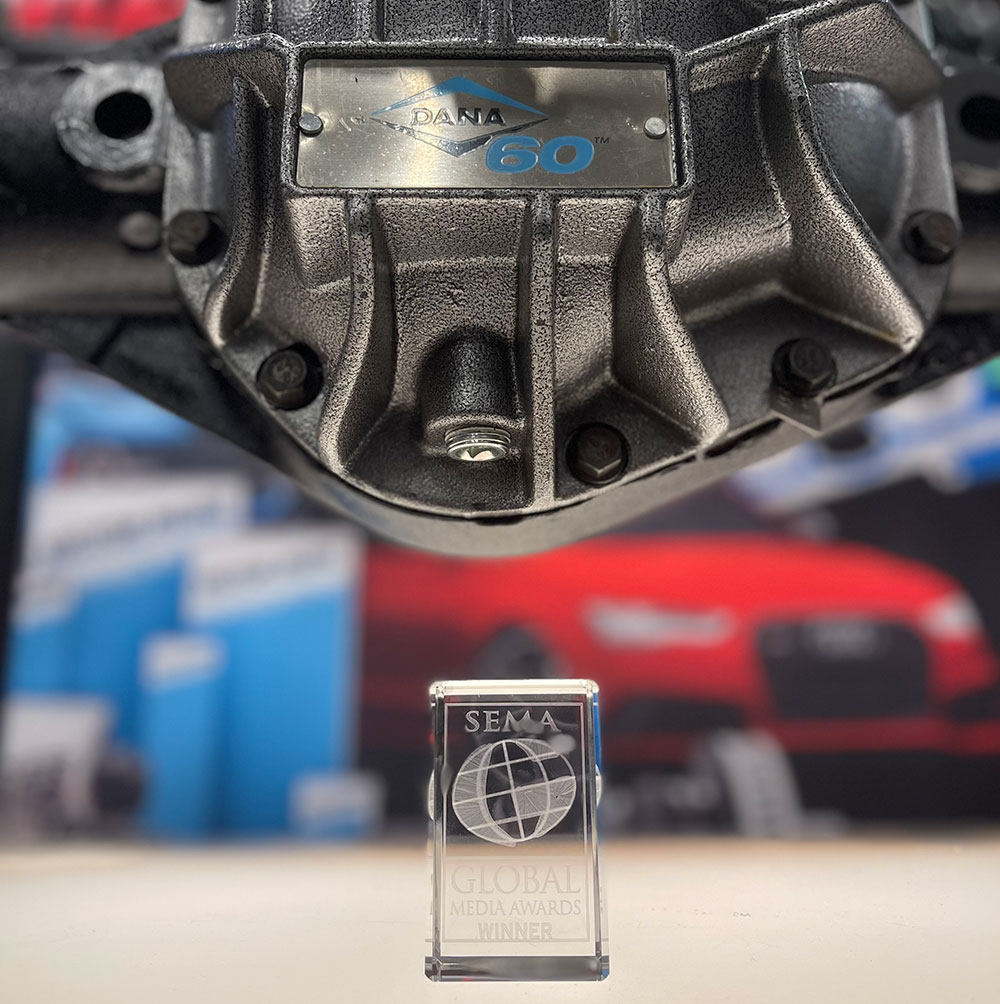 "We are very honored that the Ultimate Dana 60 semi-float axle for the Ford Bronco SUV was selected as a SEMA Global Media Award winner," said Bill Nunnery, senior director, sales and marketing, global aftermarket for Dana.  "This award reinforces that performance enthusiasts everywhere will appreciate the superior control, durability, and added strength provided by the Ultimate Dana 60 semi-float axle, giving them peace of mind when navigating extreme terrain around the globe."
The SEMA Global Media Awards (GMA) Program recognizes those companies that manufacture specialty equipment products and accessories that would have mass appeal to consumers in countries outside the United States.  The products were voted on by a prestigious group of international journalists who served as judges.  Each judge carefully reviewed and evaluated nearly 2,000 product entries before selecting the products that they felt would resonate and appeal most to consumers in their home countries.
"Vehicle customization and personalization has been growing worldwide," said Linda Spencer, SEMA director of international and government relations.  "The GMA program taps top international media experts to weigh in on which new products are likely to succeed in their home markets.  The global automotive specialty-equipment market is made up of enthusiasts who are passionate about the hobby.  This passion can be found not only throughout the United States, but also in countless spots around the globe including in Dubai, United Arab Emirates, Melbourne, Australia, and Stockholm, Sweden."
The award-winning Ultimate Dana 60 rear semi-float axle for the Ford® Bronco® SUV is a direct-fit solution built for superior strength, optimized for less weight, and designed to help vehicle owners keep costs down as the factory six-bolt wheels or brakes do not have to be replaced to accommodate these upgraded axles.  It goes on sale in the next two months along with its complementary driveline parts; the Ultimate Dana 44 AdvanTEK Front Drive Unit and Spicer® Extreme half-shafts.  To learn more about performance products from Dana and to sign up for the newsletter, visit www.DanaProParts.com and www.SpicerParts.com.
About Dana in the Aftermarket
Powered by recognized brands such as Dana, Spicer®, Victor Reinz®, Albarus™, Brevini™, Glaser®, GWB®, Spicer Select®, Thompson™, and Transejes™, Dana delivers a broad range of aftermarket solutions – including genuine, all-makes, and value lines – servicing passenger, commercial, and off-highway vehicles around the world.  Leveraged by a global network of 14 distribution centers, Dana's dedicated aftermarket team provides technical service, customer support, high fill rates, and on-time delivery to customers around the globe.  For product information, visit www.SpicerParts.com and www.VictorReinz.com.  For e-catalog and parts locator, visit www.DanaAftermarket.com.  To upgrade customized vehicles with Dana products, visit www.DanaProParts.com.  To speak with a Dana customer service representative, call 1-800-621-8084.