Las Vegas, Nevada might be best known for its gambling, nightlife, and spectacular entertainment options, but it's also the home of AAPEX, the Automotive Aftermarket Products Expo. Each year, the Dana Aftermarket team travels to trade shows like AAPEX to present new products that help solve the on-the-job challenges our clients face. With more than 2,500 automotive industry innovators present at AAPEX reaching 48,000 targeted buyers, Dana is distinguished by 100+ year brand legacies and our unsurpassed quality.
During AAPEX 2019, members of the Dana Aftermarket team shared with attendees some key aspects that set Dana apart. "AAPEX is the perfect place to showcase our product quality, our innovations, and the future technologies that we're planning," explained Senior Director of Sales and Marketing Bill Nunnery. "Dana has been in the driveline business since 1904, when Clarence Spicer invented the first encased u-joint. Ever since then, we've been a premier OE and aftermarket supplier to major companies around the world."
Dana's Award-Winning Booth offers a Cohesive Brand Experience
This year, our booth was awarded Honorable Mention in the AAPEX 2019 Best Booth Awards! With thousands of booths at the Expo, we are pleased to be recognized for our booth concept and construction as we showcased the problem-solving aftermarket products that make your job easier. "We're focused on creating a brand experience," said Beth Mooney, Senior Marketing Manager. "So, we're very pleased that this came across at AAPEX. Our booth reflected our fully-integrated marketing campaign, which is structured around delivering solutions and identifying market trends in order to help our distributors, and their jobbers and dealers, grow organically."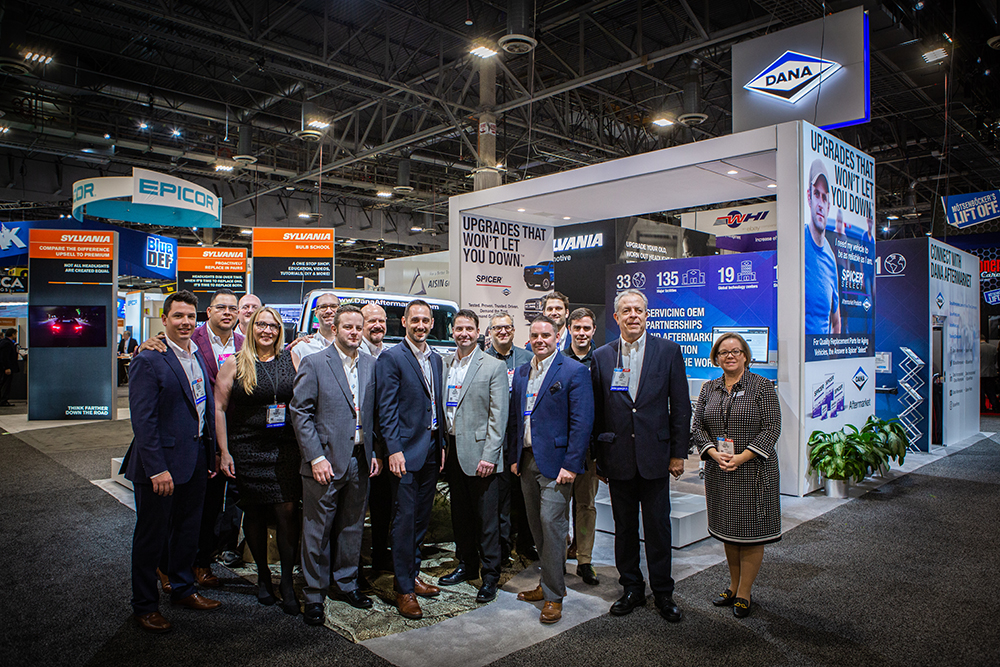 Dana Offers Innovations Based on Automotive Industry Trends
One market trend Dana recognized this year is the continued growth of last mile delivery, a localized delivery trend that's typified by real-time commerce, expedited delivery cycles and direct-to-customer delivery. This trend is driving an increase in the VIO (vehicles in operation) population of light and medium duty van platforms – and localized and regional delivery routes place significant strain on engine and driveline components. Dana responded by developing an aftermarket driveshaft for the Mercedes-Benz® Sprinter and Ram ProMaster® vans. When it's time to replace a driveshaft, these Spicer® driveshafts are pre-balanced, so they offer a drop-in replacement without the need for a balancing machine. They are a virtually maintenance-free, OE-quality aftermarket solution that's particularly well-suited for service shops with immediate uptime service programs. Dana rounds out our offerings for Class 1, 2, 3 and 4 delivery vehicles with complete gasket sets for Cummins®, Powerstroke®, Duramax, and other engines, featuring the Victor Reinz quality that's trusted by OE manufacturers.
Another innovative product highlighted at our 2019 booth was Victor Reinz® gaskets with Wave-Stopper™ technology, which we had on display in a Duramax engine. Victor Reinz is one of the world's most trusted and reliable brands for high-performance powertrain sealing systems. Our Wave-Stopper™ technology includes concentric sealing "waves" that provide an exceptional seal for head gasket applications. Although automotive industry competitors may offer similar sealing technology, our pioneering stopper layer allows us to vary the height of the stopper feature, allowing for more even bolt load around the engine's combustion chamber. 
Online Resources that Make Your Job Easier
Also within the Dana booth, attendees could dive into DanaAftermarket.com. "This state-of-the-art platform offers customers easy access to our product portfolio, availability, and more," said Nunnery. The ecommerce platform allows for real-time API (application program interface) connections, providing almost immediate access to ordering and order management. Previous EDI (electronic data interchange) ordering processes entailed a 24-hour turnaround. "In today's 'Amazon-driven' environment, B2B customers are acting more like B2C," observes Mooney. "Dana knows you want immediate notifications. This platform enables distributors to have that near-instantaneous experience." A popular feature of DanaAftermarket.com at AAPEX was the ability to search by year, make, and model, and then see all parts made by Spicer and Victor Reinz for a specific vehicle. You can even integrate this platform into your business' systems, such as a call center, for a truly streamlined experience.
For anyone who would like to become a Spicer parts or Victor Reinz expert, the Dana Training Academy was up and running at AAPEX. The Dana Training Academy is a free resource that's available online, and on your own schedule. This Learning Management Systems (LMS) contains a range of content related to both Spicer parts and Victor Reinz gasket sets.
If you didn't make it to AAPEX this year, we invite you to visit us online and discover new products and technologies, helpful calculators, our literature library, videos, and more.