The performance, reliability and durability of OE quality.
PROBLEM
"With the Last Mile Deliveries market set to skyrocket, how can my shop share in those profits – while dealing with the complexity of global vehicles?"
SOLUTION
Spicer Driveshafts for Sprinter vans are designed to be drop-in replacements, eliminating assembly time and meeting global aftermarket driveshaft requirements.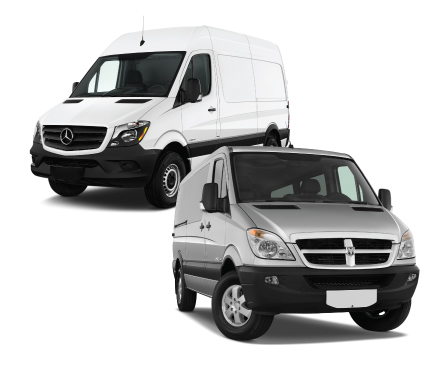 Dana-manufactured 3-piece front and rear Spicer® aftermarket driveshafts for the Mercedes-Benz®/RAM® Promaster Sprinter provide the top performance, reliability and durability of original equipment (OE) products – because Dana is an OE manufacturer.
Upgrade, for less downtime!
Frequently used as work or delivery vehicles, Promaster Sprinter vans tend to accrue high mileage – and a high value to the owner. Downtime costs owners beyond the price of the repair, so getting back on the road quickly with a part that outperforms other aftermarket options is essential.
Spicer driveshafts for 2002-2009 Promaster Sprinter vans are designed, engineered, and manufactured by Dana to serve as a virtually maintenance-free aftermarket solution. These driveshafts offer a top-quality alternative to installing a new part identical to the one that failed. As the global leader in driveline technology, Dana delivers the parts that drive the aftermarket commercial vehicle industry.
Spicer® driveshaft for the Mercedes-Benz/RAM® Promaster Sprinter features:
Spicer® Compact™ 2020 universal joints
Maintenance-free triple lip seal
Serviceable snap ring
Spicer® center bearings
Included with driveshaft
Interchangeable with OE components
Dana proprietary swage tube design
Provides ultra-high strength at critical speeds
Clearances calibrated to OE standards
Perfect fit to vehicle
The highest standards of engineering and manufacturing excellence.
Fully tested to over 335,000 testing cycles
Full torsional testing at high torque and low speed
Precisely manufactured and assembled on OE production equipment with stringent OE assembly procedures
Reduces risk of failure
Ensures the highest level of quality control
Driveshafts are fully interchangeable with OE driveshafts
Meet or exceed aftermarket driveshaft requirements
Rigorous balance testing
Controlled high-speed balancing at 3,500 RPM
Ensures that maximum durability, safety and performance are maintained long term, and under real-world conditions
To purchase Dana Aftermarket products, please visit our Where to Buy page.
Sprinter is a registered trademark of Mercedes-Benz.