The performance, reliability and durability of OE quality.
PROBLEM
"With the Last Mile Deliveries market set to skyrocket, how can my shop share in those profits – while dealing with the complexity of global vehicles?"
SOLUTION
Spicer Driveshafts for Sprinter vans are designed to be drop-in replacements, eliminating assembly time and meeting global aftermarket driveshaft requirements.
---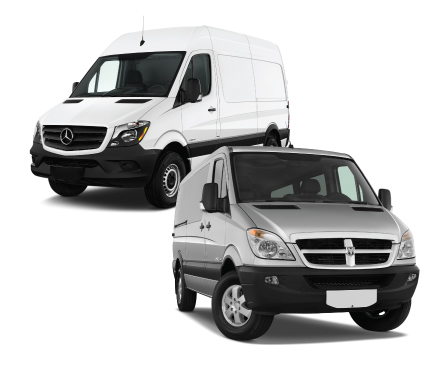 Dana-manufactured 3-piece front and rear Spicer® aftermarket driveshafts for the Dodge/Mercedes-Benz® Sprinter provide the performance, reliability and durability of original equipment (OE) products – because Dana is an OE manufacturer.
Spicer driveshafts for 2002-2009 Sprinter vans are designed, engineered, and manufactured by Dana to serve as a virtually maintenance-free alternative to installing a new part that's identical to the one that failed. As the global leader in driveline technology, Dana delivers the parts that drive the aftermarket commercial vehicle industry.
Upgrade, for less downtime!
Frequently used as work or delivery vehicles, Sprinter vans tend to accrue high mileage – and a high value to the owner. Downtime costs owners beyond the price of the repair, so getting back on the road quickly with quality parts is essential.
These driveshafts are an ideal aftermarket solution for all service shops, and particularly for those with immediate uptime service programs. Since the driveshafts are pre-balanced, they offer a direct product swap without the need for a balancing machine. No complex installation process means a quick turnaround. These benefits become crucial as the home delivery grocery market, and the related "real time commerce" and "last mile delivery" market segments, are poised to surge dramatically.
Spicer® driveshaft for the Dodge/Mercedes-Benz Sprinter features:

The highest standards of engineering and manufacturing excellence.
Fully tested to over 335,000 testing cycles
Full torsional testing at high torque and low speed
Precisely manufactured and assembled on OE production equipment with stringent OE assembly procedures
Reduces risk of failure
Ensures the highest level of quality control
Driveshafts are fully interchangeable with OE driveshafts
Meet or exceed aftermarket driveshaft requirements
Rigorous balance testing
Controlled high-speed balancing at 3,500 RPM
Ensures that maximum durability, safety and performance are maintained long term, and under real-world conditions
For more information on this or any other Spicer driveline products, contact your sales representative. For our e-catalog and parts locator, visit DanaAftermarket.com.
Sprinter is a registered trademark of Mercedes-Benz.