Efficient, Reliable, and Engineered for Downspeeding.
PROBLEM
"As I search for efficient, robust solutions for engine downspeeding, I want to be able to spec all the right parts from one trusted source."
SOLUTION
Spicer® AdvanTEK® 40 tandem axles deliver increased fuel economy, reduced vehicle weight, and minimized total ownership costs – and, in combination with our SPL® 350 driveshafts, they offer the industry's first full-system solution for engine downspeeding.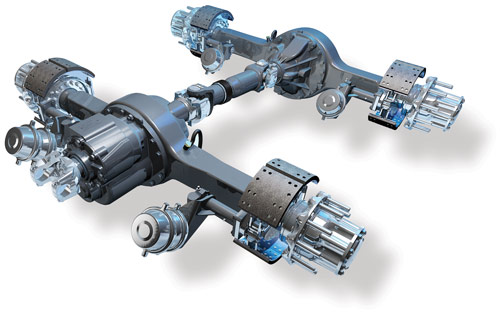 Spicer® AdvanTEK® 40 tandem axles are the most durable, reliable axle for Class 8 applications, featuring highly efficient, robust AdvanTEK gearing. Enjoy significant competitive advantages with this brand of commercial axle, which can withstand 30% higher input torque and enable more than 2% improved vehicle efficiency.
Part of a Full-System Solution for Engine Downspeeding.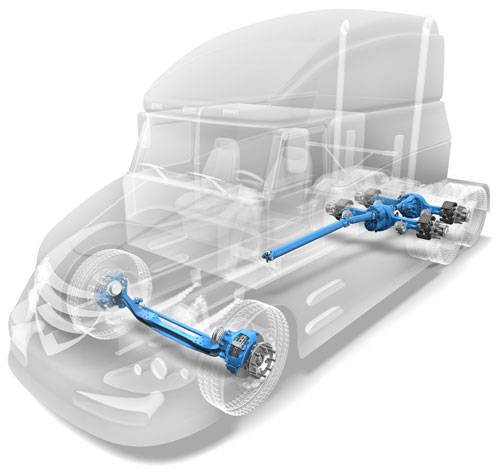 Combined with our SPL® 350 driveshaft, the AdvanTEK axle is part of the industry's first full-system solution for engine downspeeding, giving you the ability to spec all the right parts from one trusted source. Spicer AdvanTEK 40 tandem axles offer the following advantages: 
Five different ratios to support engine downspeeding

Including the industry's fastest axle ratio of 2.26:1

Lighter weight for an overall increased vehicle efficiency of up to 2%

Save more than 2,700 gallons of fuel over the course of five years
Reduce your vehicle's carbon dioxide output by over 60,000 pounds   

Optimum inter-axle driveline angles

Low NVH and extended life of U-joints for most air ride suspensions

Reliability improvements

Reduced vehicle downtime and service costs

SelecTTrac™, 11 mm wall, diff-lock, pump

Customized to improve fleet operation and maximize resale value
With Spicer AdvanTEK 40 Tandem Axles, the Advantage Is Yours.
The Spicer® AdvanTEK® 40 tandem axle is the first axle for linehaul fleets to feature Dana's innovative AdvanTEK gearing. This 6x4 was developed with the fastest axle ratios in the industry to handle higher input torques and lower engine RPM at cruise speed.
Increase fuel economy, reduce vehicle weight, and minimize your total ownership costs with AdvanTEK axles.
Up to 21 pounds lighter than the closest competitive standard tandem axles, the Spicer AdvanTEK 40 tandem axle:
Increases fuel economy
Reduces vehicle weight
Minimizes total ownership costs 
In addition, further refinements to the design deliver even more advantages, including:
Extended u-joint life 
Reduced vehicle downtime
Lower maintenance costs
Download the brochure to learn more about the advantages Spicer® AdvanTEK® 40 tandem axles can provide for your commercial vehicles. Then find a Spicer parts distributor in your area today; check out DanaAftermarket.com when you're ready to place and track your orders.