Upgraded Dana 30™ and Dana 44™ Axle Shafts for the Jeep JK.
Today's Jeep owners are customizing their vehicles with larger tires for off-road use. Now Spicer, the most trusted name in aftermarket parts, presents upgraded front axle shafts that are built to meet the demands of today's Jeep JK off-road enthusiasts. They're part of our line of parts built with Jeep drivers in mind.
Axle Shafts Engineered for Longer Life in Jeep JK Axles.
Genuine Spicer front axle shafts are built to exact specifications: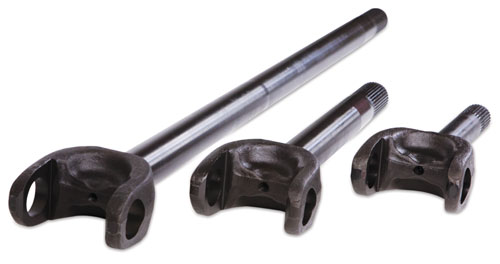 Application-specific design and engineering
Precision manufacturing processes
Quality materials
Statistically controlled testing and heat treatment
The upgrades* made to these Dana 30™ and Dana 44™ axle shafts deliver optimal performance with larger tires and off-road use. They also offer a wide range of advantages for Jeep drivers everywhere.
Increased u-joint size from 1310 to 1350 series
25% higher yield strength than original u-joint
U-joint sealing package upgraded* to Spicer Life Series®
Unparalleled strength and longer life
Fatigue life improved by 300%
2000% improvement in high-angle fatigue life
Outer stub design re-engineered for added strength
Improved snap ring retention to reduce shock load failures
Material added to yoke ears and removed from body to equalize deflection through the yoke and reduce bearing cap spinning
Micro-alloy improves strength of the shaft
Statistically controlled heat treatment ensures proper hardness
Get optimal off-road performance, even with larger Jeep JK tires.
Upgrades Designed for Dana 30™ and Dana 44™ Axles
100% of our front axle parts are ultrasonically tested, so we're able to check for internal cracks that regular magnetic testing cannot reach. Because when it comes to the performance of Spicer axles, there is no room for compromise.
Find the front axle shaft for your vehicle by downloading the literature above. Then locate a Spicer parts dealer near you.
* Upgrade reference depends on model year as it is now standard equipment on recent models.