Strength and Durability for Longer Life in Your Automotive Axle
PROBLEM
"When replacing an axle shaft, I want the new part to be as good as or better than the original part that broke."
SOLUTION
Genuine Spicer® axle shafts are precision-manufactured with quality materials and fatigue-tested to ensure that each one meets or exceeds OE requirements and safety standards.
Genuine Spicer® axle shafts and parts are designed, engineered, and manufactured to meet or exceed OE requirements, because they are OE parts. Spicer is the name you can trust for top performance and durability in your axle.
Through heat treating and a slower quality scan rate, Dana is able to deliver a much more consistent and stronger axle shaft. Spicer axle shafts are fatigue-tested to last, and our axle parts are ultrasonically tested for any internal cracks that regular magnetic testing can't reach. In addition, the cold-formed rolled spline eliminates the need for machining, which can cause stress fractures and premature failures.
We're proud to claim a safety factor that's high even by OE standards—because when it comes to the performance of your axles, there's no room for compromise.
Spicer Front Axle Shafts: Tested and Proven to Deliver for You
The genuine Spicer components in our front axle shaft assemblies are engineered to work together perfectly. That's just one of the things that sets genuine Spicer front axle assemblies apart from the knock-offs. Spicer front axle assemblies feature: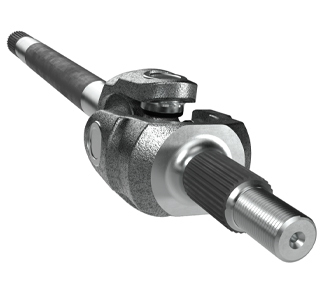 Application-specific design and engineering
Quality materials
Precision manufacturing processes
Statistically-controlled testing processes
A complete front axle assembly from Spicer includes:
Inner shaft
Outer stub
Universal joint
The inner shaft and outer stub are also sold separately.
Built from quality materials and tested for quality you can count on.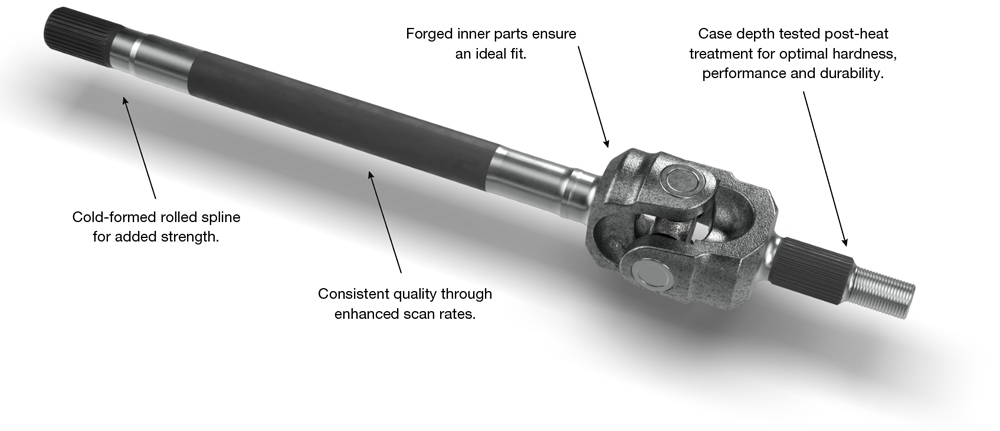 Rear Axle Shaft Kits with Genuine Spicer Quality
Spicer rear axle shafts offer a complete repair solution for your car, pickup truck, or SUV, including the studs, bearings, and seals you need. Each component is engineered to deliver the Spicer quality you demand. Spicer rear axle shafts are:
Manufactured from a grade of steel that stands up to any grade on the market
Ultrasonically tested to catch the internal cracks that magnetic testing can miss
Tested for straightness within rigorous range specifications
You'll notice the difference when making repairs to your rear axle.
Spicer rear axle shaft kits include:
Axle shaft assembly
Bolts
Seals
Bearings
Spicer® Front and Rear Axle Shafts for the Jeep® Wrangler JK and JL
Today's Jeep® owners are customizing their vehicles with larger tires that stand up to rough terrain. They want larger universal joints and an even stronger axle shaft for their Dana 30™ and Dana 44™ axles – and these upgraded axle shafts deliver.
2007-2018 Wrangler JK (Non Rubicon)
2007-2018 Wrangler JK (Rubicon) 
2018 and Newer Wrangler JL
Locate a Spicer parts dealer near you, and start enjoying the benefits of Spicer axle shafts in your car, truck, Jeep or SUV today.