Hit the Trail with Confidence—and OE Quality.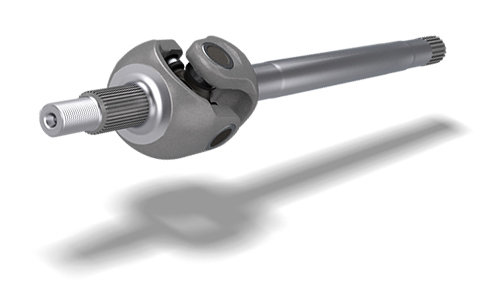 Engineered for ideal strength off-road and optimized for use with larger tires, Spicer nickel chromoly axle shafts are the name people trust for their vehicles, including Jeep, Ford, and more. And with OE quality built into every Spicer part, you know you will get an axle shaft that fits your off-road vehicle and delivers the same performance you got from your original part. 
Spicer Axle Shafts: Manufactured from SAE-4340 Nickel Chromoly Steel.
Not all chromoly shafts are alike. SAE-4340 nickel chromoly axle shafts are engineered to exceed OE standards and meet the exacting demands of off-road.
SAE-4340 nickel chromoly steel construction ensures ideal hardness throughout the part

Nickel provides additional toughness
Chromium ensures high-temperature strength and resistance to abrasion
Molybdenum helps maintain a specified hardenability that is ideal for these specific parts 

Spicer nickel chromoly steel axle shafts are also put through rigorous heat treatment processes

Ensures optimal hardness throughout the part
Offers the same surface hardness and case hardness while achieving higher core hardness
Provides even greater strength for confidence on the trail
Designed to deliver added strength and durability, these genuine Spicer axle shafts are one more example of the innovations that we bring to performance applications. That's why we include them on our Ultimate Dana 44™ and Ultimate Dana 60™ axles.
 
Spicer chromoly axle shafts are optimized for high-performance strength and durability, so they withstand off-road punishment.
Hit the trail with the confidence that comes from knowing you are backed by the global leaders in driveline products. Download the information above to learn more about Spicer nickel chromoly axle shafts, including which part number is right for your vehicle. Then find a Spicer parts dealer near you today.
Now Available for the 2019 Jeep Gladiator JT!
Jeep, Spicer, and Dana — Legendary Brands Built Stronger Together.  Read Our Story