Spicer King Pin Kits and Tie Rod Ends Deliver OE-Quality.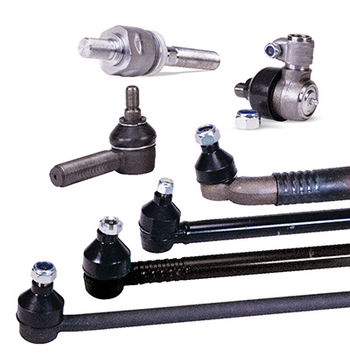 Spicer quality and dependability is now available for agricultural vehicles. We are proud to manufacture a range of steering components that offer all-makes coverage. Get one-stop shopping for genuine Spicer components, all built to deliver OE quality in your heavy-duty vehicle.
King pin kits
Tie rods
Drag links 
Spicer Agriculture Steering Components with All-Makes Coverage.
Spicer king pin kits feature:
Sealed thrust bearings

For greater durability and reduced maintenance.

Pre-sized, easy-to-install bushings

Available in composite DX (Garlock) and DX 10 (Garlock) versions
For reduced wear in the steer axle knuckle—even in high-stress conditions

Able to withstand longer time periods between services
 
One-stop shopping for steering components that are built to deliver OE quality in your heavy-duty vehicle.
Spicer tie rod ends are available in purge valve, boot, and sliding seal styles, which reduce contamination and extend product life. Learn how OE-quality Spicer steering components can help you keep your agricultural vehicles delivering for you.
Locate Genuine Spicer Steering Components for Your Agricultural Vehicles
Discover the difference that genuine Spicer products can deliver for you. Download the information above to learn more about Spicer steering components for your agricultural vehicles. Then get in touch with a Spicer parts distributor near you today.