Heavy Duty Aftermarket Week is the premier annual event for the heavy-duty aftermarket industry, and this year's conference was even bigger than ever. Heavy Duty Aftermarket Week, or HDAW, is a four-day, executive business event that's specifically tailored for independent heavy-duty distributors and their suppliers. At HDAW 2020, the Dana Aftermarket team joined over 2,000 commercial vehicle industry pros at the event's new venue: the Gaylord Texan in Grapevine, Texas. The move from Las Vegas to the Dallas area imparted a new momentum to HDAW, and the Dana team was energized by the world-class product expo, educational workshops, one-on-one meetings, panel discussions, and gatherings that made up the influential event.
Dana Incorporated Chairman and CEO Jim Kamsickas joined Delphi Technologies CEO Rick Dauch in a Heavy Duty Aftermarket Dialogue (HDAD) panel discussion that opened the event. During "The Real-World View: A Global Perspective," the two CEOs answered questions about the state of the commercial vehicle industry, the power grid, and electrification in the present and the future. Electrification turned out to be a major theme of the discussion, and of the event itself.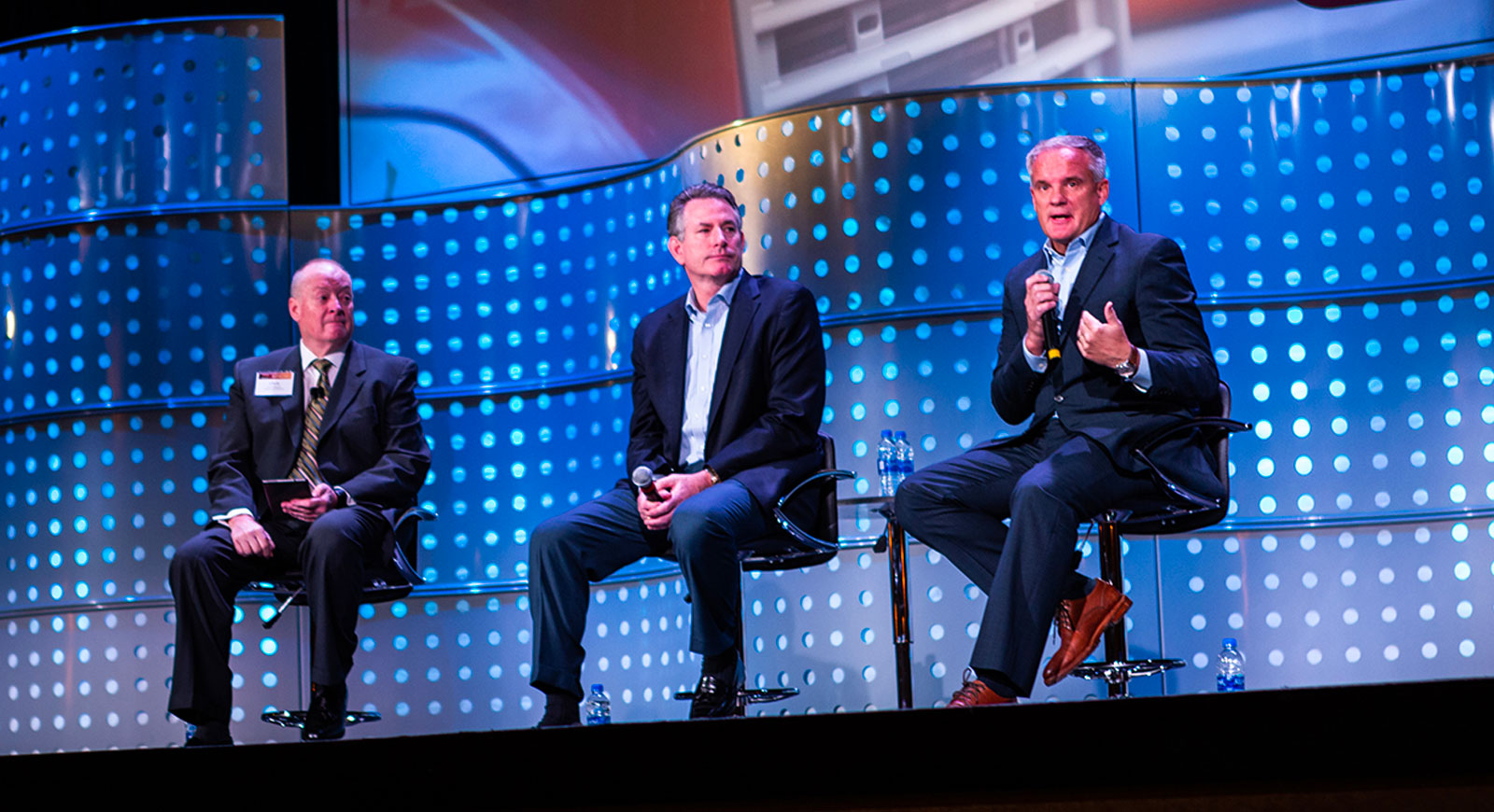 Dana Leads in Electrification Technologies
As conversations focused on commercial vehicle electrification surged around HDAW 2020, it became clear that some suppliers view electrification as a threat due to reduced service opportunities, while others embrace the possibilities connected with electrification—and Dana is solidly in the latter group.
As an industry innovator, Dana is at the forefront of the trend toward driveline electrification. This year, the HDAW booth represented a perfect opportunity for a bold display of our electrification technology. A full electric truck drivetrain revealed how Dana will support customers in a successful transition to electrification, training operators to service battery-powered vehicles equipped with traditional driveline systems.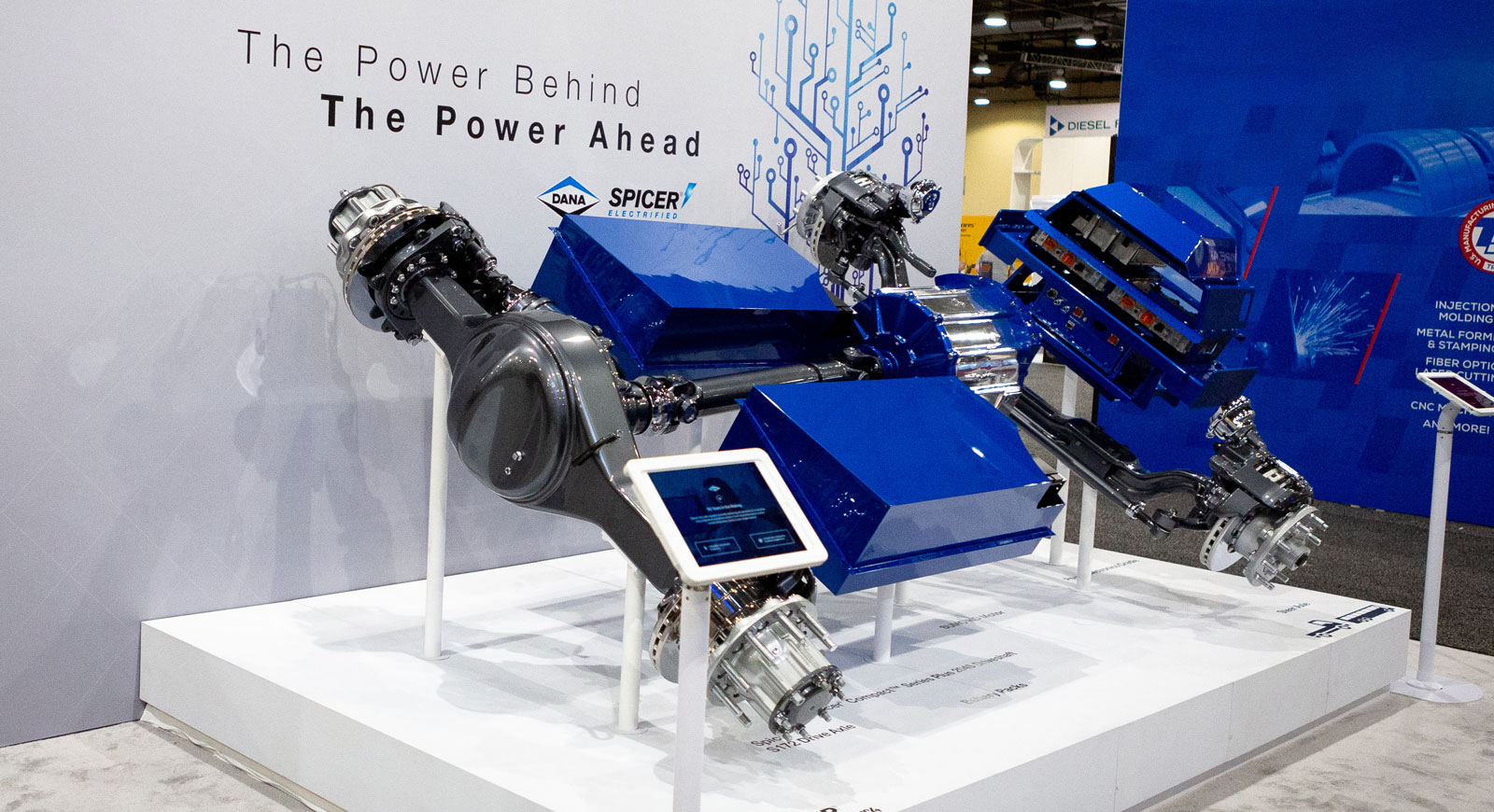 "To go work on an electric vehicle, there are multiple new steps. It's a whole different level of training," explained Dana Aftermarket Senior Quality Engineer Scott Donnelly. "From de-energizing the system, to the need for specific Personal Protective Equipment, it's very specialized. These complete systems will allow mechanics to train so they are ready for all the new safety precautions." As the only supplier currently delivering complete electric vehicle system solutions, Dana is committed to being first for what's next. "We own and produce the technology; nobody else has the ability to create the entire system," concluded Donnelly.
New Aftermarket Options for Aging Vehicles
In addition to Dana's pioneering electrified driveline, many Spicer® aftermarket products were on display at the booth. These included the pinion pilot bearing staking tool kit, the SPL® 250 midship assembly, Dura-Tune® self-aligning center bearings, and Spicer® Select™ gearing. This new gearing from the Spicer® Select™ line is one offering that sparked a lot of interest and discussion.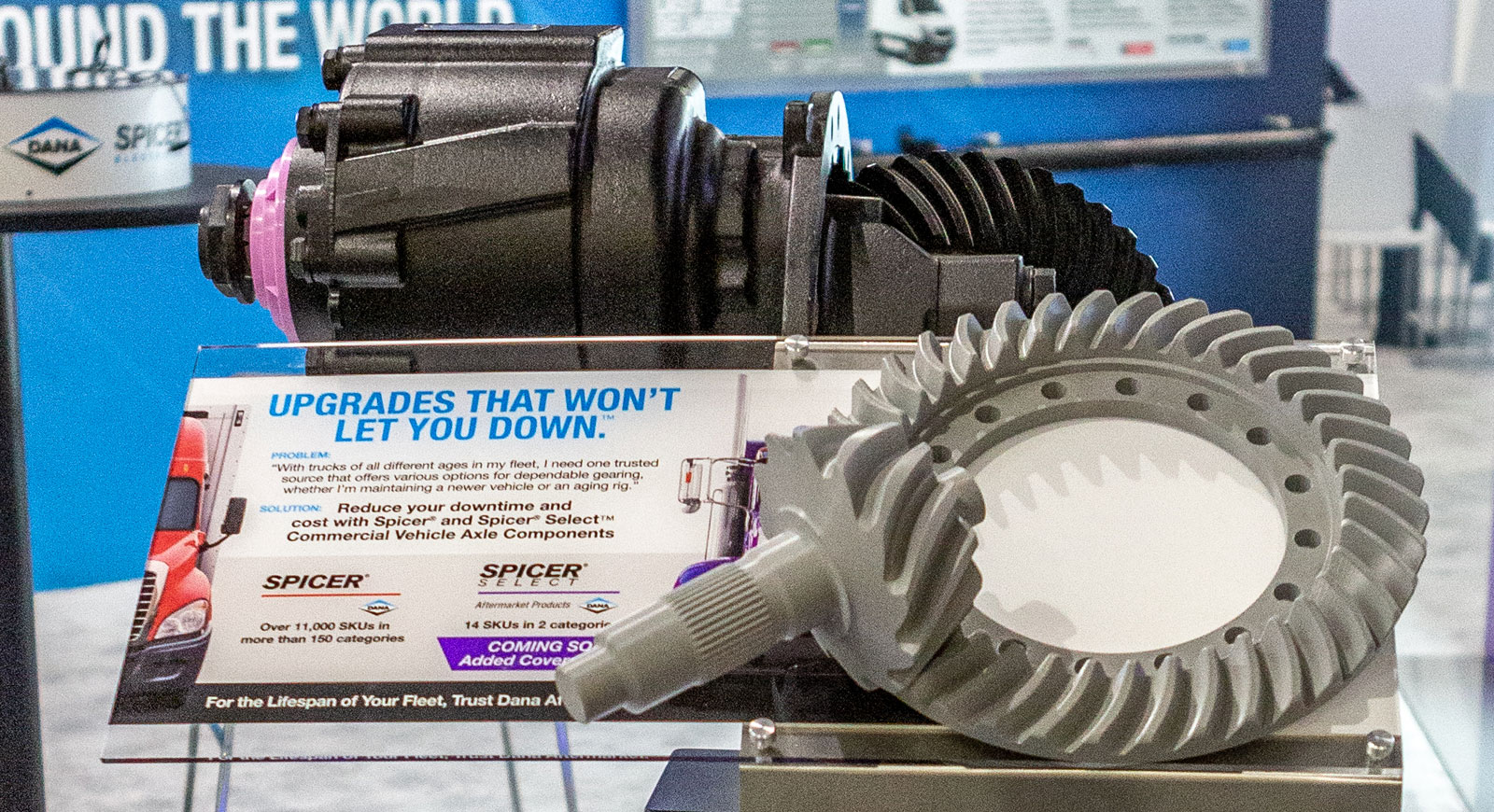 This replacement gearing for high-mileage vehicles is offered at a competitive price, yet it's made in the same plant, with the same cutting tools, as Genuine Spicer gearing. Donnelly offered an example of why customers are eager to order these offerings: "It's exciting for people who've had a commercial vehicle for 10 or 12 years, and now it needs a new gear set, but they're not going to have it long enough to justify putting in a Genuine Spicer OE part. The Spicer® Select™ gearing is the perfect solution for that."
Booth visitors confirmed that a simple new prefix on the Spicer® Select™ part numbers will make ordering easy, as counter-people and jobbers are already familiar with the Genuine Spicer gearing counterparts. The gearing is Dana engineered, tested, and manufactured, and the matched-set gearing features bolt-in compatibility.
Real-Time Commerce
HDAW attendees also got to check out the upgraded DanaAftermarket.com, a streamlined, real-time ecommerce platform. This state-of-the-art platform offers easy access to our product portfolio, availability, order management, and more, so customers can compete at the speed of the internet.
The pinpointed look-up capabilities of DanaAftermarket.com were extremely well-received by the booth visitors who explored the updated interface. The ability to search not only by year, make, and model but also by serial number was cited as a valuable time-saver that could help get an order right the first time. Real-time visibility to Spicer parts inventory, location, and estimated ship dates, and the ability to integrate into a customer's business systems, were other user-favorite features.
The All-Industry Welcome Reception
HDAW presents a golden opportunity to showcase products, yet it's also focused on interacting with customers and colleagues. In order to facilitate the best-possible mixing and mingling, the Dana Aftermarket team hosted a blow-out All-Industry Welcome Reception. The packed ballroom featured tables stocked with swag that glowed with the colors of three Dana brands, and two commanding vehicles that were heavily modified with Spicer parts. Banners and projected logos conveyed a cohesive brand message that served as a backdrop for the vibrant conversations.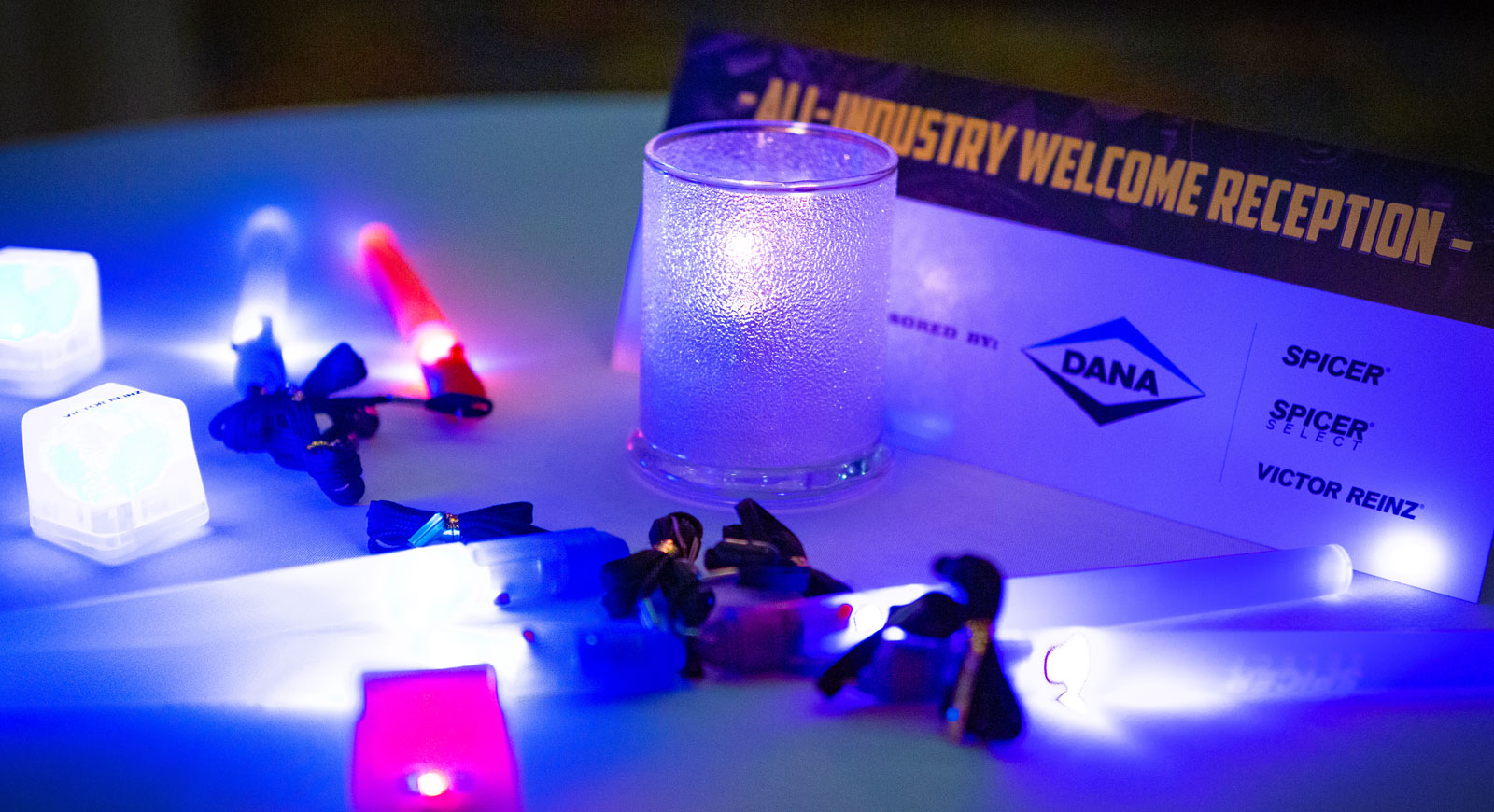 A Strong Start to 2020
As the largest annual event for professionals in the heavy-duty aftermarket industry wrapped up, the Dana team found the biggest event take-away was that customer trust is at the core of everything we do. Spicer parts help our customers provide quality service, but it's the people who sell those parts and the Dana name behind them that keep customers coming back. This truth was brought into sharp focus during the training sessions and one-on-one business meetings that capped the event.
After HDAW 2020, Dana Aftermarket is more ready than ever to "Command the Road Ahead," with our upgrades that won't let you down!
For an inside look at HDAW 2020, check out the video below.