Improved Performance & Maintenance Free
PROBLEM
"Engine downspeeding and chassis lightweighting create noise, vibration and harshness issues in my rigs, leading to driver fatigue."
SOLUTION
Spicer® Dura-Tune® self-aligning center bearings provide best-in-class powertrain vibration isolation and dampening, and installation is easy.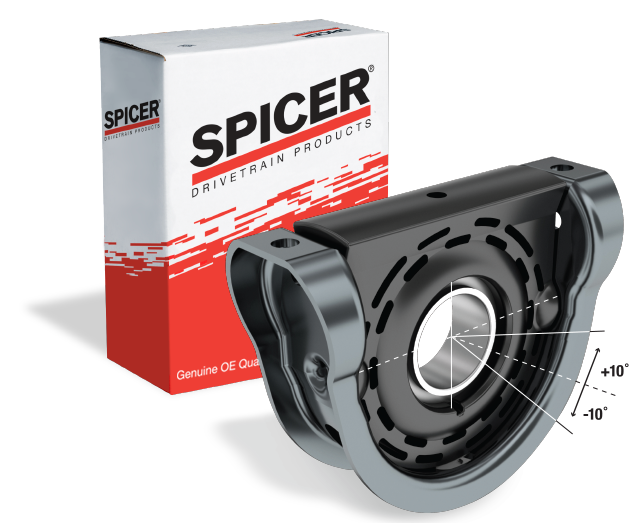 The new Spicer® Dura-Tune® self-aligning center bearing assembly is engineered for durability, and tuned to provide industry-leading powertrain vibration isolation and dampening. The innovative design of the Dura-Tune center bearing assembly maintains the proper driveline angle to maximize driveshaft and component life.
Trust Spicer to Protect the Parts That Keep Your Fleet on the Road.
This best-in-class center bearing addresses noise, vibration and harshness (NVH) levels associated with certain vehicles' higher drivetrain torque stresses and vibration frequencies, which are created by engine downspeeding and chassis lightweighting.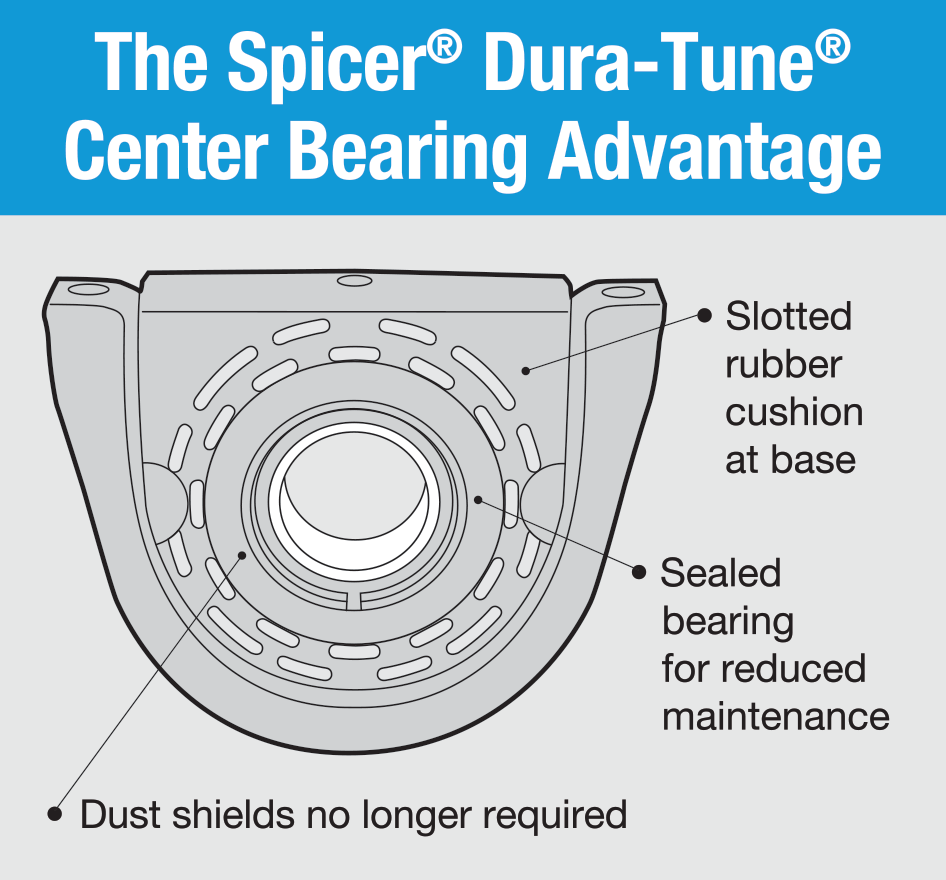 The patented design helps to ensure proper installation and alignment throughout the life of the vehicle, delivering a more consistent ride while promoting drivetrain longevity. The user-friendly installation also reduces the possibility of future alignment-based issues.
Improved Performance
Maintenance-free factory sealed bearing and double-lip seal configuration decreases contamination and extends life
Innovative design provides optimal alignment within +/- 10 degrees
Advanced technology elastomer material decreases levels of noise and vibration
Delivers reduced driver fatigue and improved vehicle satisfaction
Simplified Installation
Elimination of dust shields due to new sealed bearing technology
Eliminates the need for multi-hanger bracket and cross member configurations
Approved for all On- and Off-Highway Applications
The Spicer Dura-Tune Center Bearing Advantage
Dust shields no longer required
Slotted rubber cushion at base
Sealed bearing for reduced maintenance
| Part Number | Product Description |
| --- | --- |
| 10094142 | Center Bearing Assembly |
The new Dura-Tune center bearing is designed to increase fleet productivity and maximize quality vehicle up-time. It's an ideal aftermarket replacement option to restore proper operation and balance in the system for smoother, quieter operation.
For more information on this or any other Spicer driveline products, contact your sales representative or visit DanaAftermarket.com.