Engineered to Reduce Vibration and Weight without Compromising Strength
SPL® 250 Lite series driveshafts represent the next generation in Dana's robust series of driveshafts. Optimized for the most popular configurations of heavy-duty commercial trucks, SPL 250 Lite series driveshafts are designed to handle torque ratings up to 25,000 Nm. These driveshafts are up to 35 pounds lighter than competitive products, without sacrificing performance or durability.
PROBLEM
"I can't find a reliable driveshaft that's properly balanced."
SOLUTION
SPL® 250 Midship Assembly
• Yoke shaft and spline sleeve are manufactured as a machined-fit matched set for a more balanced, smoother operation.
Standard re-lube or service-free designs
Universal joint kits are 100% interchangeable between both configurations
Dana was the first supplier in the industry to offer this flexibility
Torque ratings up to 25,000 Nm.
Improved balance delivers best balance specification in the industry
Engineered to reduce noise, vibration, and harshness (NVH) levels
Less driver fatigue
Less annoyance
G16 capable
Common end yokes and u-joints with existing driveshaft counterparts
Increased ease of service
Simplified inventory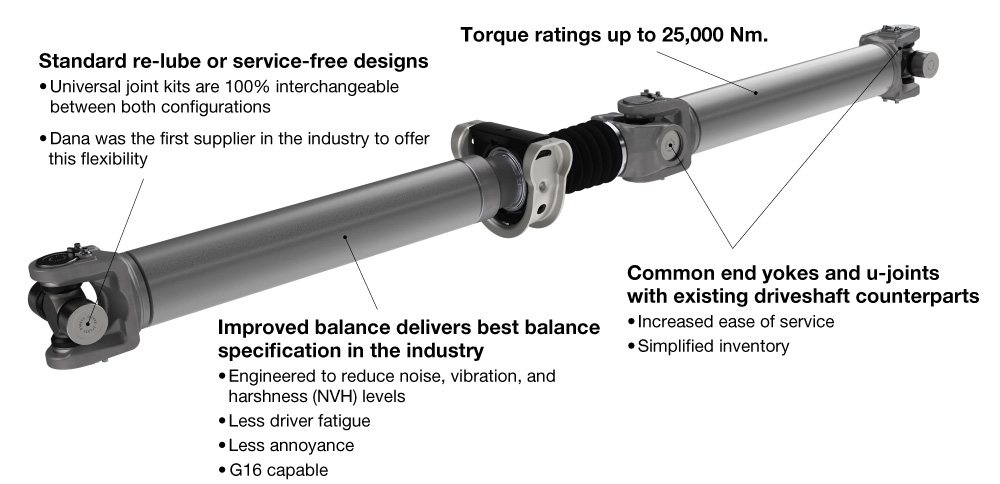 Enhanced Midship Design
With a one piece midship assembly, SPL 250 Lite driveshafts have 10 less parts than traditional options – 7 vs. 17 – for reduced service inventory, with the same superior Spicer® quality you demand.
PROBLEM
"I am looking for a lighter driveshaft option that has fewer parts, and improved performance."
SOLUTION 
SPL® 250 Lite Driveshaft
• A one piece, superior-quality midship assembly delivers 10 less parts than traditional options, for reduced vibration and cost.
Fewer components – 7 vs. 17 of traditional SPL
Reduced complexity
Reduced service inventory
Reduced maintenance cost
Reduced initial investment
Reduced weight
Up to 35 lbs. lighter than other driveshafts in its class
Yoke shaft and spline sleeve manufactured as a set
Offers simple ordering of a Spicer® midship assembly for easier installation
Optimal matched-fit parts bring assembly back to OE-specifications
Provides a more balanced, smoother operation •Offers a more predictable installation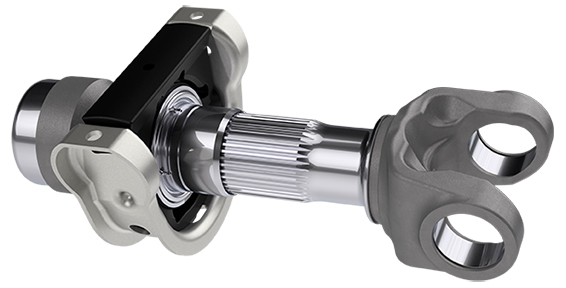 To learn more about each of these driveshaft assemblies, download the brochure. Dana's proprietary design and manufacturing methods allow the Lite series to be balanced to 50% of current specifications. Choose SPL® 250 Lite series driveshafts for your fleet, for increased uptime and simplified service.
For more information on this or any other Spicer products, contact your sales representative. And check out Dana's streamlined eCommerce platform, DanaAftermarket.com, to access the parts information you need, check availability, place and track your orders, and more, all in one place.