Better Traction Off-Road or On the Trail.
For a distinct advantage off-road or on the track, count on Spicer performance spools for the ultimate in traction. Spicer spools keep the left and right axles spinning together, so you get constant traction and peak performance that lasts.
Spicer performance spools offer tremendous advantages for racing enthusiasts and hardcore off-roaders, providing features and benefits that standard differentials cannot offer. Spicer performance spools replace the need for a differential case, thus eliminating failures from high-torque, high-impact situations.
Spicer Full Spools or Mini Spools: Two Options for a Competitive Edge.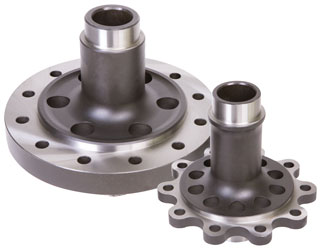 Eliminate gear failure caused by case deflection or differential gear failure with Spicer full spools. By replacing the entire differential carrier, Spicer full spools offer a competitive edge off-road or on the racetrack.
When you purchase Spicer full spools, you are getting parts that are:
Made from heat-treated chromoly 4130 forged steel

Providing optimal strength

Heat treated and tested for optimal metallurgy

Ensuring ideal hardness for performance applications

Available in lightweight versions

Helping provide a lighter rotating mass

Available for all makes
Heavy-duty GM 10.5" 14 bolt available (see downloadable sheet for more part numbers)
Designed to replace the spider gears inside the differential case, Spicer mini spools are a fast, effective way to get full lock-up on the dirt track or off-road. Discover the difference that comes from dual heat-treated high-strength 9310 forged steel, and check out the downloadable sheet on the left to find the part number that's right for your vehicle.
 
Keep your axles spinning together for constant traction and peak performance.
Spicer spools are not recommended for everyday street driving, but they offer incredible benefits in performance applications. Ask your Spicer parts representative about whether spools are right for your vehicle, and click the PDF on the right to find a part number for your application.
Spicer Performance Spools: Part of a Full Line of High-Performance Products.
Spicer parts can deliver innovations that meet the latest performance demands. That commitment to the specialty market is what has made the Spicer brand the most trusted name in the business.
Click here for even more specialty performance parts for off-road and racing vehicles—then find a Spicer parts dealer near you.