Quiet, Lightweight, and Reliable Drive Axles for Cars, SUVs, and More.

The proven, reliable, Spicer® AdvanTEK® range of drive axles offers class-leading efficiency, refinement, and durability for light-vehicle applications, including passenger cars, crossovers, sport-utility vehicles, and light commercial vehicles. AdvanTEK axles are rugged, yet lightweight, and offer best-in-class noise, vibration, and harshness (NVH) performance with greater power density.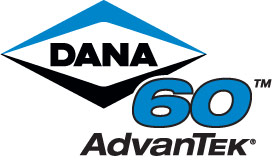 The gearing used in today's Dana 60 axles have a 248 mm ring gear size and have a torque capacity of 9200Nm. The new generation Dana 60™ AdvanTEK® gearing has a slightly bigger 250mm ring gear size yet  have a torque capacity of 11500Nm.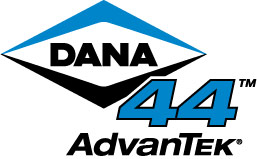 The gearing used in today's Dana 44 axles have a 226 mm ring gear size and have a torque capacity of 8200Nm. The new generation Dana 44™ AdvanTEK® gearing have a smaller 220mm ring gear size but have the same torque capacity of 8200Nm.
These high-performance axles are a prime example of Dana's efforts to address:
Efficiency
Power density
Fuel economy
Torque-carrying capacity
Weight 
Spicer AdvanTEK axles make it possible for vehicles to handle today's high-torque engines.
Improved gear power density for smaller, lighter axles 
Optimized design for low NVH 
Gear geometry designed specifically for use with aluminum housings 
Improved efficiency through lower hypoid offsets 
Improved bearing technology 
Dana's line of innovative Spicer® AdvanTEK® axles provide best-in-class noise, vibration, and harshness (NVH) performance and greater power density in a lightweight, compact package. Beam axle styles are offered in Salisbury and Banjo construction, while independent axle styles include clam shell and Salisbury designs.
A History of Performance. 75+ Years Strong.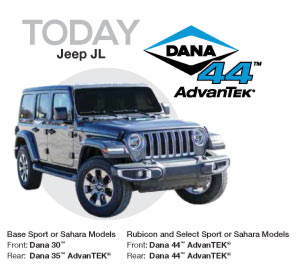 The "Jeep" vehicle concept was born in answer to the U.S. Army's call for designs of an easily transportable 4x4 general-purpose vehicle during World War II. Willys-Overland was one of the original manufacturers selected to produce the chosen design, with Dana (then the Spicer Manufacturing Company) providing the driveline components for every vehicle. After the war, Willys-Overland began selling civilian versions of the iconic military vehicle, and Dana's relationship with the Jeep brand has been going strong ever since. It's a relationship for the ages–forged in continuous improvement and innovation that is believed to be the longest continuous supply relationship on the same vehicle in automotive history. And we're just getting started.
Only from Dana: Exclusive AdvanTEK® Technology for Unprecedented Stock Performance.
For the first time ever, every Jeep Wrangler vehicle will be offered with exclusive Dana AdvanTEK® axle technology, right off the line. No other manufacturer delivers the technology and performance of Dana 44™ AdvanTEK® axles. Trust them to provide greater power density and fuel efficiency than similar offerings, while reducing driveline weight with lighter, higher-strength materials and advanced Spicer® AdvanTEK® gearing. See below for features and benefits of Dana AdvanTEK® axles for Jeeps.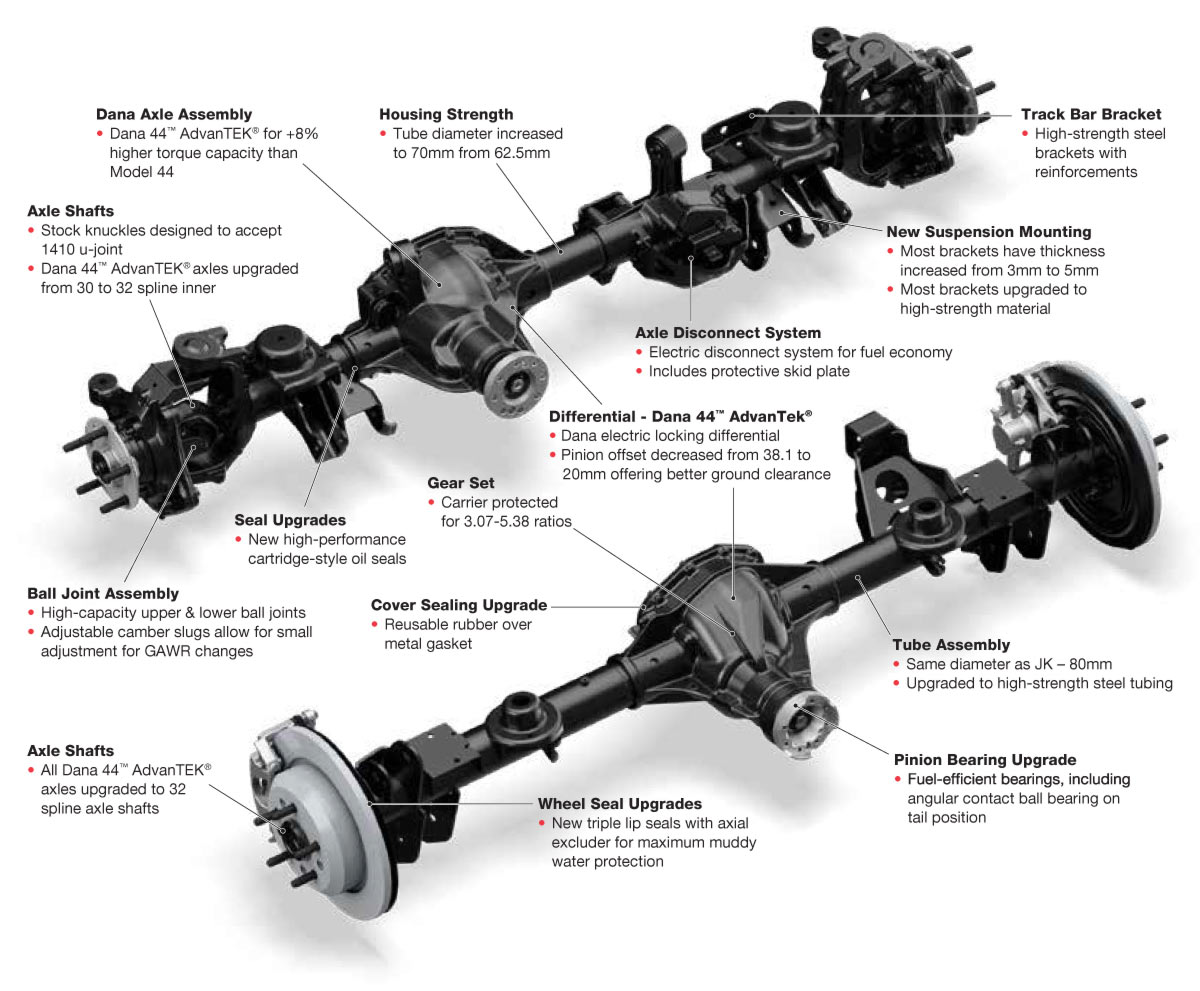 Dana Axle Upgrade Bundles
Upgrading your Dana axle? Look for your ratio here, and then discover the additional components you need to finish the job. Once you increase your tire size, you'll need to ensure the correct gear ratio for your axles to help you achieve the amount of torque and optimal mileage you're looking for.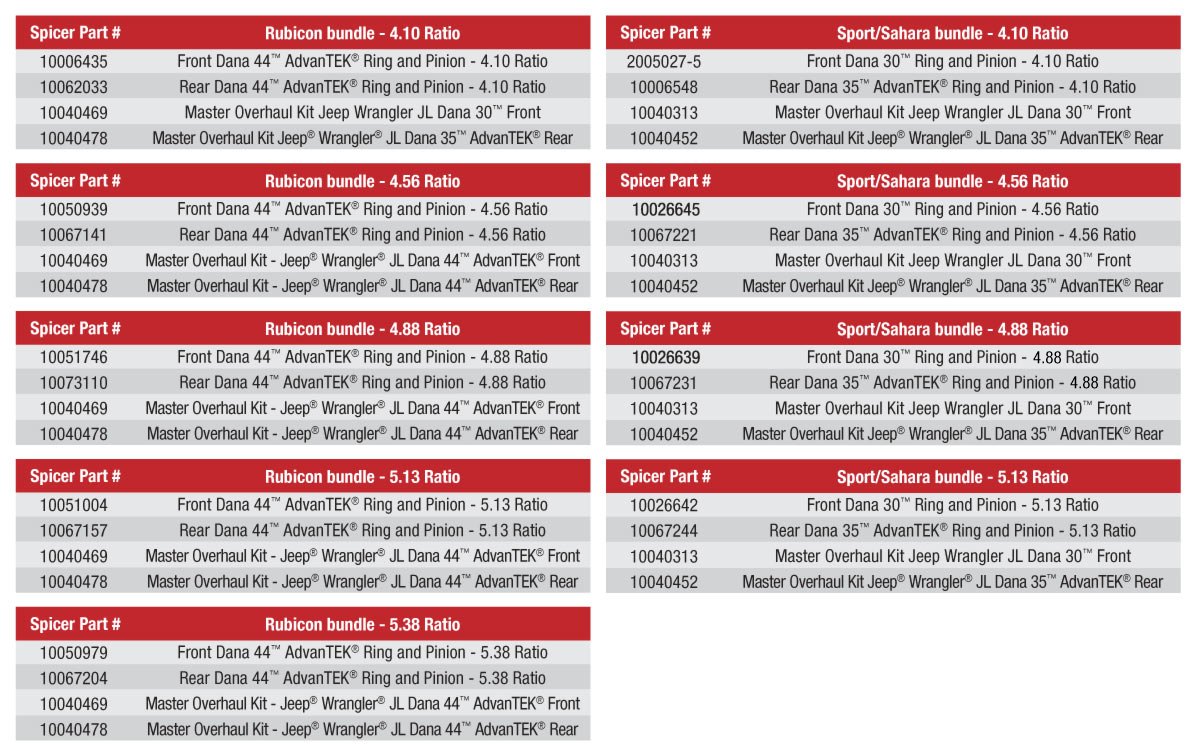 Spicer® Performance Nodular Iron Diff Covers

AdvanTEK Axles: Best-in-Class NVH Performance and Improved Fuel Economy.
Discover the difference that genuine Spicer axle products can deliver for you, including enhanced efficiency and improved fuel economy. Download the information above to see Spicer AdvanTEK axle specifications for your vehicle. Then locate the Spicer parts dealer nearest you.