The Right Driveshaft for Your Car, Pickup, SUV, and More.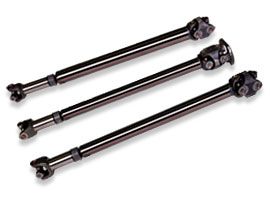 Whether you are driving outside the lines or between them, demand the performance that comes from genuine Spicer® quality light vehicle OEM driveshafts. Spicer automotive driveshafts and components are available for automotive applications, including passenger cars and light trucks. Because Spicer parts are manufactured to the same standards as original equipment parts, you can count on them to meet or exceed OE performance.
Spicer light vehicle driveshaft assemblies are:
Specifically designed to meet the needs of your car, truck, or SUV
Engineered for reduced weight
Built to minimize noise, vibration, and harshness (NVH) 
Original Equipment Quality Driveshafts for Light-Duty Vehicles.
Genuine Spicer® light duty driveshaft products are manufactured to the same high standards as Original Equipment (OE) parts – because they are OE parts. That means when an automotive driveshaft part is replaced with a genuine Spicer product, it's being replaced with the original equipment product, ensuring the same performance and reliability you've come to expect.
 
Spicer driveshaft assemblies and steering shafts are engineered for reduced weight and designed to minimize noise, vibration, and harshness (NVH).
Get the trusted quality of genuine Spicer driveshaft assemblies. Download the brochure above to learn more about the features and benefits that only genuine Spicer products can offer, and find a Spicer parts dealer near you today.