Get Superior Rust Protection and a Distinctive Look
PROBLEM
To avoid unattractive blemished wheels, I need a wheel joint that does not rust and flake.
SOLUTION
The high-durability coating on Spicer® blue-coated performance u-joints ensures a rust-proofing that goes beyond any non-coated u-joint—and it looks great.
We made Spicer® u-joints for Dana axle shafts even tougher by covering them with a high-performance, high-durability blue coating. Test results prove that these coated u-joints stand up to the corrosive effects of the elements better than the competitor's uncoated product.

Testing Results that are Plain to See
We subjected Spicer blue-coated performance u-joints (SPL® 55-3X equivalent) and a competitor's product to a 45-hour mud bath. After enduring this simulation of harsh road conditions, there is an unmistakable, visible difference in corrosion protection.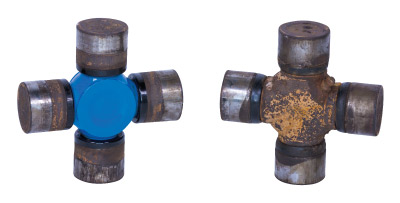 Spicer's signature coating process results in a u-joint that can stand up to whatever the trail throws at it.
Spicer Blue-Coated Performance U-Joints