U-joints That Perform in the Lab and on the Road
Spicer® commercial vehicle u-joints are engineered to ensure peak performance. On the road or in the lab, they consistently outperform the competition. With these commercial vehicle u-joints, you'll experience the Spicer advantage of:
Better performance
Longer life
Lower operating costs
When it's your commercial vehicle—and your livelihood—on the line, don't trust anything less than genuine Spicer u-joints!
---
Premium Spicer Life® Series U-joints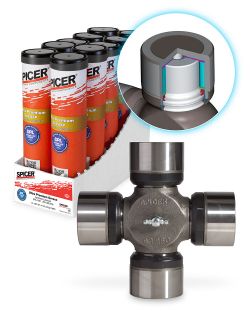 No other u-joints are better equipped to meet the needs of today's high-efficiency trucks than Genuine Spicer Life® Series u-joints. These u-joints are designed to withstand the increased stress that high-efficiency truck configurations place on the driveline. Plus, they're equipped with High Power Density™ (HPD™) features that extend product life and outperform the competition:
Thrust Washer—improves lubrication, eliminates friction, and extends life
Bearing Package—larger rollers for a 40% increase in bearing capacity
Spicer Ultra—Premium Synthetic Grease – increases bearing life by more than 30%
Multi-Lip Seal—Viton® material extends life, improves wear capacities and heat resistance, optimizes lube retention, and protects against external contaminants
Seal Guard—Provides protection against external contaminants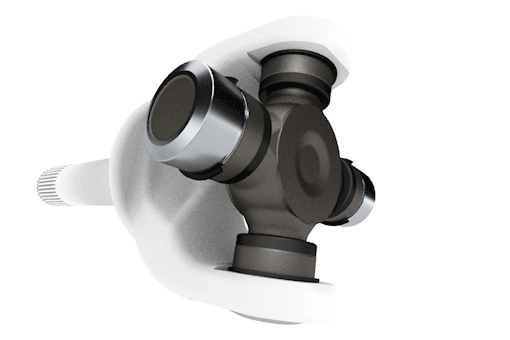 Discover the full line of Spicer u-joints engineered for the commercial vehicles you depend on.
Spicer Life Series U-joints: When You Have the Need to Downspeed
While engine downspeeding offers increased fuel economy and decreased emissions, the faster axle ratios needed to accommodate the lower RPMs result in additional torque in the drivetrain, placing much higher stresses on the main driveshaft, axles, and inter-axle shaft.
The right driveshaft and inter-axle shafts with robust and durable components from Spicer can handle the added input torque with even greater reliability. Spicer Life Series u-joints – in particular, the SPL® 350—are engineered, tested, and proven to meet the torque demands being placed on drivetrains. Their exclusive design accommodates faster axle ratios without sacrificing life.
Spicer Life Series u-joints performed more than 2X better than the closest competitor!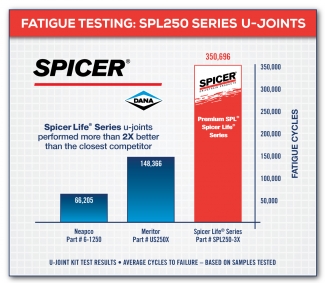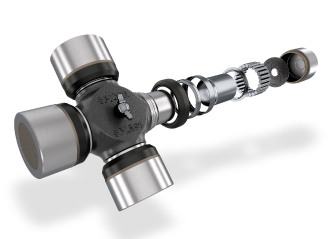 SPL® U-joints in Service-Free* Options
SPL 170 and SPL 250 universal joints are also available in service-free* options, which are lubricated for the life of the part. Permanently lubricated u-joints help keep your overall operation costs low while still offering the durability and dependability you expect from Spicer. Service-free* options are ideal for heavy-haul applications and are capable of meeting the requirements of future fast-axle ratios.
* Inspections must be performed at each interval to check for wear, damage, or looseness that could affect lubricant life and lead to driveline failure.
---
Spicer 10 Series™ U-joints: Tested and Proven for Top Performance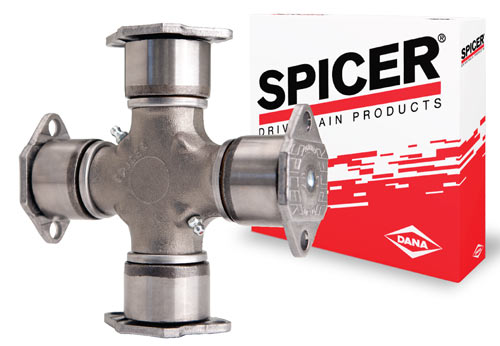 Spicer 10 Series™ u-joints are completely interchangeable with existing parts, so you get total product compatibility with no change in part numbers. They're engineered for a tighter fit, delivering:
Better balance capability
Reduced driveline vibration
Lower maintenance costs
We do this by combining a computer-designed bearing plate with a patented manufacturing process that closely controls tolerances. It's this commitment to exceptional design and production that has made Spicer the name people have trusted for more than a century.
The Spicer 10 Series™ U-joint – The Competition Doesn't Even Come Close
When it comes to torsional fatigue capability, the competition doesn't even comes close to the Spicer 10 Series™ u-joint. These u-joints are consistently stronger, helping ensure longer life and better performance.  Plus, zerks are positioned at 180°, so lubrication can be done without rotating the driveshaft. You save maintenance time and costs!
Spicer 10 Series u-joints performed more than 5X better than the closest competitor!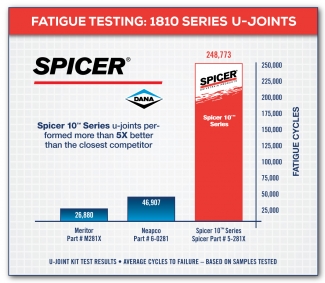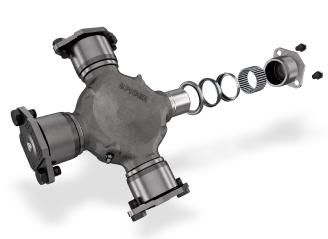 Other key features include:
One zerk is always exposed, greatly reducing the chance of missed lubrication
Case hardening inside and out increases durability, ruggedness and strength
Long-life seals resist heat and maintain lubrication at all speeds
Learn More About Spicer Commercial Vehicle U-joints
For more information about Spicer u-joints, download our product literature. Then get in touch with your Spicer parts distributor and experience the Spicer advantage for yourself!

What's the difference (or diff) between Spicer® Parts and the competition? Click here to find out.