U-Joints that Perform in the Lab and on the Road
PROBLEM
"With high-efficiency truck configurations placing increased stress on drivelines, and downspeeding generating higher torque stresses on the drivetrain, I need u-joints that are up to the challenge."
SOLUTION
Fatigue tests prove that Spicer® commercial vehicle u-joints consistently outperform the competition, delivering maximum lifetime and minimal downtime.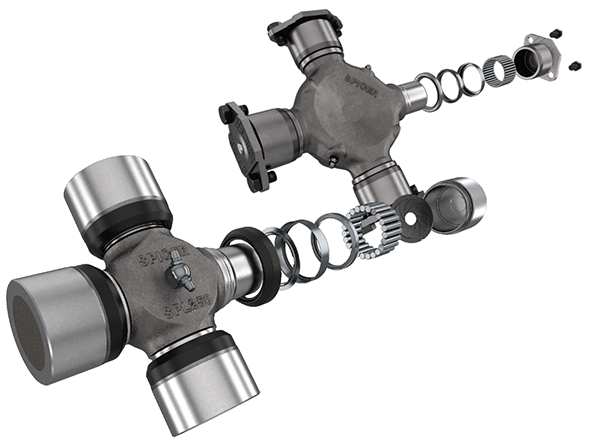 Spicer® commercial vehicle u-joints are engineered to ensure peak performance. On the road or in the lab, they consistently outperform the competition. Experience the Spicer advantages:
Better performance
Longer life
Lower operating costs
When it's your commercial vehicle—and your livelihood—on the line, don't trust anything less than genuine Spicer u-joints!
---
Premium Spicer Life Series® U-Joints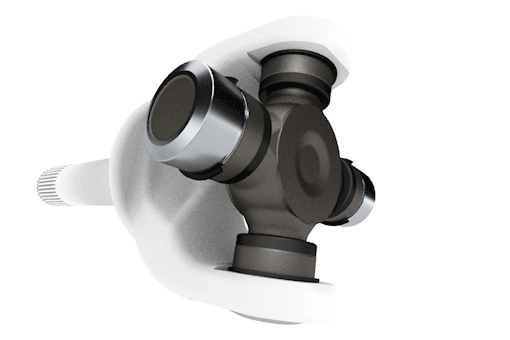 No other u-joints are better equipped to meet the needs of today's high-efficiency trucks than Genuine Spicer Life Series® (SPL®) u-joints. These u-joints are designed to withstand the increased stress that high-efficiency truck configurations place on the driveline. Plus, they're equipped with High Power Density™ (HPD™) features that extend product life and outperform the competition.
Thrust washer improves lubrication, eliminates friction, and extends life
Bearing package features larger rollers for a 40% increase in bearing capacity
Spicer Ultra-Premium Synthetic Grease increases bearing life by more than 30%
Multi-lip seal extends life, improves wear capacities and heat resistance, optimizes lube retention, and protects against external contaminants
Seal guard provides protection against external contaminants
Discover the full line of Spicer u-joints engineered for the commercial vehicles you depend on.
When You Have the Need to Downspeed
While engine downspeeding offers increased fuel economy and decreased emissions, the faster axle ratios needed to accommodate the lower RPMs result in additional torque in the drivetrain, placing much higher stresses on the main driveshaft, axles, and inter-axle shaft.
The right driveshaft and inter-axle shafts with robust and durable components from Spicer can reliably handle the added input torque. Spicer Life Series u-joints—in particular, the SPL® 350 series—are engineered, tested, and proven to meet today's torque demands: their exclusive design accommodates faster axle ratios without sacrificing u-joint life.
Spicer Life Series u-joints performed more than 2X better than the closest competitor!
Journal Cross
Engineered with a cold-formed body to ensure better wear and overall strength.
Bearing Cups
Heat-treated for strength; precision-ground and case-hardened for durability.
Thrust Washers
Friction and heat can cause premature failure. The Spicer thrust washer eliminates metal-to-metal contact/friction, prevents wear, and lowers the overall operating temperature.
Lubrication Options
Get longer life and lower maintenance costs for your u-joint with two lubrication options. Choose from a greaseable u-joint or a service-free, lubed-for-life u-joint. Periodic inspection is always recommended.
Seal Guard
High-impact material for optimal first-level protection against contaminants.
Premium Viton® Multi-Lip Sealing Package
This premium sealing package includes a Viton® multi-lip seal, garter spring, seal guard, and a needle bearing spacer. Keeping the grease in and contaminants out is the key to maximizing u-joint bearing life.
SPL® U-Joints in Service-Free Options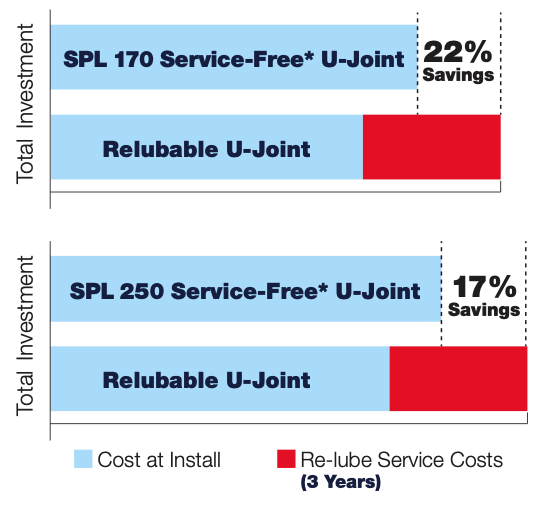 When lubricated-for-life u-joints are required, SPL 140, SPL 170, SPL 250, and SPL 350 universal joints are available in service-free* options! Permanently lubricated u-joints help keep your overall operation costs low while still offering the durability and dependability you expect from Spicer. Service-free options are ideal for heavy-haul applications and are capable of meeting the requirements of future fast-axle ratios.
* Inspections must be performed at recommended intervals to check for wear, damage, or looseness that could affect lubricant life and lead to driveline failure.
---
Spicer® 10 Series U-Joints: Tested and Proven for Top Performance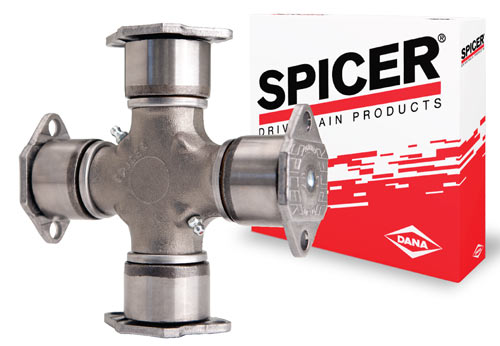 Spicer® 10 Series u-joints are completely interchangeable with existing parts, so you get total product compatibility with no change in part numbers.
Better balance capability
Reduced driveline vibration
Lower maintenance costs
Engineered for a tighter fit
Spicer® 10 Series u-joints are created through the combination of a computer-designed bearing plate with a patented manufacturing process that closely controls tolerances.
The Competition Doesn't Even Come Close
When it comes to torsional fatigue capability, the competition can't touch the Spicer® 10 Series u-joint. These u-joints are consistently stronger, helping to ensure longer life and better performance. Zerks are positioned at 180°, so lubrication can be done without rotating the driveshaft. You save maintenance time and costs!
Spicer 10 Series u-joints performed more than 5X better than the closest competitor!
Journal Cross
Forged with high-quality steel, precision heat-treat- ing and case-hardening to very specific levels, ensuring optimal and consistent strength and durability.
Zerks positioned on both sides
Allows for easy and thorough lubrication to maximize the life of the u-joint.
One zerk is always exposed, greatly reducing the chance of missed lubrication
Case hardening inside and out increases durability, ruggedness and strength
Long-life seals resist heat and maintain lubrication at all speeds
Learn More About Spicer Commercial Vehicle U-Joints
Check out Dana's streamlined eCommerce platform, DanaAftermarket.com, to access the parts information you need, check availability, place and track your orders, and more, all in one place.

What's the difference (or diff) between Spicer Parts and the competition? Click here to find out.