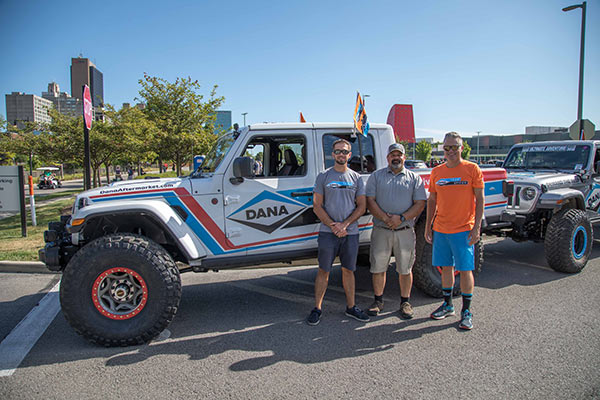 Thousands of Jeep fans took to downtown Toledo for the 2019 Jeep Fest on August 9th though 11th. The city-wide celebration brought about 70,000 Jeep enthusiasts from all over the U.S., with over 1,000 Jeeps taking part in an all-Jeep parade. The festival featured live entertainment, car shows, a vendor midway and more. Crowds buzzed with excitement about the release of the all-new Jeep Gladiator JT pickup truck, which is built in Toledo and features Dana axles produced by Toledo Driveline. This latest release builds on over 75 years of history between Dana and Jeep.
The Dana Jeep lineup leads the parade each year, and this year the Jeep JT was out in front. "The reactions of people in the crowd were absolutely amazing," says Randall Spier, Senior Manager of Dana Performance. "We could see the joy and pride in people's faces as we passed," he says.
In addition to highlighting the new Jeep Gladiator pickup truck, the Dana team featured their Ultimate Dana 44™ AdvanTEK® front crate axle, AdvanTEK® ring and pinion gearing, and chromoly front and rear axle shafts, all for new Jeep Wrangler JL models.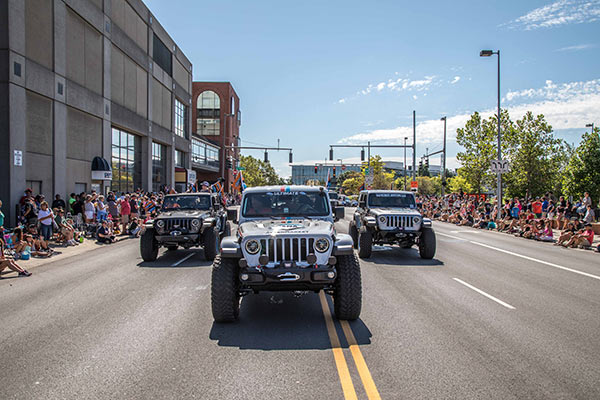 "People were blown away by the quality and variety of Jeep builds," reports Spier. "For many owners, 'first step' upgrades are happening right now, and Dana is a great partner for when they make additional upgrades down the road. This is especially true when using Spicer AdvanTEK® ring and pinion gearing expanded ratios to match larger-than-stock tires," he says. In the aftermarket industry, there can be a stigma associated with parts that are not engineered and manufactured to the same high standards as OE parts. But for Dana, that simply is not the case. Dana Aftermarket parts are designed, engineered, and manufactured to meet the strict standards set forth by the OE manufacturers—because Dana is a trusted OE manufacturer.
Many of the Jeeps on display this year were outfitted for the "overlanding" lifestyle, which is a mixture of off-roading and camping where completing the journey is the focus, and a vehicle, rather than hiking, is the method of transportation. The rugged, outdoor audience drawn to this lifestyle values the versatility of the Jeep, a vehicle that is "easily provisioned to do more than just drive back and forth to work or the store," says Spier. Jeep models with added tents, equipment racks, and plenty of space for gear could be seen all over downtown Toledo.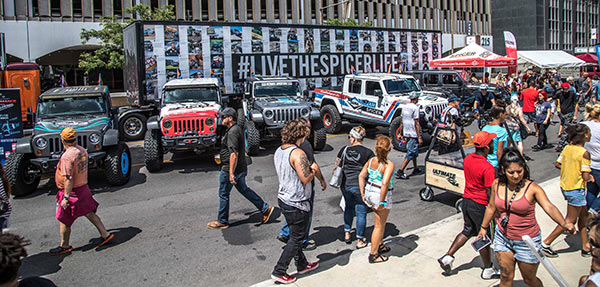 Toledo Jeep Fest serves as an annual celebration of the strong partnership that exists between Jeep and Dana. "Dana is proud to support this unique vehicle that has truly become its own industry, and the entire lifestyle surrounding the vehicle," says Spier. As the Toledo Jeep Fest continues to grow and evolve, Spier says he is excited to see what comes next. In the future, it's possible that Jeep Fest will become a destination event similar to the Easter Jeep Safari or the Bantam Jeep Heritage Festival. "The event is well produced and always runs smoothly thanks to the planning team doing a great job every year," says Spier. "It is an excellent event for Jeep fans and enthusiasts, as well as their families." And it is certainly an event that Dana and the City of Toledo can take pride in.