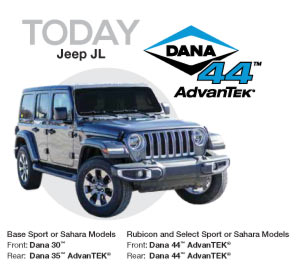 The Jeep® name has always been synonymous with rugged performance, and since the beginning, Dana has served as Jeep's original-equipment driveline supplier. Building on that heritage, Dana Incorporated has introduced a new line of Dana axles with AdvanTEK® technology that will be featured on every Jeep Wrangler® JL, straight from the factory. The AdvanTEK technology incorporated in the Dana axles provides greater power density and fuel efficiency than similar offerings, while reducing driveline weight with lighter, higher-strength materials and advanced Spicer® AdvanTEK gearing. The Spicer gearing used in Dana 44™ axles has a 226mm ring gear size, while Dana 44 AdvanTEK axles have a smaller, more durable 220mm ring gear.
"Every new Jeep Wrangler vehicle will be offered with exclusive Dana AdvanTEK axle technology. No other manufacturer offers the Dana 44 AdvanTEK axles, which deliver unprecedented stock performance, allowing Jeep enthusiasts to handle some of the most extreme off-road conditions," said Seth Metzger, vice president, light vehicle engineering at Dana.
Dana also has introduced a new line of aftermarket Dana axles and Spicer drivetrain components for the Jeep Wrangler JL. The line of drivetrain upgrades includes Ultimate Dana 60™ front and rear axles, Spicer Performance nodular iron differential covers, , bearing kits, and expanded ratio gears.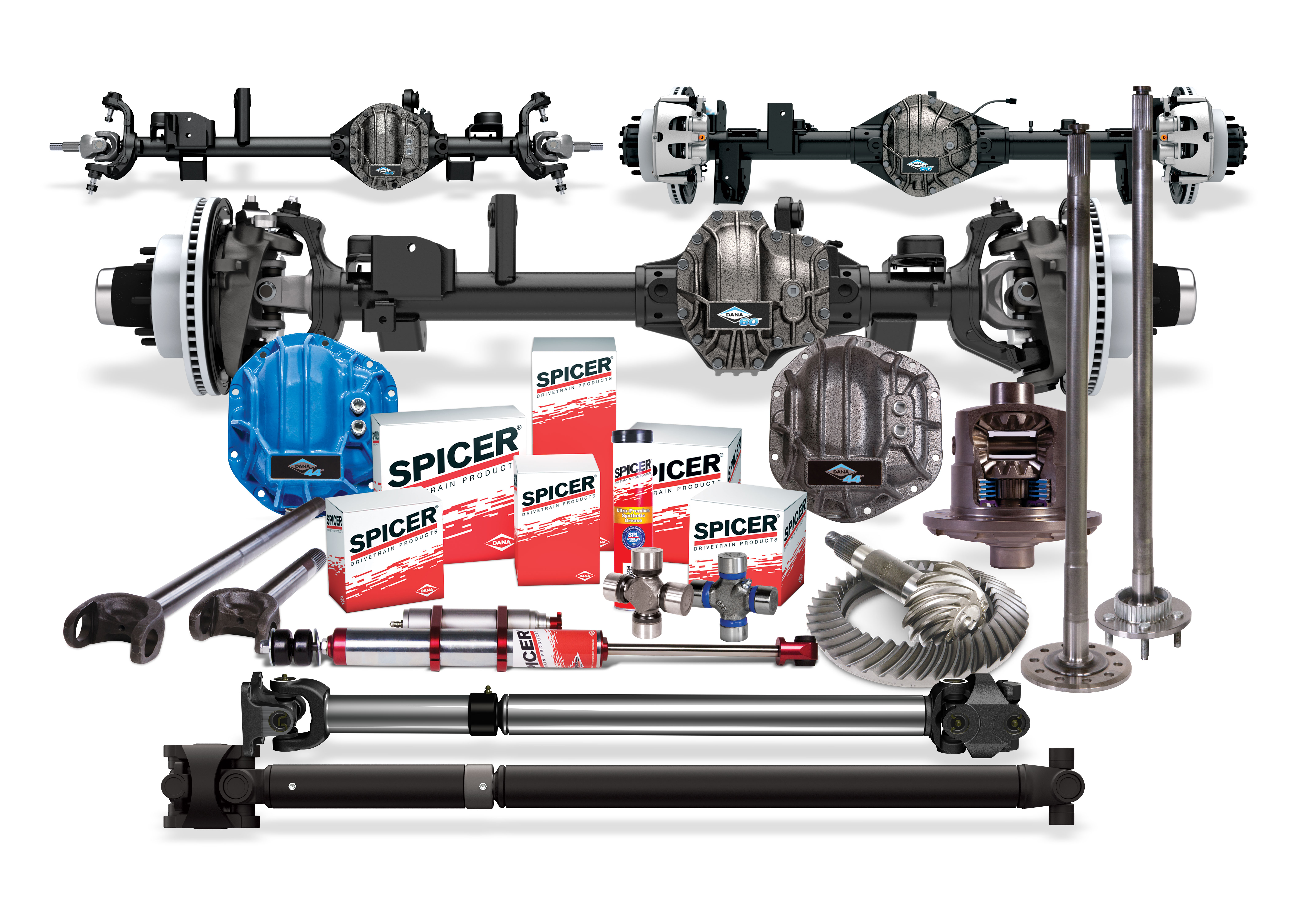 Dana showcased the new products in Butler, Pennsylvania at the Bantam Jeep Heritage Festival in early June 2018. "The Bantam Jeep Heritage Festival event provided us with an opportunity to reach enthusiasts who have embraced the Jeep lifestyle and enjoy sharing in its rich history, while showcasing the latest evolution in the new Wrangler JL," said Metzger. The festival is a tribute event for the early Bantam version of the "jeep," held by the Friends of the Bantam Jeep Association. The event celebrates the history behind the Bantam, the people who created it, and its birthplace.
The jeep vehicle concept was born in answer to the U.S. Army's call for designs of an easily transportable 4x4 general-purpose vehicle during World War II. Many historians acknowledge that the Bantam General Purpose Vehicle was the original inspiration for the design that eventually became the Jeep; its production version used Dana Model 25 front axles, Model 27 rear axles, Spicer propshafts and a Dana 18 transfer case. And since then, Dana's relationship with the Jeep brand continues to thrive and grow. It's a relationship forged in continuous improvement and innovation, and it is believed to be the longest supply relationship on the same vehicle in automotive history.