Bullet-Proof Drivetrains and Components Showcase the Strength and Innovation of Dana at UA 2018!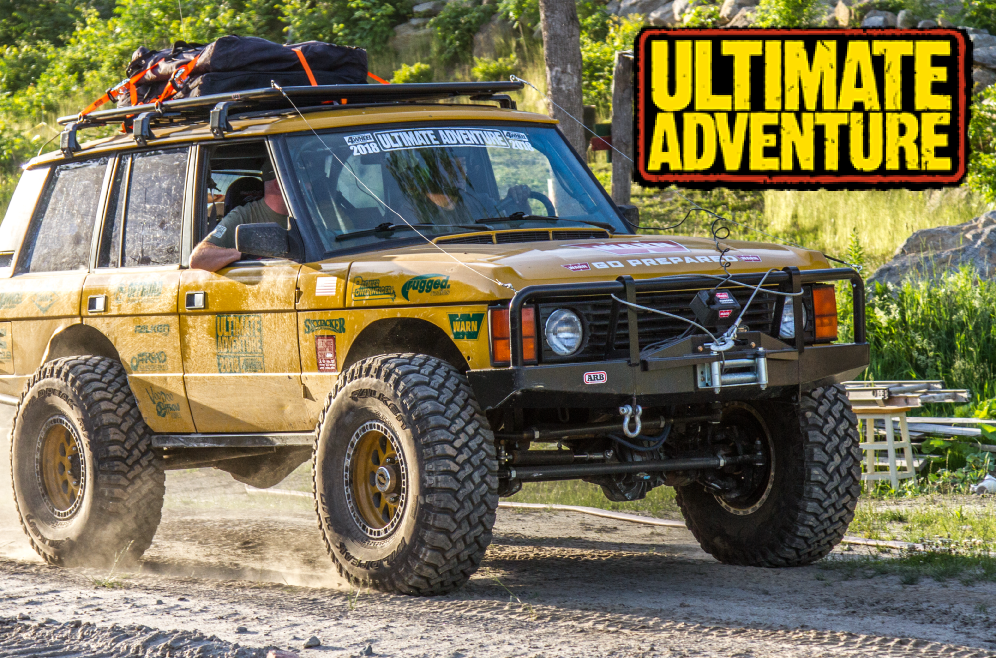 The Ultimate Adventure is an amazing annual event for a select group of die-hard off-road enthusiasts to discover thrilling wheeling opportunities across the country. The Ultimate Adventure (UA) 2018 proved to be no exception to this rule. It was also the perfect chance to showcase Dana's OE and Aftermarket drivetrain components, which are backed by world-class engineering and the pursuit of constant innovation.
A pair of rugged, Ultimate Dana 60™ axles with Spicer® gearing were the natural choice for the UA 2018's official vehicle. As these were modified to fit the unique vehicle application, they offered all the benefits of Dana's Builder Axle Program. On the opposite end of the vehicle build spectrum, a mostly-stock Jeep® Wrangler® JL from Dana Aftermarket shattered all expectations, reaching the end of this grueling trek unscathed.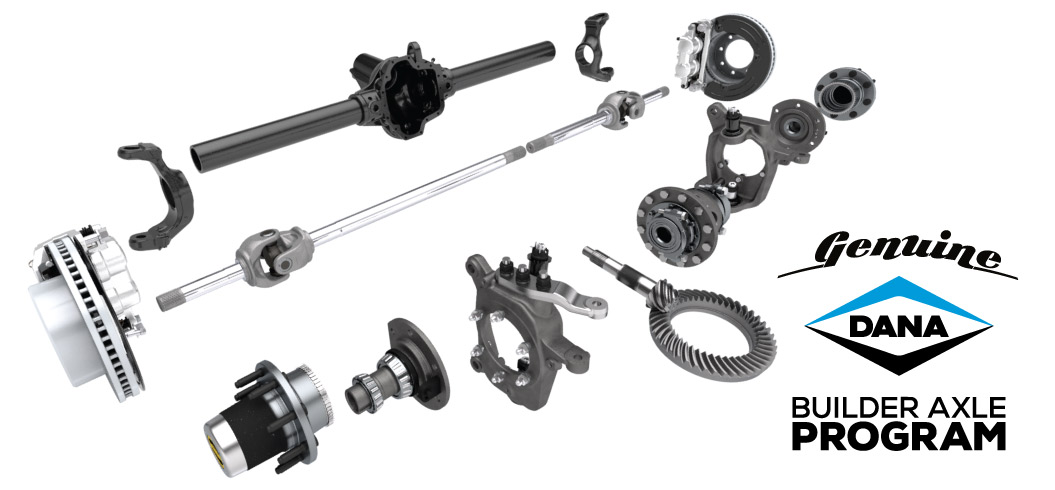 In addition, almost all participating vehicles depended on Dana's Spicer SPL® brand of universal joints to transmit engine torque to their larger-than-stock tires through their vehicle's driveshafts and axle-shafts. Several off-roaders also chose Dana Crate Axles®, Dana Builder Axle Program components, and Spicer ring and pinion gearing to build their rigs for this intense event.
"With the Builder Axle Program, you can put a Dana 60™ on basically anything."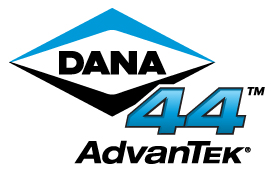 The UA is a week-long, extreme off-roading event organized by Petersen's 4-Wheel & Off-Road magazine and promoted by the Four Wheeler Network. Every year, a group of selected magazine staff members, sponsors, readers and "UA cronies" are invited to challenge their 4x4s and their driving skills in a different part of the US – and participants don't know where they'll be going or what trials await them from day to day. Attendees must be ready for 1000+ miles of driving on the road and off, supplying all of their own food and equipment for the entire week, including shelter. The event took place mostly in New England this year, and featured everything from boulder-strewn terrain to steep, mud-slick, twisty trails through the forest.
Each year, an extremely modified 4x4 is created to serve as the official UA vehicle. The UA team from the Four Wheeler Network, which is owned by Motor Trend Group, had some wild ideas for this year's entry. They committed themselves to transforming a $600, beat-up 1989 Land Rover Range Rover Classic they found on Craigslist into the ready-for-anything "Derange Rover." All their work paid off, and the vehicle went from completely undrivable to conquering every obstacle.

The Ultimate Dana 60™ (UD60™) axles were a perfect fit for the punishing journey, but due to bracket locations and other factors, they weren't automatically a perfect fit for the Derange Rover. So, the UA team modified a set of UD60s™, which are a bolt-in swap for a Jeep JK Wrangler, in much the same way that custom installers can utilize the Dana 60™ Builder Axle Program.

"Instead of rummaging through a junkyard risking tetanus and critter bites, they used components that are fresh, new, and rust-free," says Randall Speir, Senior Account Manager of Motorsports for Dana. This is exactly what the Dana 60™ Builder Axle Program offers, letting customers order the Dana-engineered and proven Spicer parts they need to fit almost any vehicle – not just Jeeps. Users can select their Builder Housing, then determine which components they need, from a ball joint or king-pin knuckle kit to lockers to brake kits. "With the Builder Axle Program, you can put a Dana 60™ on basically anything," confirms Jonathan Mobily, Light & Performance Vehicle Aftermarket Marketing Manager at Dana. "It's a blank canvas!"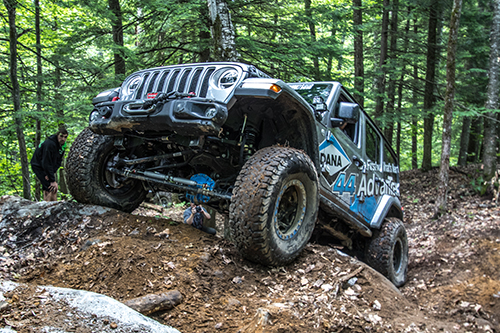 The axles were just one facet of completing the Derange Rover's transformation, which included everything from a different engine to transmission to new wiring. "They always build a lead vehicle that's something really unique," recounts Speir, who was also a driver at this event. "These mad scientists took this sunbaked junker that was destined for the crusher, and turned it into a vehicle capable of wheeling through some of the toughest terrain in the US. And under it all, they relied on Dana for a bullet-proof drivetrain."
The Dana Aftermarket Axles on the lead vehicle weren't the only Ultimate Dana 60s™ put to this week-long endurance test. Just as the Builder Axle Program offers, Warn Industries used modified UD60s™ to build out their Jeep TJ. A JK with UD60s™ represented Falken Tires, and Off-Road Motorsports Hall of Fame (ORMHOF) inductee Rick Pewe drove the orange "two-faced" Jeep JK, built by Fred Williams in Dirt Every Day Episode 38 and provisioned with UD60™ axles.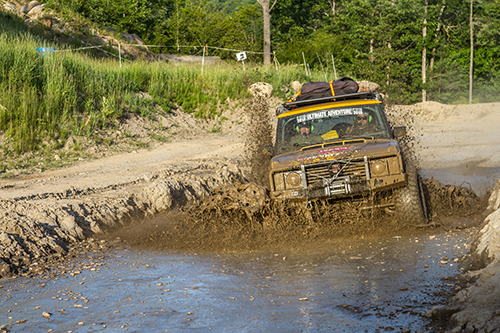 Tackling the trails along with these vehicles was the 2018 Dana AdvanTEK™ Jeep JL. While other vehicles on the journey were heavily modified from front to back and top to bottom, this amazingly capable 4x4 was only slightly modified. It featured a pair of Dana 44™ AdvanTEK axles, which are stock for Jeep JL Rubicon, with a Spicer AdvanTEK 4.88 gearing upgrade to effectively power the 37-inch tires. Other than the ring and pinion gearing, the team from Dana Aftermarket upfitted the vehicle with a Spicer performance front driveshaft, and front and back Spicer nodular-iron performance diff covers – and little else. Engine, transmission, and transfer case were all stock.
"Most of the drivers on the UA spent a ton of time, money and effort to heavily modify their vehicles," Speir says with a grin. "Then there's this JL out there that's mostly stock, and it succeeded where other vehicles struggled or needed a winch! It really demonstrated the innovation of the Wrangler brand, along with all the advancements represented by the robust Dana AdvanTEK axles."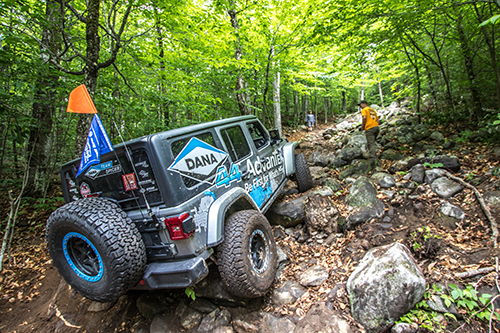 "The Wrangler design really is amazing," Mobily agrees. "It keeps getting better and better. It's remarkable that even with minimal upgrades, we were still able to do everything we did. It's a true testament to the phenomenal job FCA has done with the new Wrangler." Throughout the week, there were a few incredible instances of the JL out-performing other vehicles in slippery mud, over loose rocks, up steep inclines and through narrow tree squeezes. "Initially, I was very meticulous in my approach to wheeling the terrain – some might have said slow," remembers Speir. "Not until the last day did I show them how to successfully conquer an obstacle with the proper application of the throttle!"
"We wheeled through eight states in seven days; it was very challenging," Speir concludes. "From a driver's perspective, it was some of the toughest off-roading I've done, possibly in my life." But through every aggressive challenge offered on the UA, the Dana components delivered the stellar performance that off-road enthusiasts rely on year after year, adventure after adventure.
For more information on the UA, visit www.4wor-ua.com
#UA2018