When off-road enthusiasts seek maximum strength and durability for their vehicles with larger tires or increased power, the answer for upgraded off-road axles is the Ultimate Dana 60™ Crate Axle. These rugged axles take the guesswork out of axle modification, with a wide range of aggressive upgrades included right out of the box.
However, until recently, the Ultimate Dana 60™ Crate Axle was only available with brackets that make it an ideal bolt-in upgrade for the Jeep Wrangler and the Jeep Gladiator. Owners of other types of off-road vehicles would have to remove the brackets from the UD60™ Crate Axle, then design custom brackets to fit their application.
No Brackets, All the Features
Now, Dana offers the Ultimate Dana 60™ Bracketless Crate Axles, which allow for installation in virtually any application. The Bracketless axles eliminate the mounting brackets; custom builders may add the brackets that best suit their vehicle.
"We find many enthusiasts who want the performance and dependability of Ultimate Dana 60™ axles are buying them for applications other than Jeeps. But, they have to remove the standard mounting brackets and weld on new brackets designed for their vehicle of choice," explains Bill Nunnery, Senior Director of Sales and Marketing for the Dana Aftermarket Group. "Customers can now get exactly what they want; all of the features of the Ultimate Dana 60™ axles, but none of the brackets."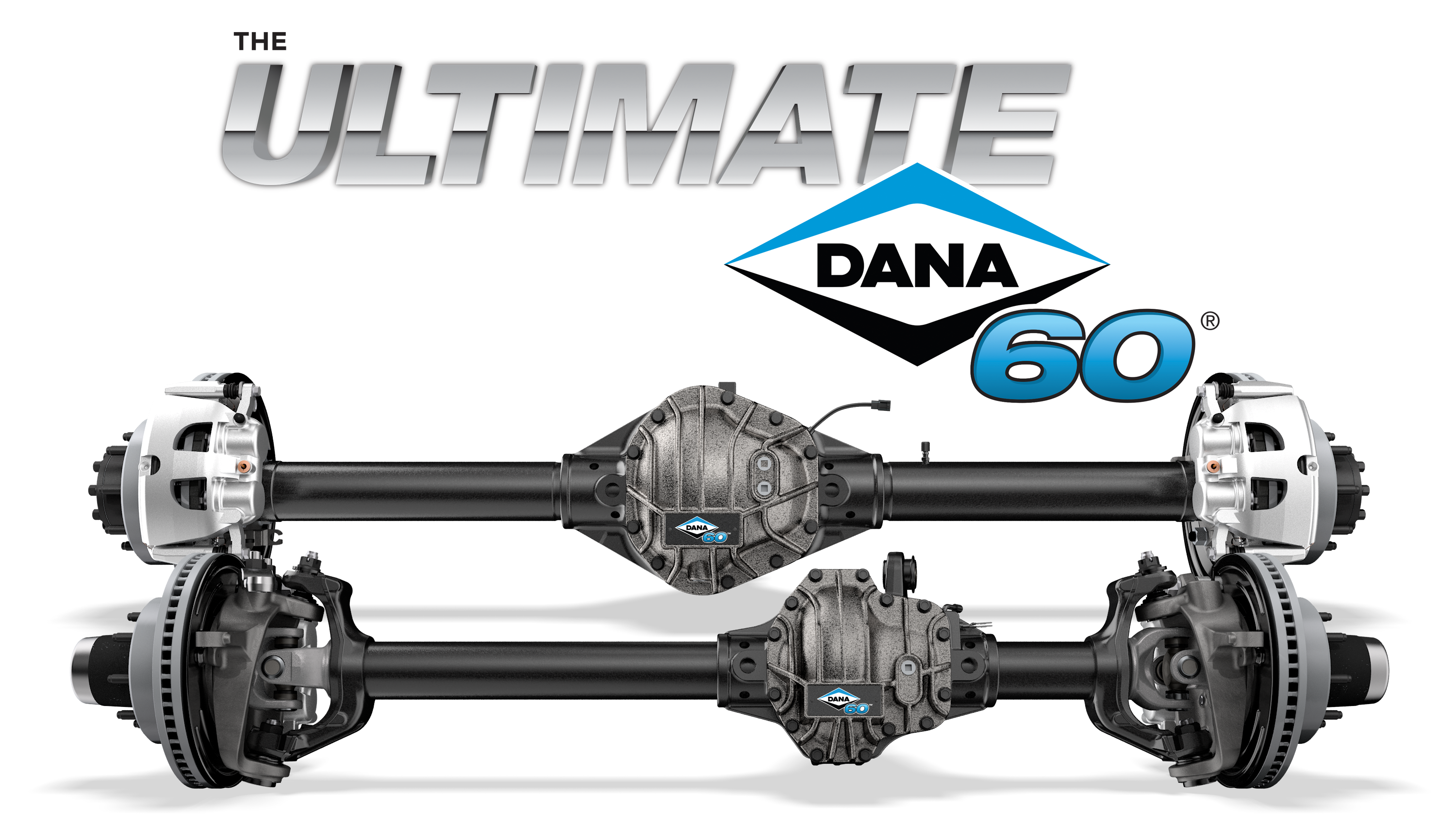 Every Advantage, From Massive Spicer U-Joints to Thicker Axle Tubes
Bracketless Ultimate Dana 60™ Crate Axles incorporate the toughest upgrades that custom-builders demand. These features are the same ones that have been tried, tested, and proven over the years by off-road enthusiasts and fans of Dana performance parts.
The mighty Ultimate Dana 60™ Bracketless Crate Axles give owners of any off-road vehicle a competitive advantage on the trail with massive Spicer® SPL® 70 u-joints that are exclusive to Dana, and Spicer® 35 spline SAE-4340 nickel chromoly steel axle shafts—designed for higher torque. The axles feature heavy-duty upgraded brakes with dual-piston calipers and a plug-and-play ABS system based on Jeep JK architecture, and they are available with either an Eaton® ELocker® or ARB® Air Locker®. Front axles feature an enhanced, high clearance aftermarket housing, while both the front and rear axles utilize a heavy-duty 3-1/2" tube with a wall thickness of 3/8" and up.
Fans of the UD60™ axles rely on the strength and reliability of the genuine "Made in the USA" Spicer® 10" ring and pinion gearing. The durable Spicer® performance ring and pinion gears in these Bracketless off-road axles are shot-peened for double the fatigue life. Precision heat-treating delivers peak hardness and durability. The faces of the gears are hobbed to guarantee precise mating of the gear teeth, delivering a quieter ride. The mating faces are also lapped to reduce gear noise and heat. The new Bracketless axles are available in 3.73, 4.10, 4.88, and 5.38 ratios to best match your tire size to engine rpms.
Bracketless Ultimate Dana 60™ axles offer peak protection from off-road hazards like stumps and rocks with an aggressive nodular iron diff cover with thick protective ribbing. Warn® 35 spline hub locks, a heavy-duty 8 x 6.5" wheel bolt pattern, dead-spindle bearing design, and Spicer® 1350 strap-style, half-round end yokes for the driveshafts round out the offerings.
Off Road Axles with Legendary Endurance for Your Custom Build
The Bracketless Ultimate Dana 60™ Crate Axle® is the perfect product for custom off-road builds. "This product has been a long time coming," says Senior Manager of Dana Performance Randall Speir. "The late 1970's 'Snow Fighter' Dana axle has become legendary for custom builds, but the availability has disappeared. What's left in salvage yards is old and unusable. With the Bracketless Ultimate Dana 60™ Crate Axle program option, modifiers can create their own Ultimate Snow Fighter! The Bracketless Ultimate Dana 60™ Crate Axle program provides a fresh, clean, unused, non-junkyard, Dana manufactured solution—giving builders an option to make their customized vehicles a lot more capable. With a new Dana axle, builders won't have to worry about old, used components breaking, and can take on challenging off-road conditions with confidence."
Contact your Spicer parts dealer to gain a true competitive advantage with high-performance Bracketless Ultimate Dana 60™ Crate Axles. For more information about this and other Dana Aftermarket drivetrain upgrades, visit SpicerParts.com.